7. Monorail Cat
When you bathe your cat and have to lay them out in the sun to dry, make sure it is a place they can fall asleep like the rail. 
She seems content with her drying spot. Luckily, cats fall asleep anywhere, so you don't have to look hard for a comfortable place. 
8. Free Cat With Every Purchase
"I like to buy in bulk. How much for the whole pack?" There is no price on them, so the deal must be that you can buy a pack of gum and get a cat for free. 
Imagine going to the store for some snacks and coming back with a cat; someone would be very confused as to where you got the cat. 
9. Pot Of Gold At The End Of The Rainbow
What do you get when you find the end of the rainbow? You can find a pot of golden cat. This golden kitty fits perfectly inside this tree stump. 
The cats that come from the end of rainbows are magical, and they should be treated specially. 
10. This Kitty Thinks Outside Of The Box
"Out of the box, out of the box. Take one cat, put it on a box, out of the box." This does not seem comfortable for any animal, but this kitten is sleeping perfectly. 
Cats must be born with the ability to sleep anywhere, no matter how uncomfortable it seems—sleeping like this kitten is the equivalent of trying to sleep on top of a picket fence.
11. The Cat Has Chosen His New Bed
Someone brought their cat into the store to buy a new bed, and their cat made it very clear which bed it wanted. 
The cat was very decisive, which is more than we can say for most humans when it comes to choosing a bed. 
12. Kitten Cup Holder
Have you ever taken a chair to the beach or a baseball game and thought, "I wish there were a place to hold my kitten." Well, look no further.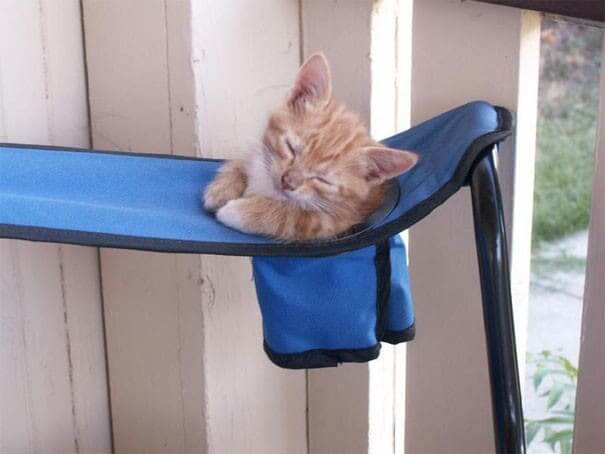 This specialty chair has a holder for all your kitten needs. From orange kittens to white kittens, it will hold any type of small cat.