7. Employee Not Found
It is common for companies to take some of their employees for granted which, as we all know, ends up creating underappreciated employees. When these employees resign, they often try to show the company that they lost a great talent.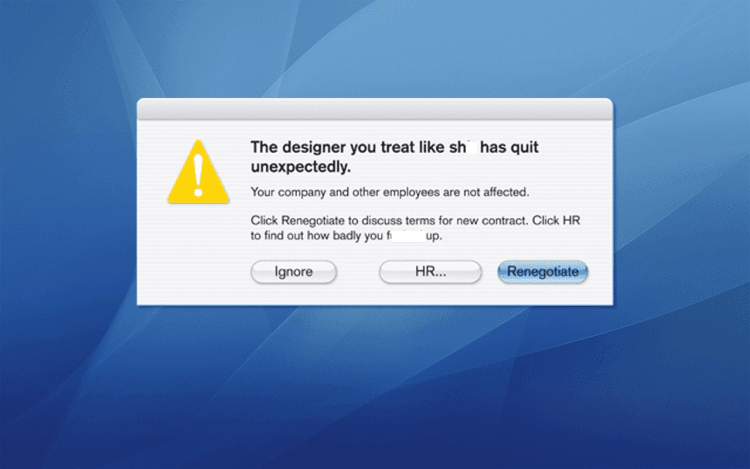 Here is a resignation letter masked as an error message. However, it also displays a button for a possible renegotiation so who knows, maybe in a moment of panic this manager will end up getting their employee back... on their terms of course.
8. I'm Sorry But Not Really
We often give our loved ones pretty cards on special occasions to show how much they mean to us. A message on a card is a simple yet sincere gift one can give.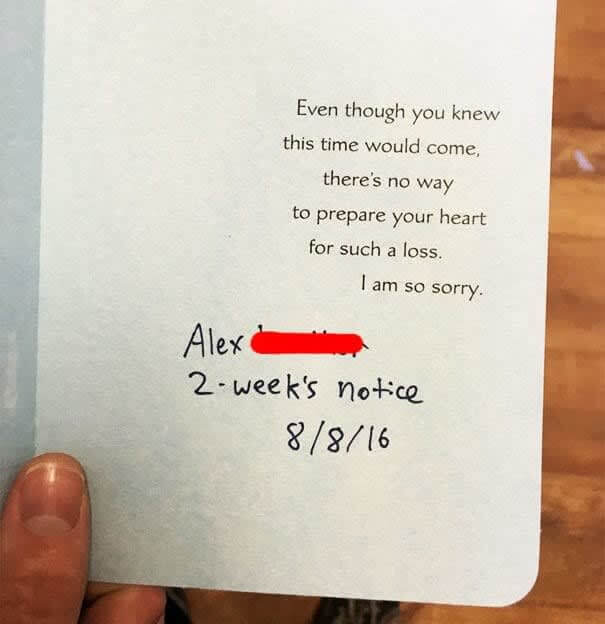 This employee decided to send her boss a card. The contrasting tone from two messages is obvious and it makes us think if Alex was actually sorry.
9. Box Office Boss
When under the supervision of a horrible boss, some employees take advantage of their job descriptions to get back at their bosses.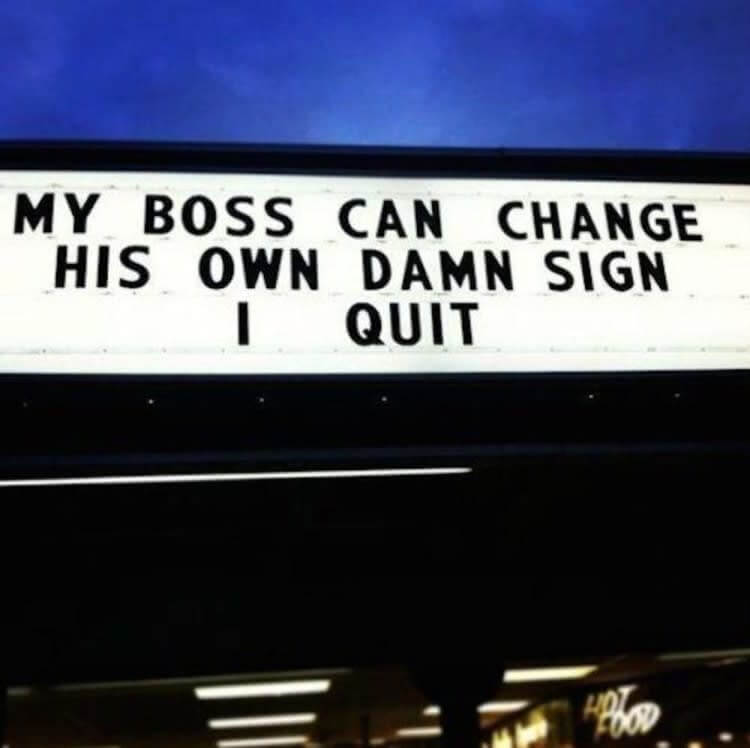 This employee decided to utilize the huge signs at the movie theater to announce his resignation. We have a feeling that this will surely be a big hit… to his boss's ego.
10. Star Employee
The usual resignation letter is commonly composed of long, boring paragraphs detailing the time they had with the company with sprinkles of sugarcoating here and there.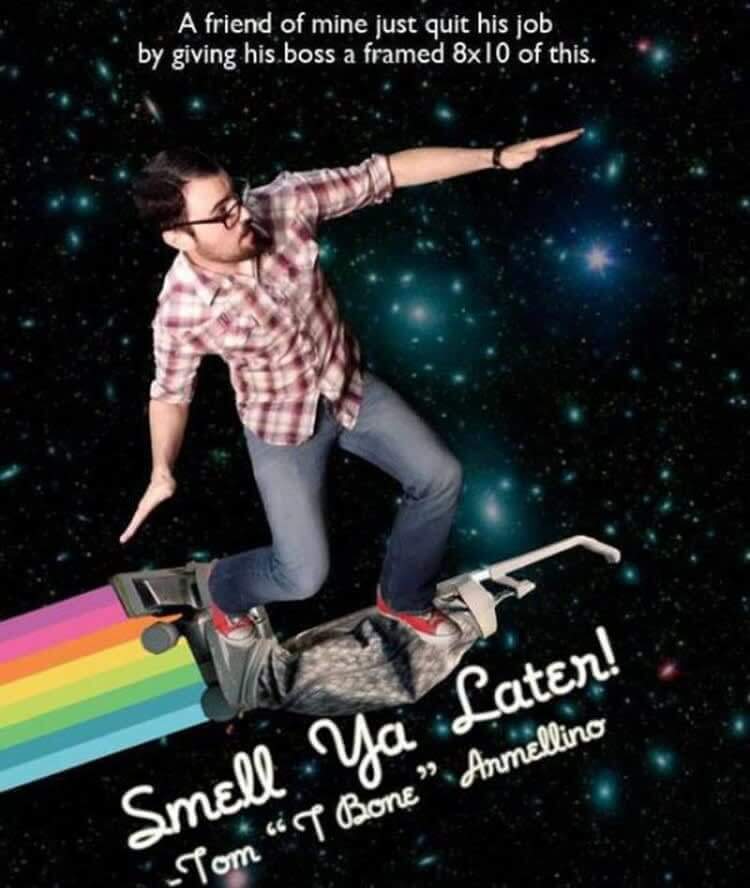 This employee decided to steal the attention of his former boss by printing out a catchy out-of-this-world poster announcing his resignation. 
11. Happy Quitting
Quitters are often harshly judged by people who do not know what they are going through. Most of the time, people view quitting as a form of weakness. May it be an exit from your clique, from a job, or even from your childhood community.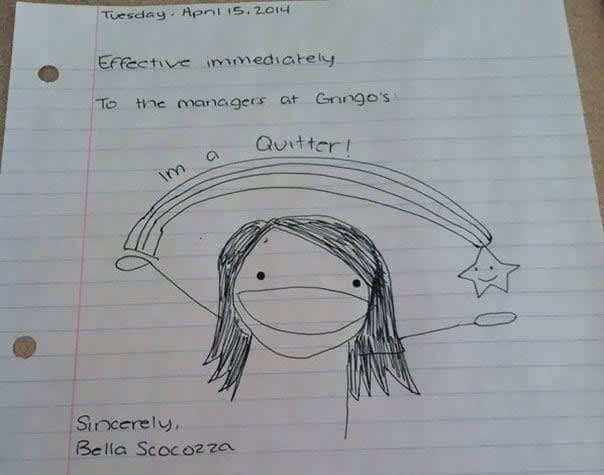 However, quitting from a toxic environment is beneficial for you. Here is a resignation letter Bella showing how happy she is to have quit. You can see that she drew a cute rainbow above her head signifying how relieved she is with her decision.
12. Two Words, One Check
When people submit their resignation letters, they often sugarcoat their intention of leaving the company in an attempt to stay professional. Well, this guy is obviously not one of those people.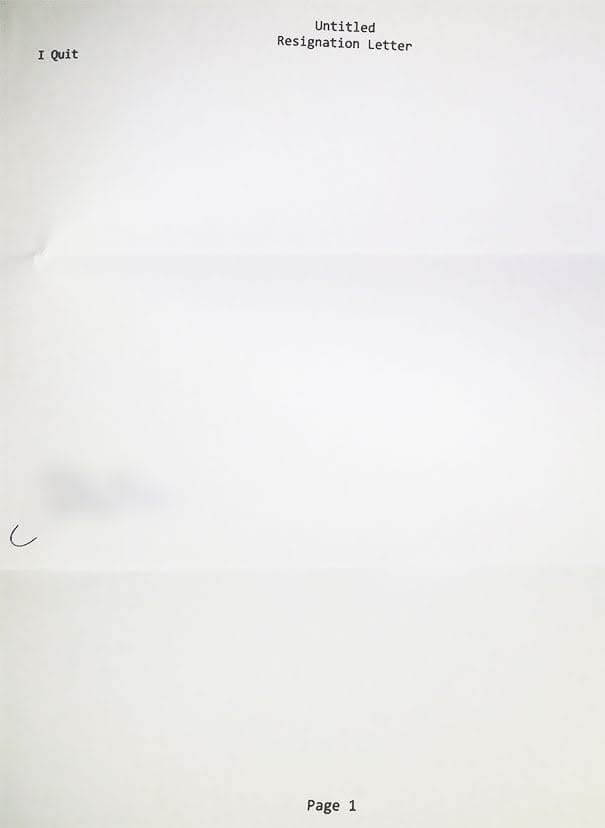 One should not be blinded by these commentaries and should look at the original intent of the letter. This resignation letter only shows two words. The letter may seem too cold but the ex-employee later shared this message on social media: "My ex-manager wouldn't give me my last paycheck without a resignation letter."