The holidays are a time for giving and enjoying time with your family. Many families have fun traditions, including pranking each other. We found the most hilarious Christmas pranks to get you in the holiday spirit. Keep scrolling for some great ideas on how to prank your own family this holiday season.
1. When Your Child Asks For A 6-Foot Teddy
These parents went the extra mile when their child asked for a 6-foot teddy bear.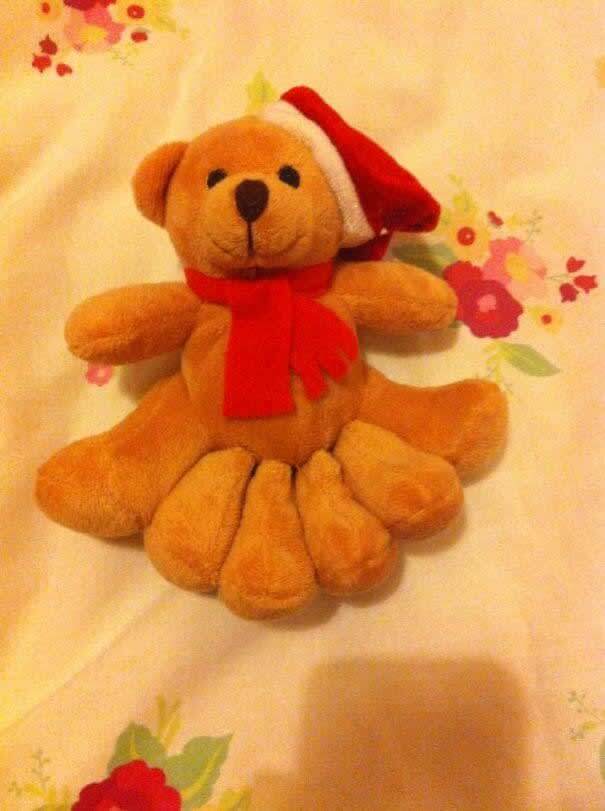 She was probably surprised to not receive the giant teddy bear she actually wanted. 
2. "Loafers"
Her children really took the time to carve out two loaves of bread to make loafers.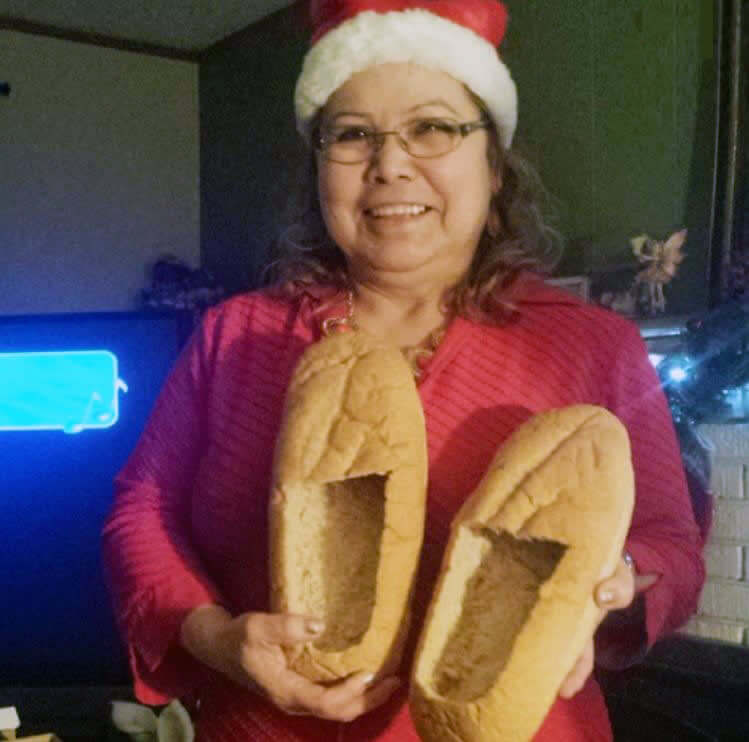 That shows some serious dedication and love. 
3. Pronouncing Things Correctly Would Be Helpful
it is obvious that he wanted an Xbox 360, and he is clearly not happy with what he received.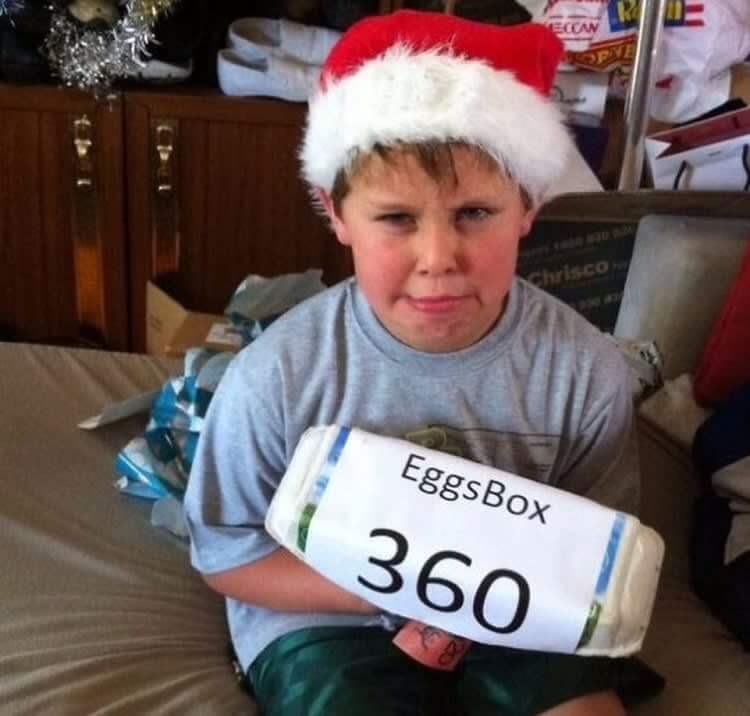 Now he will learn that pronouncing things clearly and correctly is important. 
4. A Little Extra Protection
Adding 100 zip-ties to your holiday wrapping is normal, right?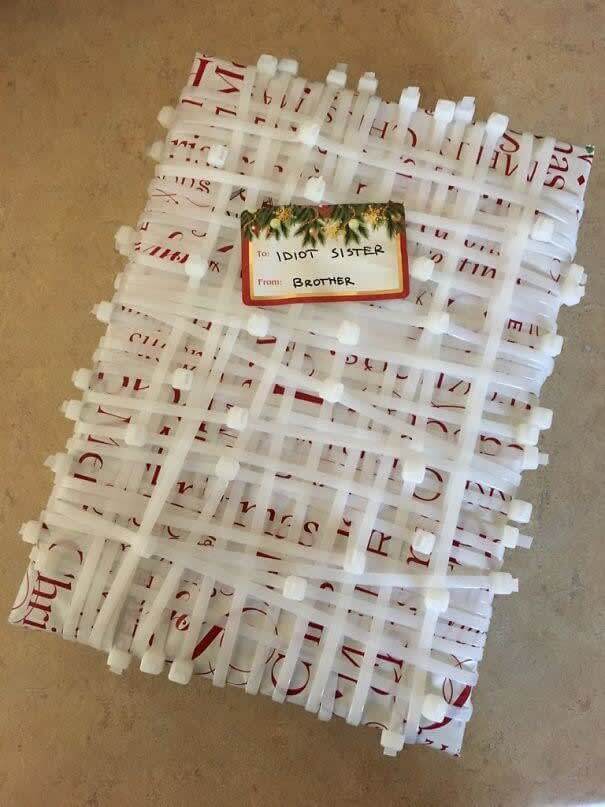 Maybe as a separate present, she got a pair of scissors. 
5. When You Want To Piss Off Your Colorblind Husband
Growing up, her husband always got colored pencils as a gift. He hated this because he is colorblind.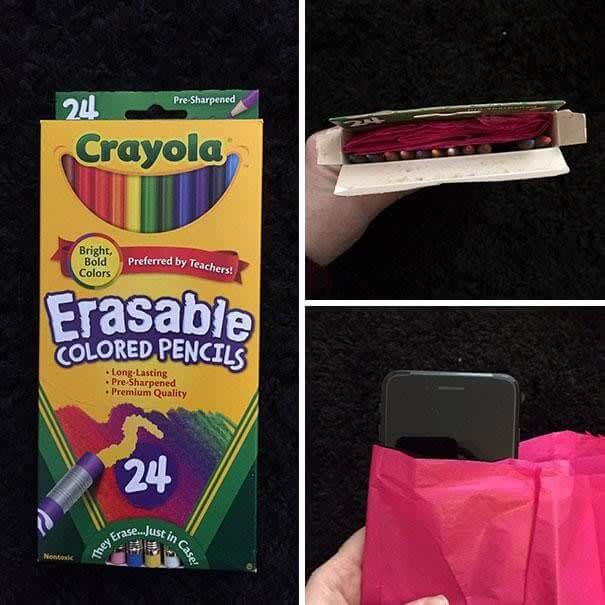 When he asked for an iPhone, this seemed like the only appropriate way to wrap it up. 
6. Creative Wrapping Job
Coming down on Christmas morning and seeing this must be a big shock. What could it possibly be?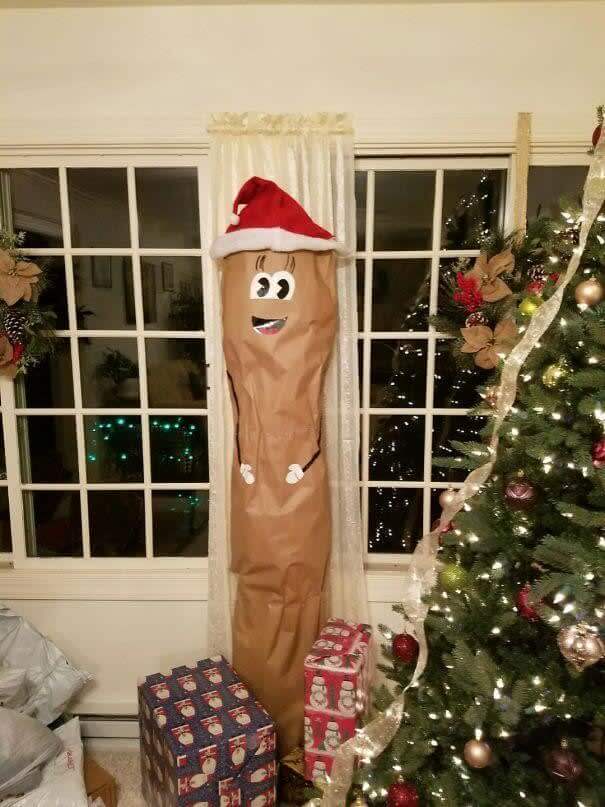 It was a rug, so not that exciting, but the wrapping job was creative. 
7. Someone Has Been Very Good This Year
Rosie is clearly the best child this year. She got the biggest stocking and probably the most gifts.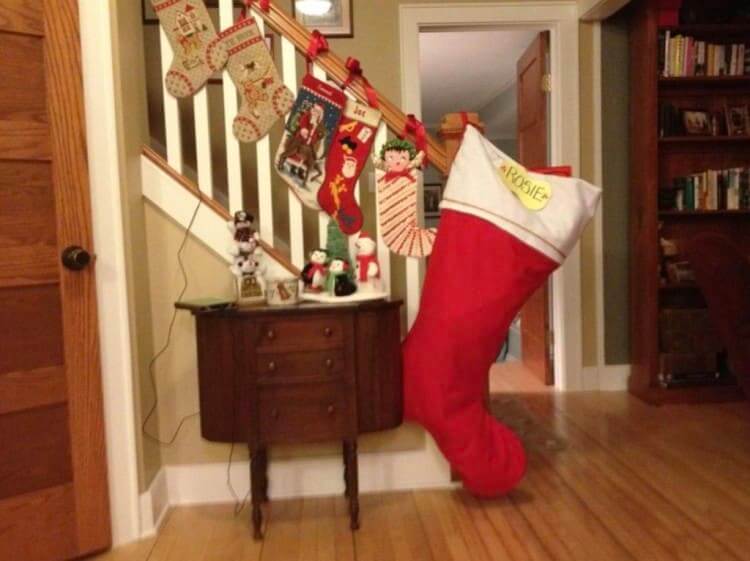 Just a guess, but Rosie is probably the family dog. 
8. So No One Can Open Their Gifts Early
Someone in this family has a bad habit of opening their presents early.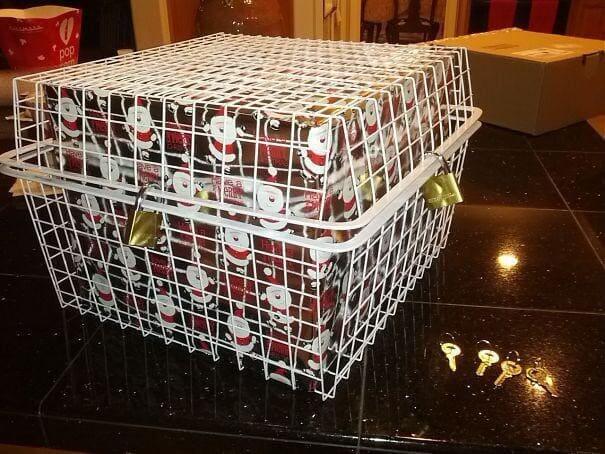 As their first gift, they get the key, and then they can unlock the real gift. 
9. She Specifically Asked For Frozen Gifts
Frozen the movie has been very popular among young children.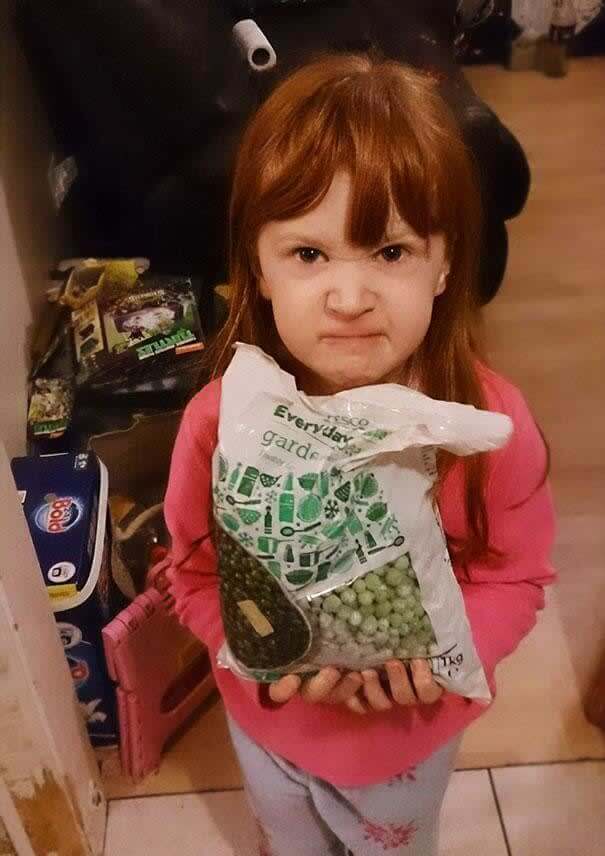 Frozen peas, not so much. She is not a happy Christmas elf. 
10. A Cruel Place To Find Broccoli
Imagine craving a nice bag of Famous Amos cookies and finding broccoli inside.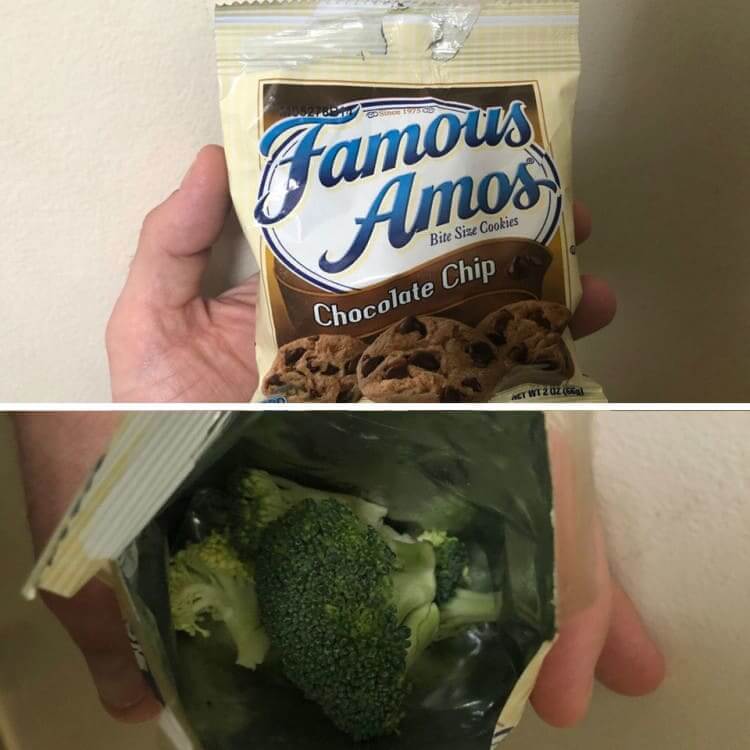 That's a very mean joke to play on someone. 
11. What Can You Get With $100 At The Dollar Store
This guy asked his grandma for 100 items from the dollar store, and she delivered.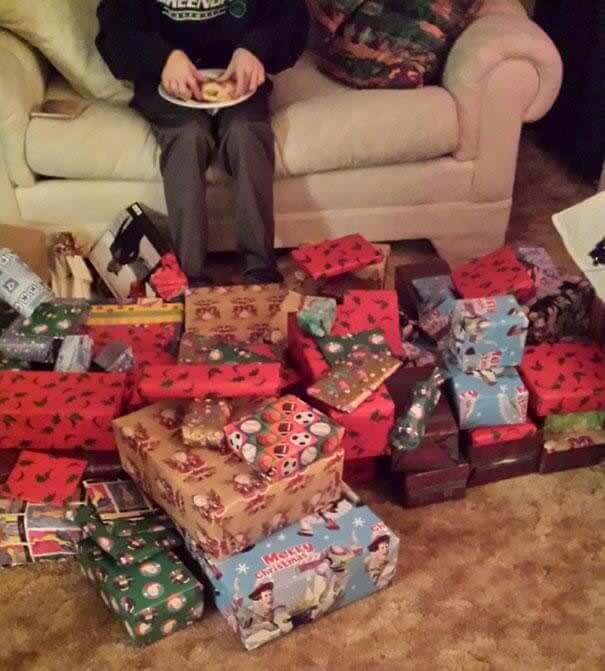 The wrapping paper probably costs more than all the gifts in total. 
12. Beets By Dr. Dre
Why get expensive headphones when you can have a jar of beets.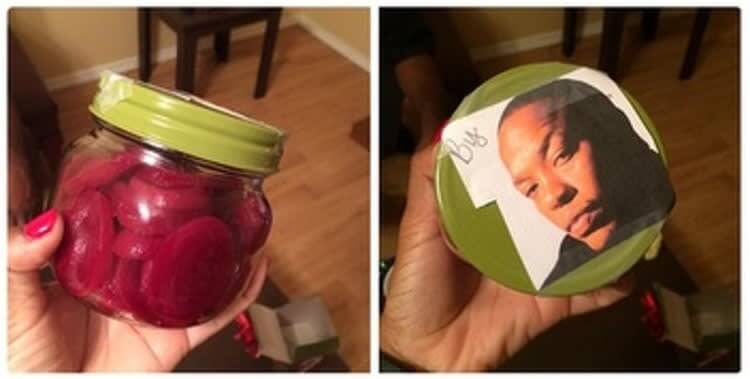 This child got trolled so hard by their mom. 
13. Elf On The Shelf Strikes Again
The elf was patiently waiting for someone to find his Christmas surprised when they needed the bathroom.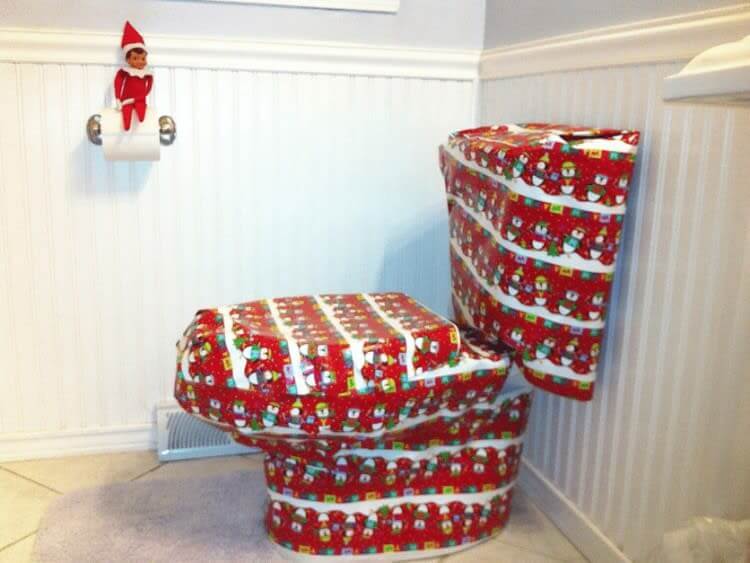 "Have fun unwrapping that in a bathroom emergency." That sneaky elf. 
14. Who Is Cooking Christmas Breakfast
First of all, who took the time to wrap every item in the fridge?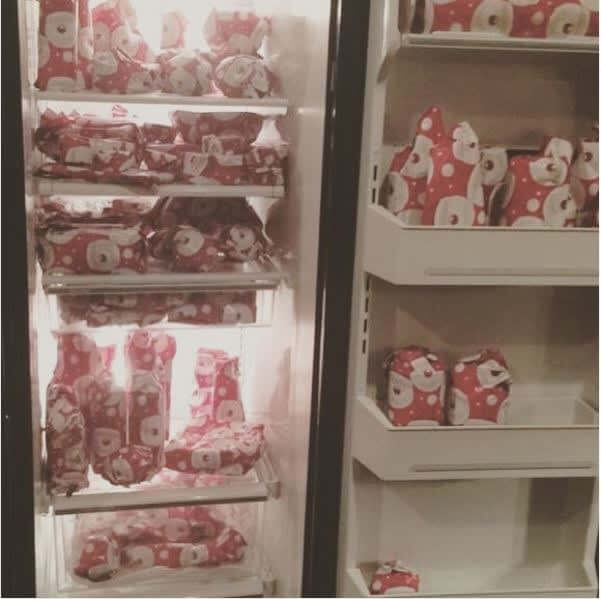 Second, how did they do this without anyone seeing? 
15. A Special Christmas Guest
Everyone knows the beloved Christmas Buscemi, right?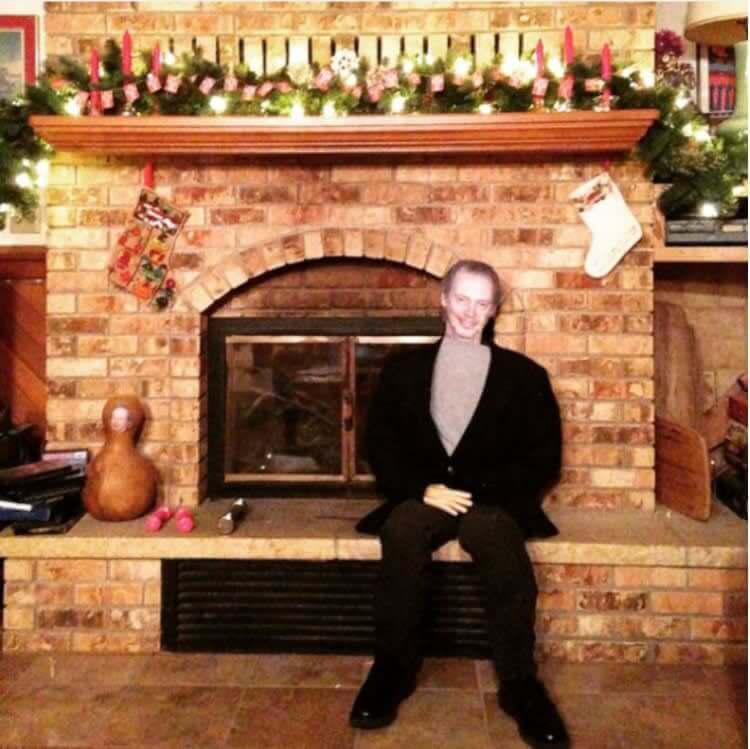 Who wouldn't want to wake up on Christmas morning to that face? 
16. When Your Electrician Dad Asks For A Wire Stripper
The execution of this present is absolutely flawless, very literal.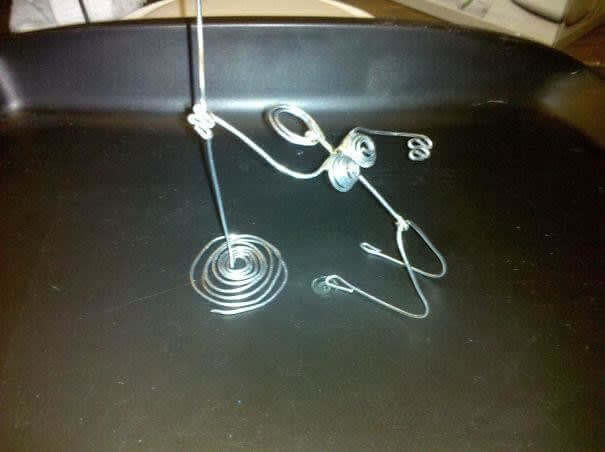 It isn't was he asked for or needed, but he definitely loved it. 
17. A Head Turning Snowman
Decorating your house for the holidays requires some creativity. It helps when there has been a fresh snowfall.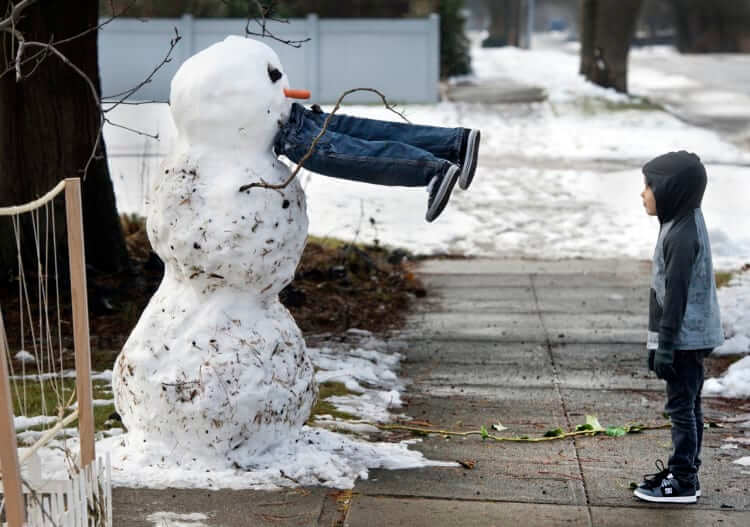 These people decided to use their children's old clothes to create a head-turning snowman. 
18. The Only Kind Of Eye Pad His Grandparents Had Heard Of
It has become an obvious prank to take people's gift request very literal.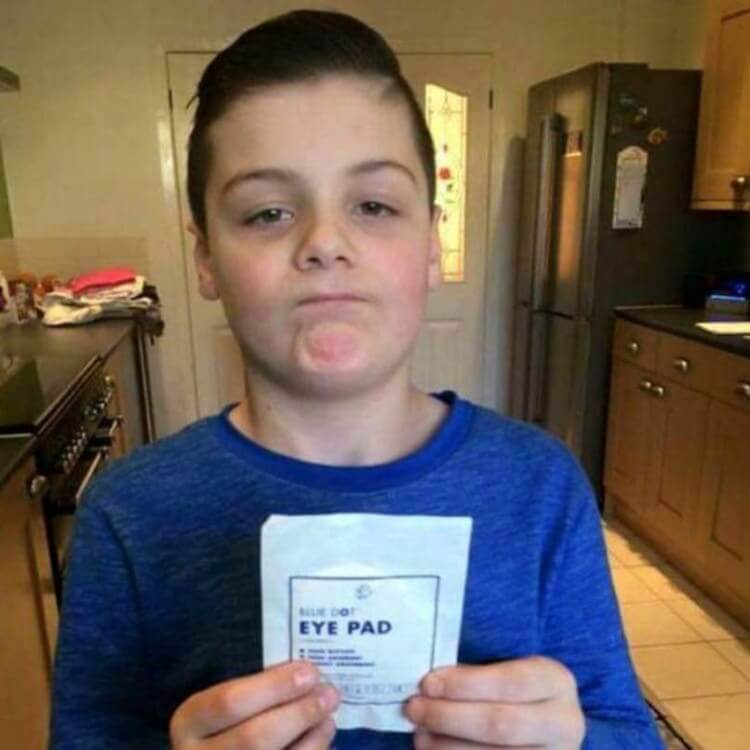 Although, his grandparents probably didn't know any better because iPads are newer technology. 
19. Not The Ferrero Roche!!
Ferrero Roche are delectable holiday chocolate hazelnut treats. Another mean place to hide vegetables.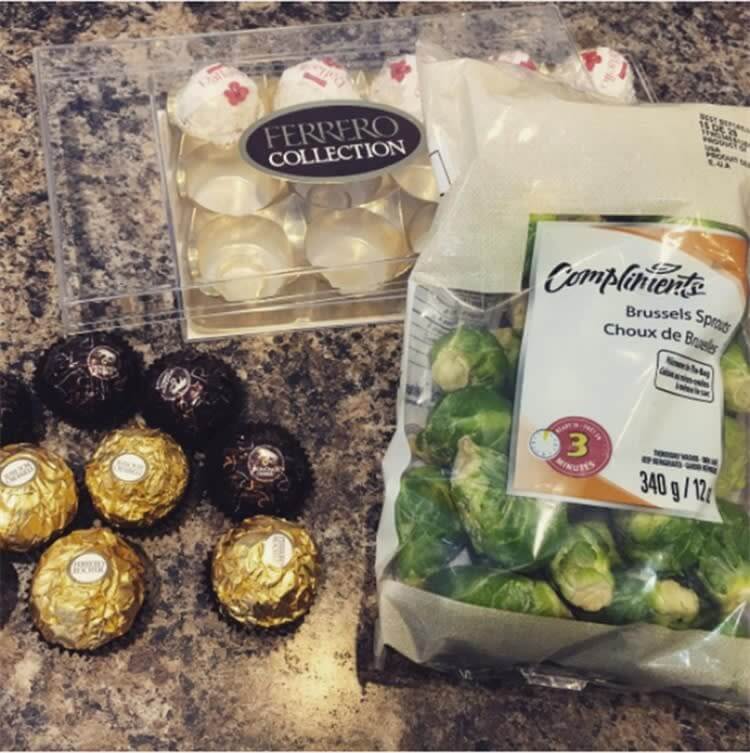 Also, Brussel sprouts are the worst, so extra points for the horrible vegetable. 
20. What A Pretty Prince
A photograph is a great gift to remind your parents how much they love you.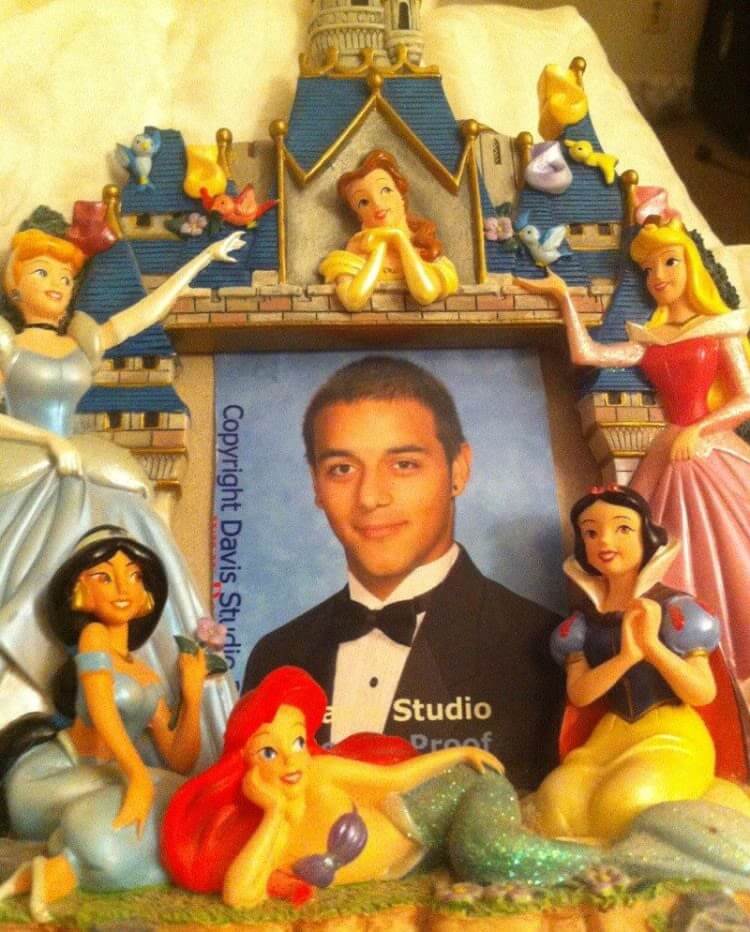 His mom loved the picture and decided to personalize it with an appropriate frame. 
21. How To Make A Boring Gift More Interesting
Every year her dad would ask for a pizza pan, but she thought it was too boring to get.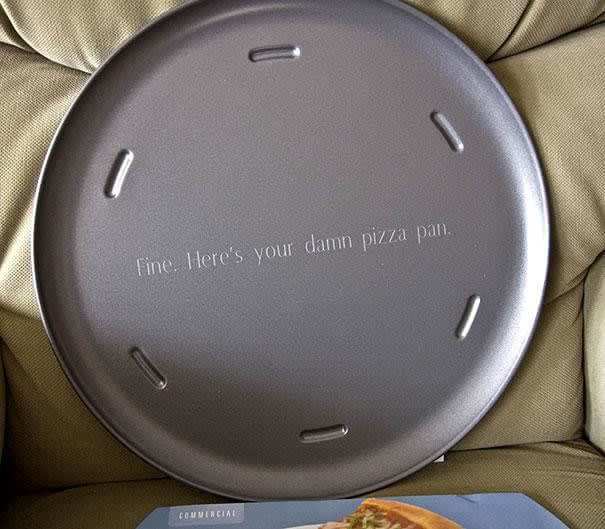 Finally, she caved and got him what he asked for with a nice message to go with it. 
22. The Gingerbread Man Needed A Nap
If you ever really want to scare someone during Christmas, take a giant gingerbread man and hide it in a dark room.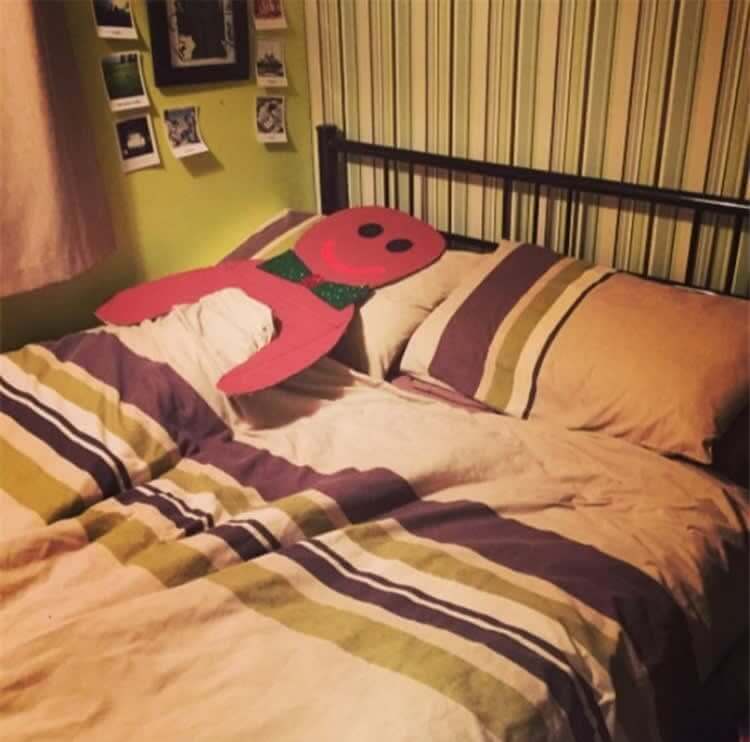 When the person turns on the lights they will surely be frightened. 
23. The Best Gag Gift Ever
What better way to drink your coffee than out of a toilet mug.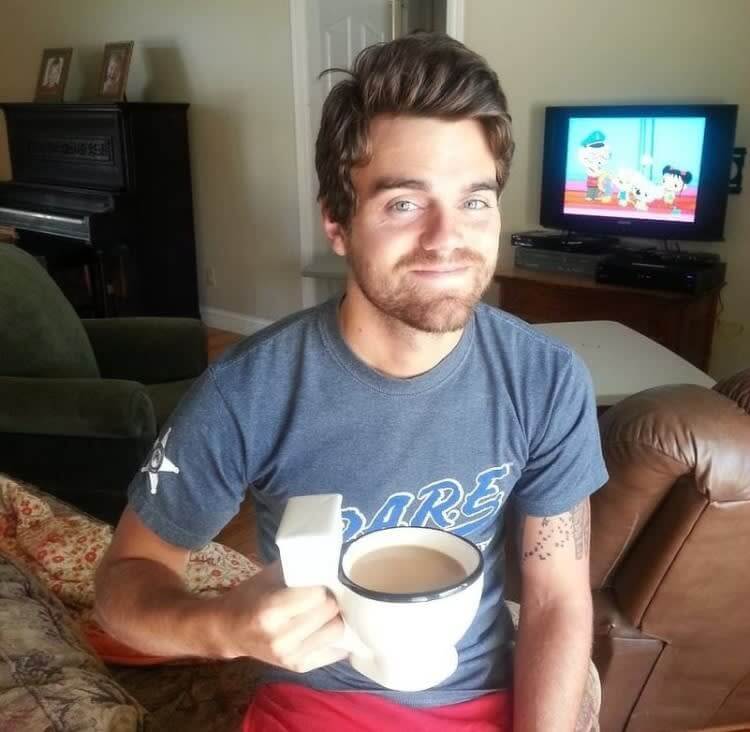 You would never believe that he got this from his grandma. 
24. The iPad Mishap Part 2
iPads seem to be a hard gift to get right.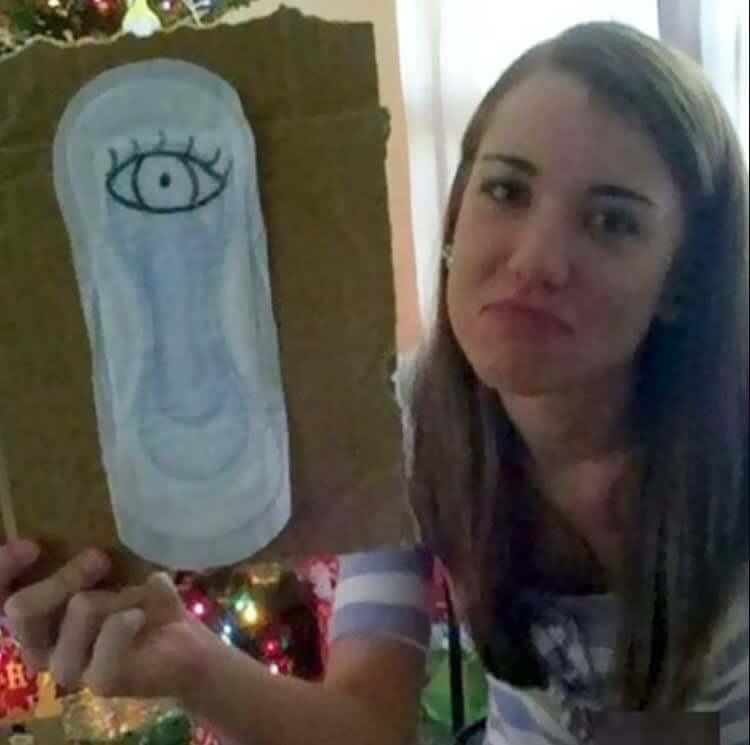 This is another take on the literal eye-pad.
25. Usually Batteries Aren't Included So They Got Lucky
For most electronic gifts, batteries are not included, so this person decided to get their brother just the batteries.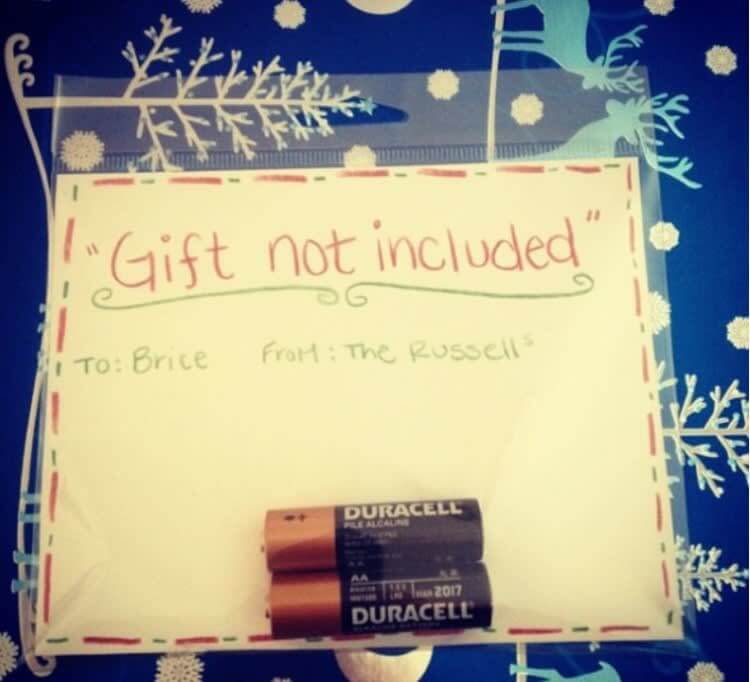 At least he wrote that the gift wasn't included. 
26. Mom Doesn't Understand The Concept Of Secret Santa
Secret Santa is a hard concept to grasp for some people, like this mom.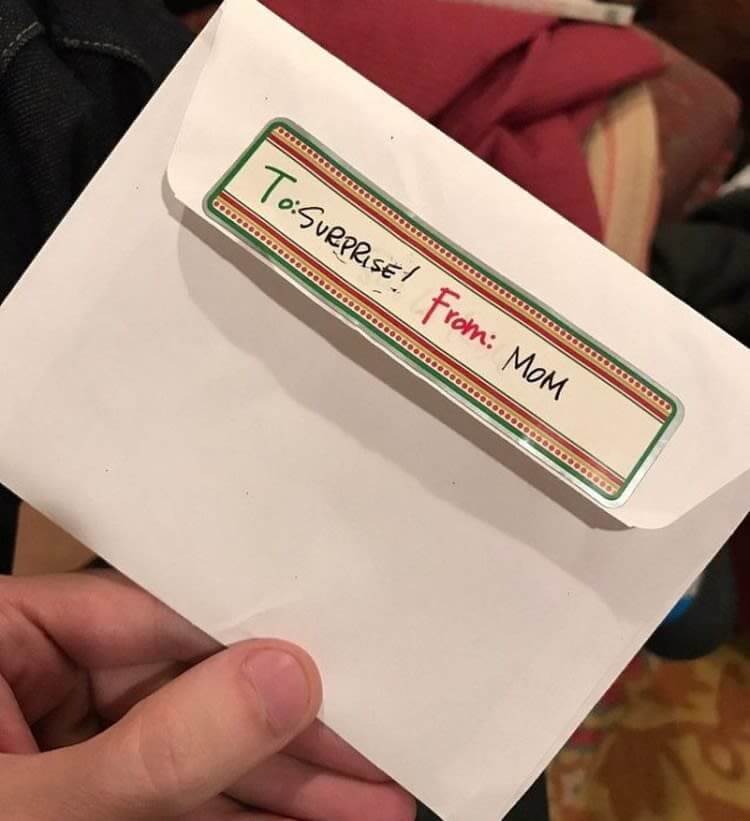 She took the guessing out of this game. 
27. When Your Graphic Designer Sister Wants To Embarrass You In Front Of The Delivery Man
That's one cheeky way to embarrass your brother in front of the delivery man.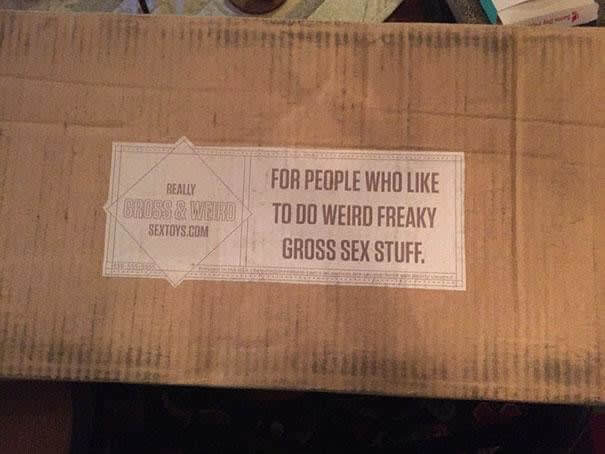 What did she actually send him, though? 
28. He Had A 1-in-5 Chance Of Getting Money
Money is a great present to give when you don't know what to get someone.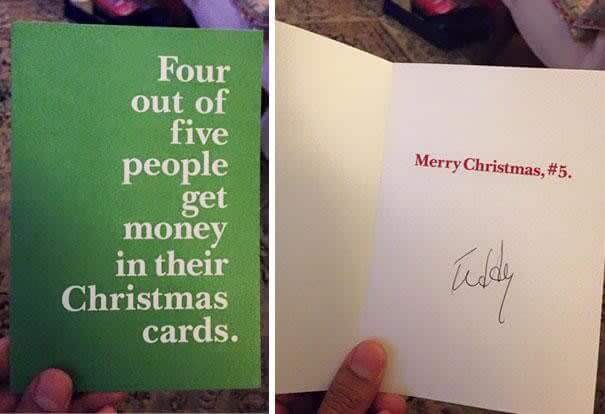 Or, you can trick them into thinking they are getting money. It depends if you are feeling like Santa or the Grinch. 
29. Shirtception: A Christmas Tradition
This guy and his brother started a yearly tradition of continuing to create shirtception.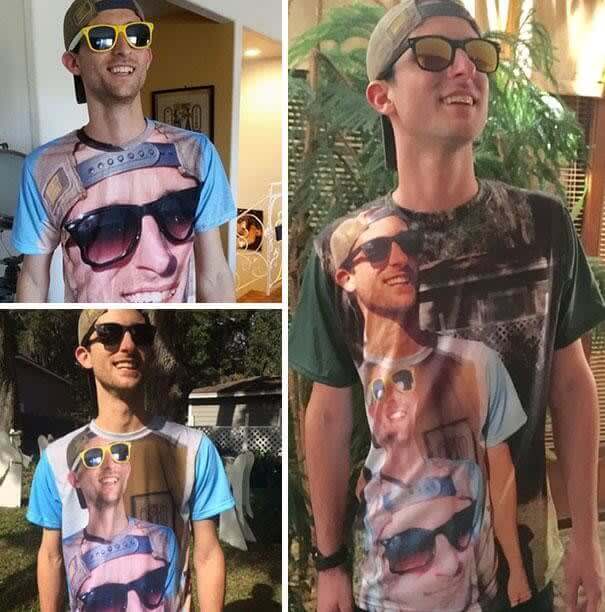 We can only imagine what it will look like ten years from now. 
30. All That Just For A Gift Card
When you open this gift, you are in for a real scare.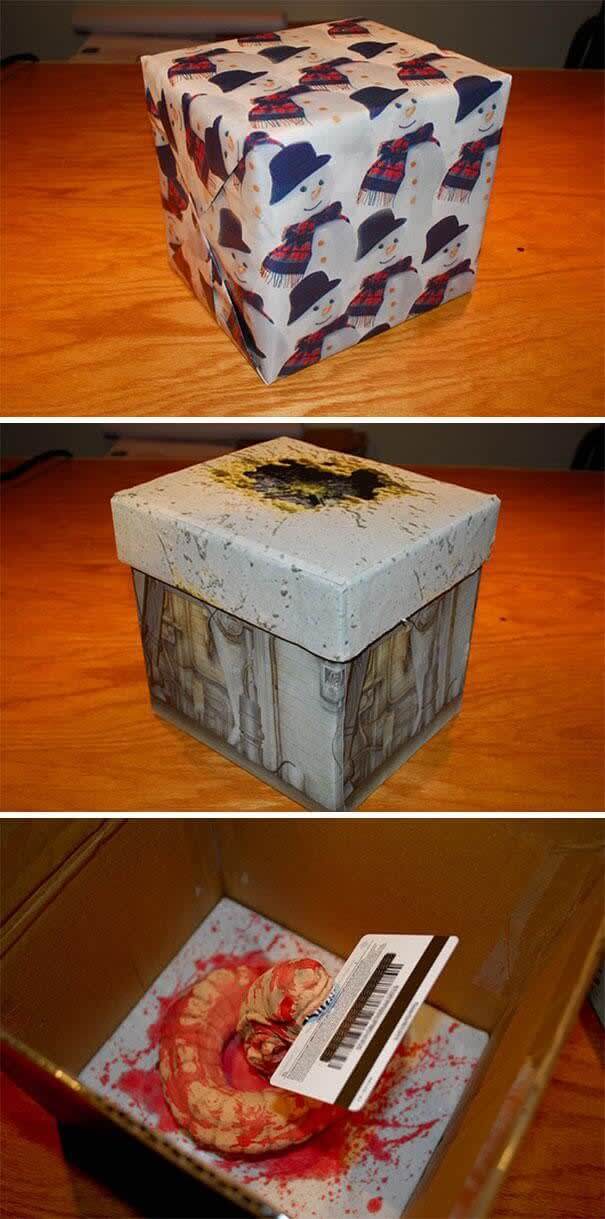 Only to find out it's just a gift card. They put more effort into the wrapping than the actual gift. 
31. This Person Wins For The Most Useless Gift
Each Christmas, these two friends have a contest between them of who can get the other one a more useless gift.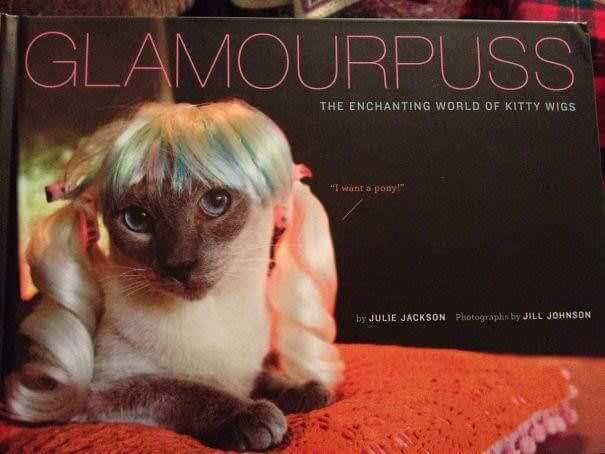 This was the purr-fect present to win this competition. 
32. She Knows How Cruel Her Parents Are
Forget about your siblings, parents can be straight-up evil sometimes.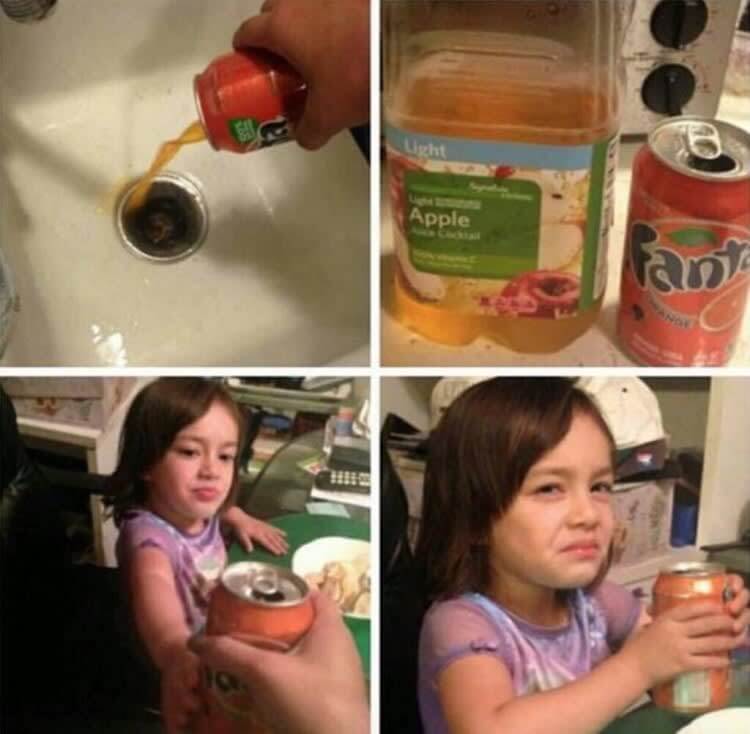 This girl got a major surprise when she tasted LIGHT apple juice instead of the Fanta she asked for. 
33. Holiday Meal Fun
Don't worry, it is not as gross as you think. This dad wanted to add some humor to the holiday meal by sticking strawberry tops on his face.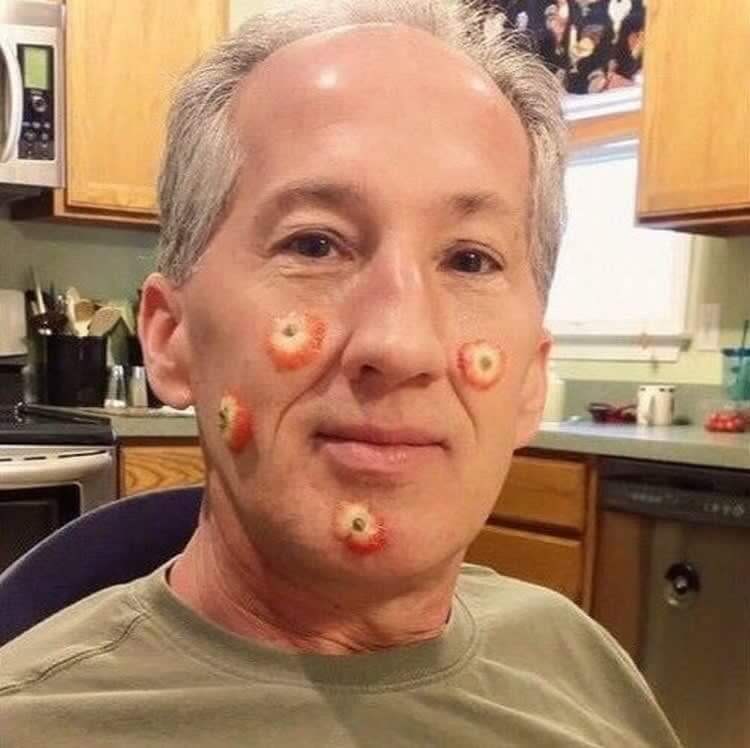 There is a face wash to clear that right up. 
34. When You Come Home For The Holidays And The Couch Is The Only Open Bed
Reminiscing on the days you used to live with your parents by having to sleep on the couch in your old dinosaur sheets.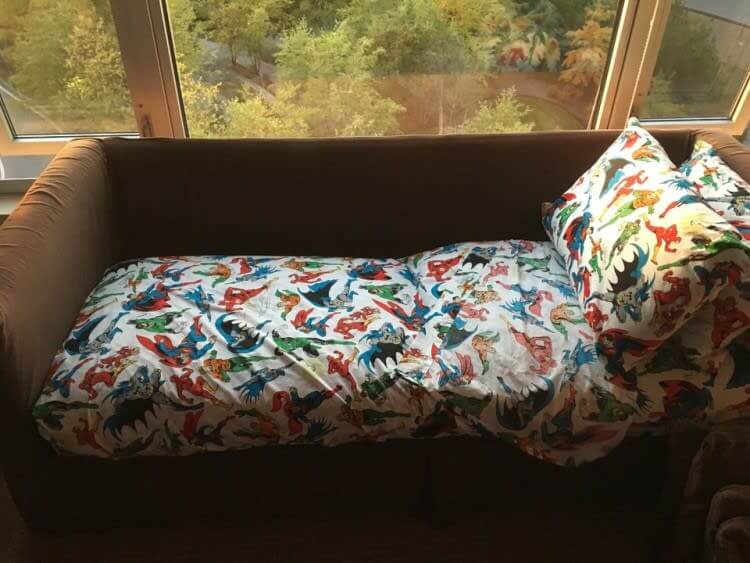 That's an excellent way to be welcomed home for the holidays. 
35. A Small Hint
Holiday desserts are the best. They are even better with a personalized message from your parents.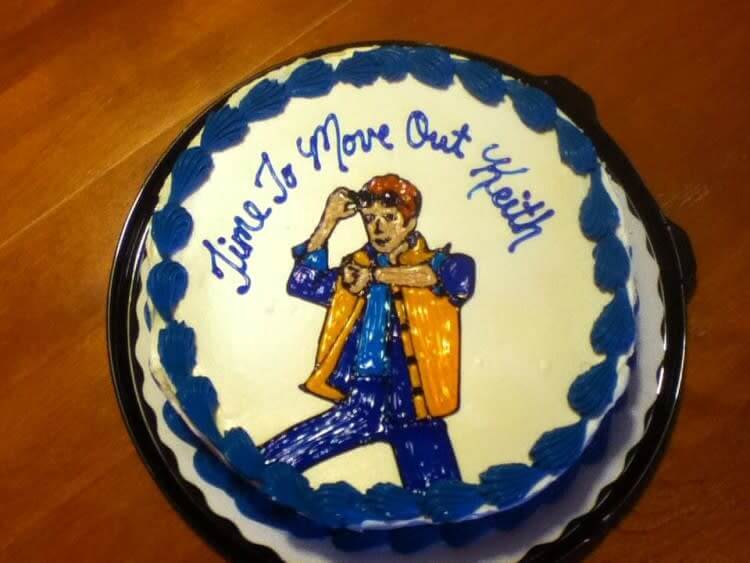 Do you think he got the hint?