Have you ever seen a photo and thought, "Wow, the earth is a magical place." There are so many things in the world that are left to be discovered. We found these fascinating photos that will show you some amazing things on earth. Now, prepare to be amazed.  
1. When Lightining Strikes In The Middle Of The Forest
If lightning strikes in a forest and no one is around to see it, does it leave a mark?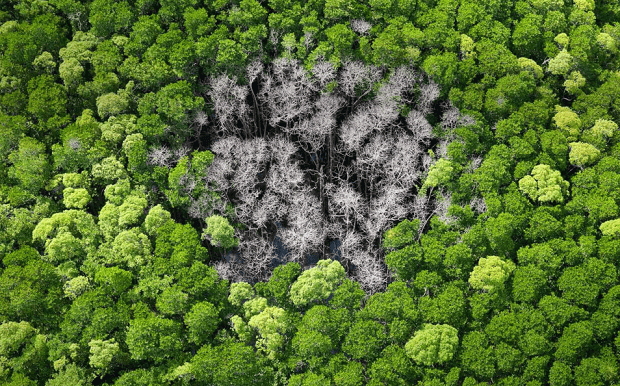 The answer is yes. This is what happens when lightning hits a patch of trees in the middle of the forest.
2. Melted Glass In A Building That Caught Fire
This melted glass looks like some kind of surrealist painting.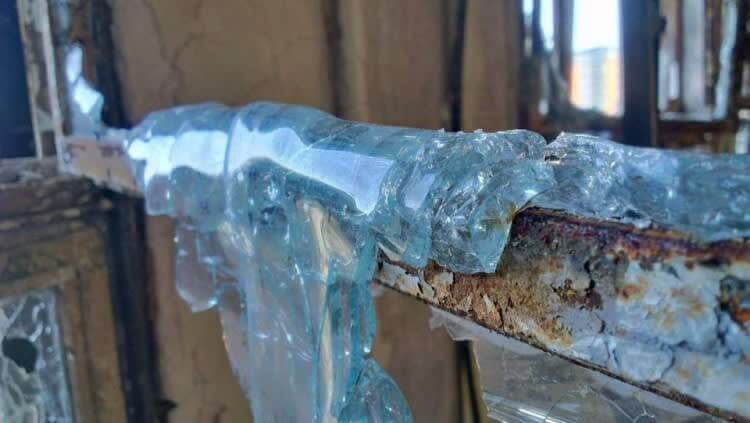 It is so interesting to see what happens to different materials under high heat. 
3. Sand Dunes In Southern California By The Border Of Mexico
The sand dunes in southern California run along the border of Mexico.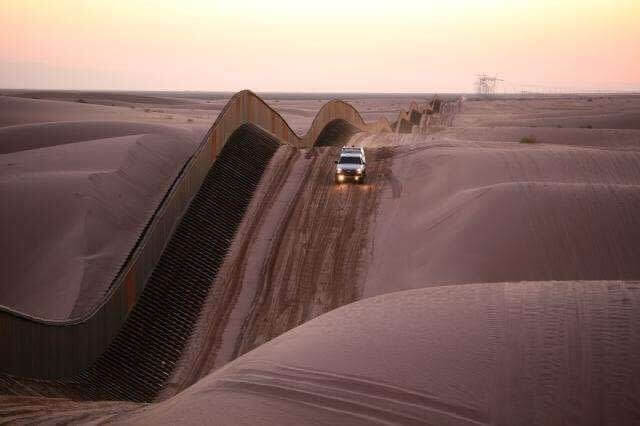 Not only can you see the border fence, but you can also ride dune buggies.
4. The Stark Contrast Between Manhattan 400 Years Ago Vs Today
This image shows what manhattan might have looked like 400 years ago. The city has changed incredibly.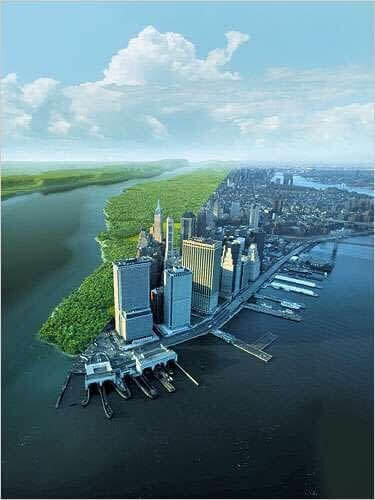 Even if you looked back only 100 years, there would still be a significant change in the way the city looks because of how many skyscrapers have been built. 
5. When A Sunset And Solar Eclipse Happen At The Same Time
This is a very rare event for an eclipse and a sunset to happen at the same exact time.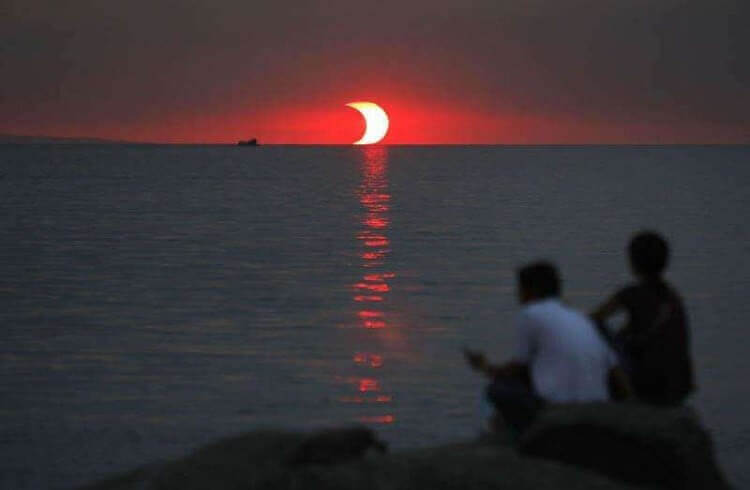 Just make sure you don't stare at it too long because eclipses can cause serious damage to your eyes. 
6. A Photo That Will Make Perfectionists Cringe
Would you believe that this is one picture and not four separate pictures?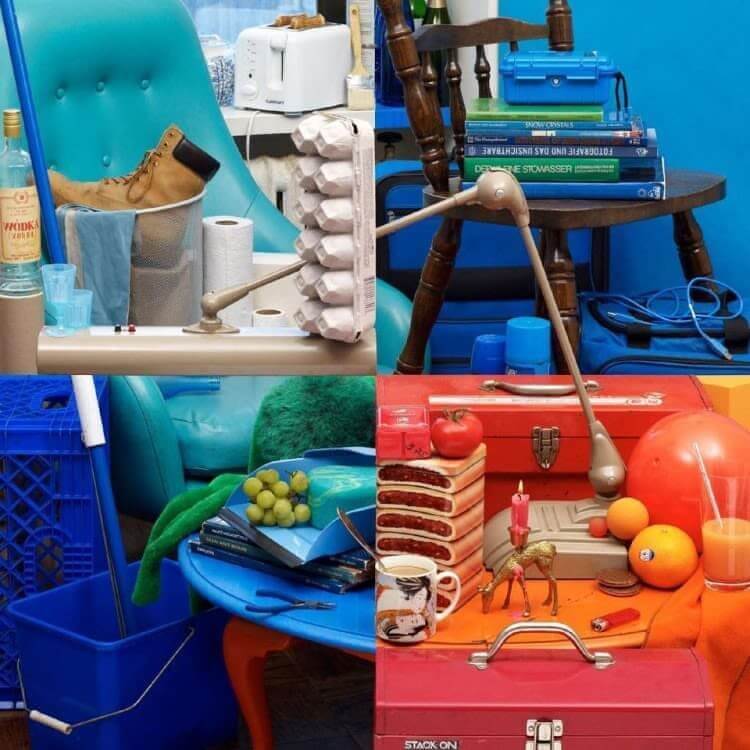 This picture makes our brains hurt from all the chaos. 
7. An Aerial View Of A Bridge Over A Frozen Lake
Depending upon where you live in the world, temperatures in the winter can dip into the negatives. That can cause even large lakes to freeze over.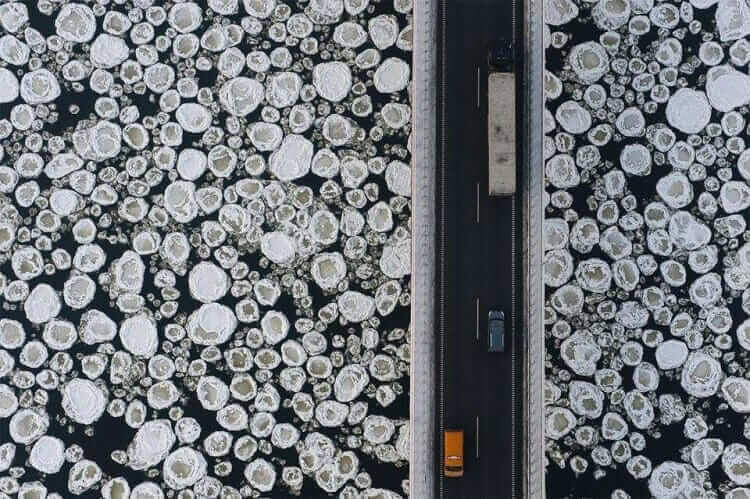 This is what one of those lakes looks like. The ice looks more like salt deposits. 
8. Tangalooma Wrecks In Queensland, Australia
This is a human-made reef off the coast of Australia in the most beautiful clear waters.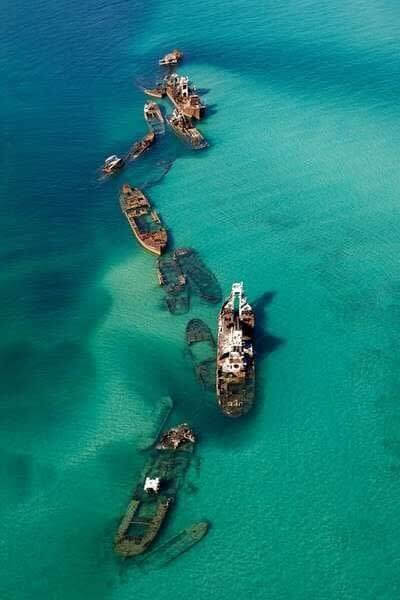 The boats were sunk on purpose in the '60s to help start natural coral reefs. 
9. This Chemical Element That Appears Irridescent
This is the chemical element, Bismuth. It appears to have these beautiful colors because of iridescent oxide on its surface.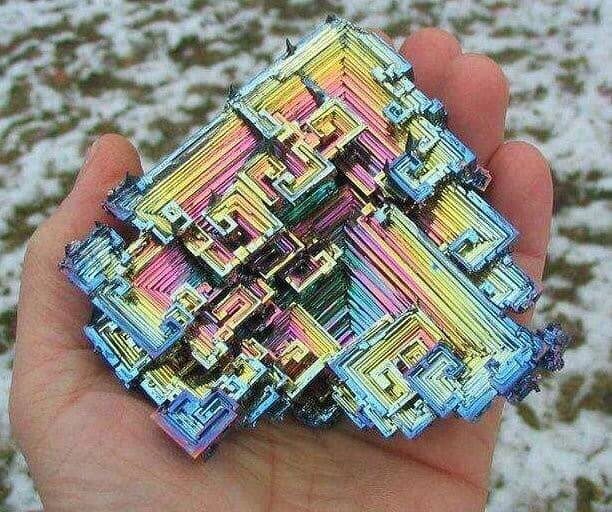 Bismuth is used with other metals to make automatic fire sprinklers. Who would have thought that this beautiful element is used to make something you see in every building. 
10. A Community of Igloos in Germany
It would be interesting to live in an igloo for a few days. It must get very cold inside, right?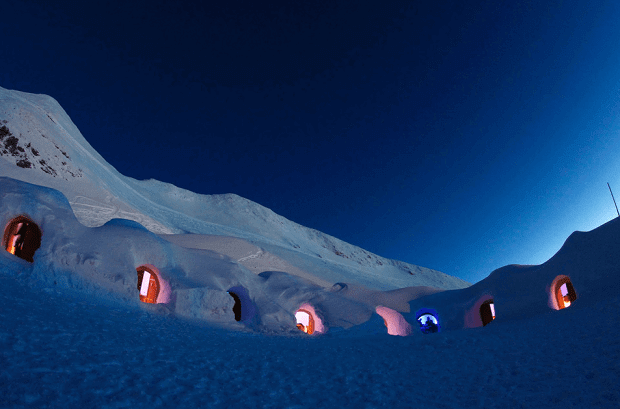 Wrong. Igloos can be 100 degrees warmer than the outside temperature. 
11. Marlon Brando Before And After Make Up For The Godfather
The use of makeup for movies is amazing. It can completely change the way a person looks, making them unrecognizable.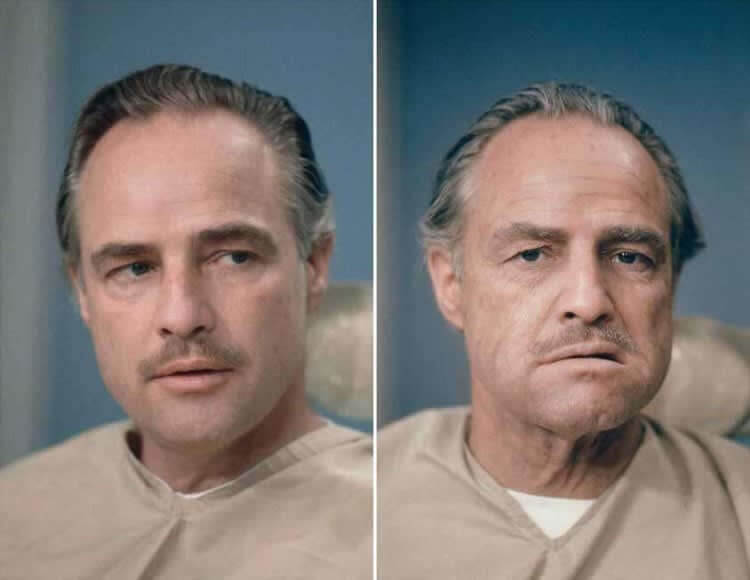 Marlon Brando was transformed completely and aged to fit his role in the Godfather movies. 
12. What A Space Shuttle Launch Looks Like From Space
This picture was taken by a NASA satellite when the space shuttle Atlantis was launched.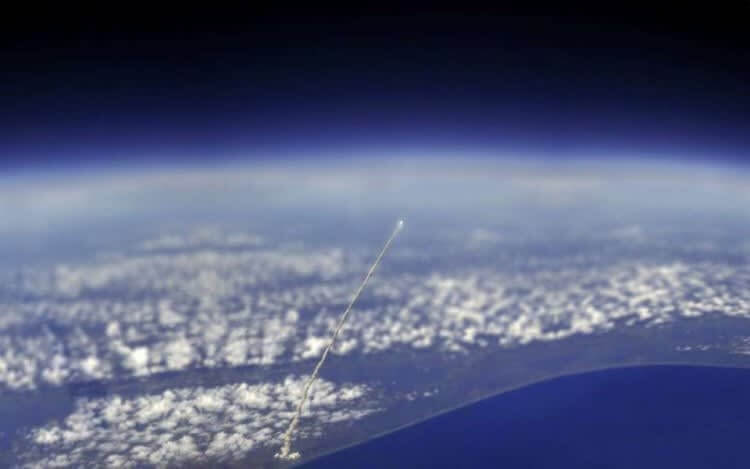 The launch looks really cool from the ground, but even cooler from space. 
13. A Wolf Made Entirely Of Pipe Cleaners
This wolf looks very realistic, and the details on it are impeccable.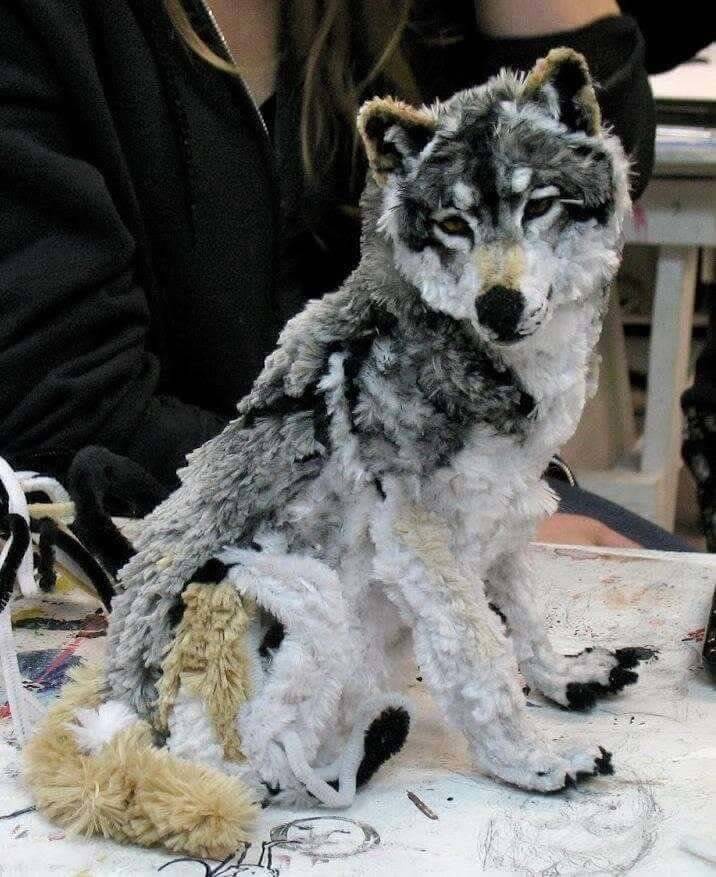 How long do you think it took someone to make this? Hopefully, it is on display for everyone to see somewhere. 
14. A Machine The Puts Bricks In A Pattern And Lays Them Perfectly
This machine looks so satisfying and time-saving. It is like a perfectionist's dream.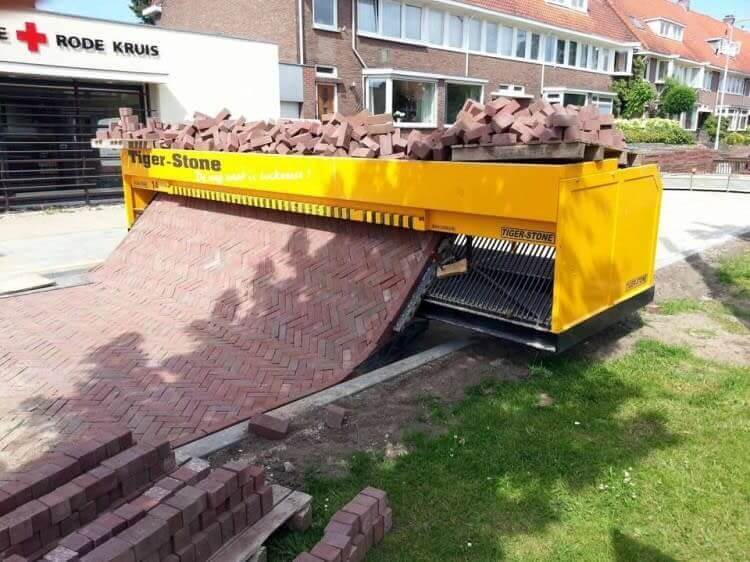 If only this machine could work for folding laundry. You throw your stuff in it, and it comes out folded. Someone invent that. 
15. A Delicately Crafted Eggshell
Eggshells are extremely fragile, so it takes a skilled hand to create a delicate design like this.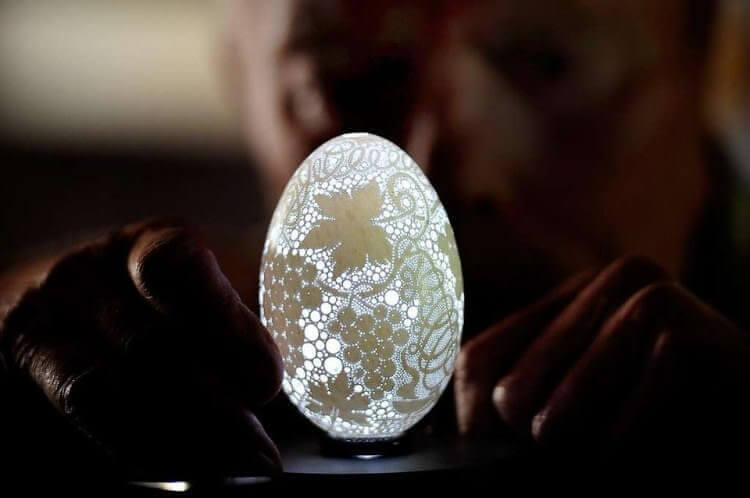 This artist managed to drill 20,000 holes into the shell without cracking it, that's incredible. 
16. A Man Standing Next To "The Door To Hell"
"The Door To Hell" is located in Turkmenistan, and it has been burning since the '60s.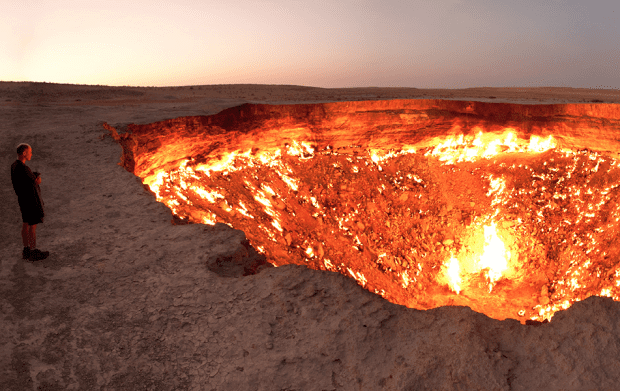 It was a natural gas field that collapsed, and scientists set fire to it to prevent the spread of methane gas. 
17. Firefly Squids In Japan
Firefly squids are filled with bioluminescence, which makes them glow this blue color.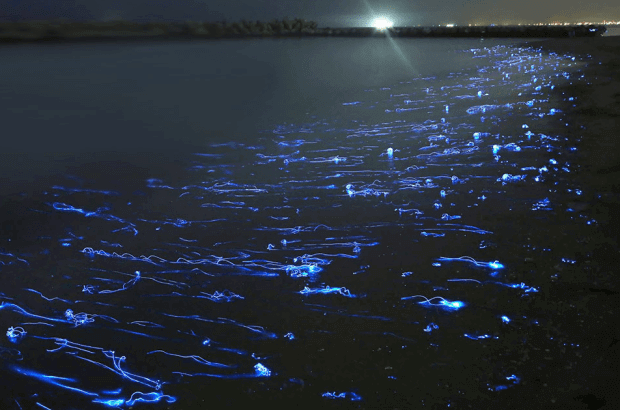 When there are many of them the waters are lit up with the dancing lights of the squids. 
18. Someone Kayaking Up To Volcanic Lava
This looks exciting and terrifying at the same time. He is so close to burning hot lava from a live volcano.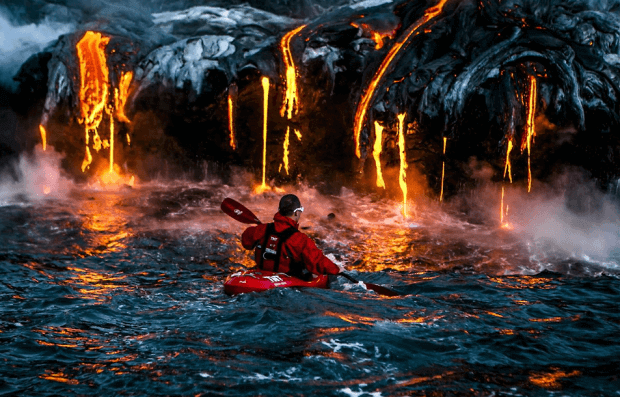 If you are a thrill-seeker, you should add this to your bucket list.  
19. A Fukang Meteor
This is a piece of a real meteorite. The unique thing about this one is that it has yellow olivine crystals inside it.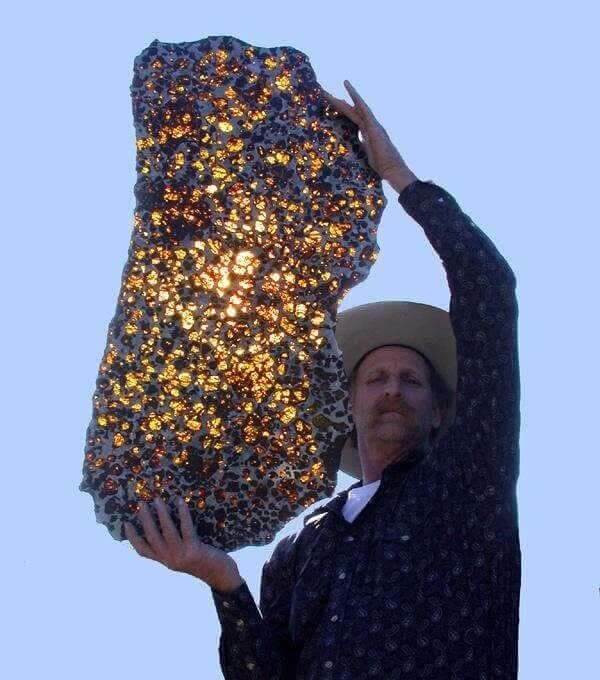 It is estimated to be 4.5 billion years old. You can see the Fukang meteor at the Natural History Museum in Vienna, Austria. 
20. They Are Going To Need A Bigger Boat
Whales are beautiful creatures, and they are enormous. You can see just how big it is when you compare it to this fishing boat.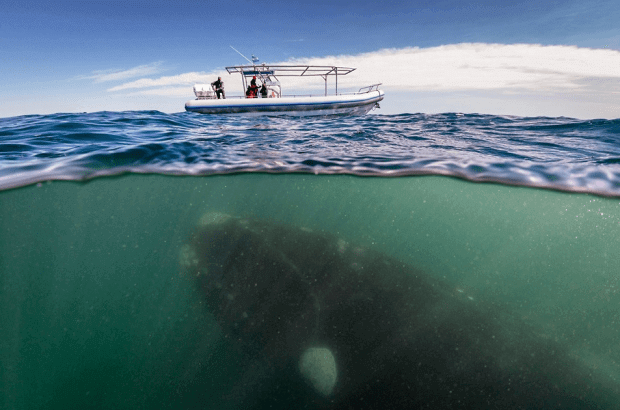 One tap from this whale, and everyone is going overboard. ​
21. A Different Take On Fireworks
This is the result of taking a picture of fireworks and refocusing your camera.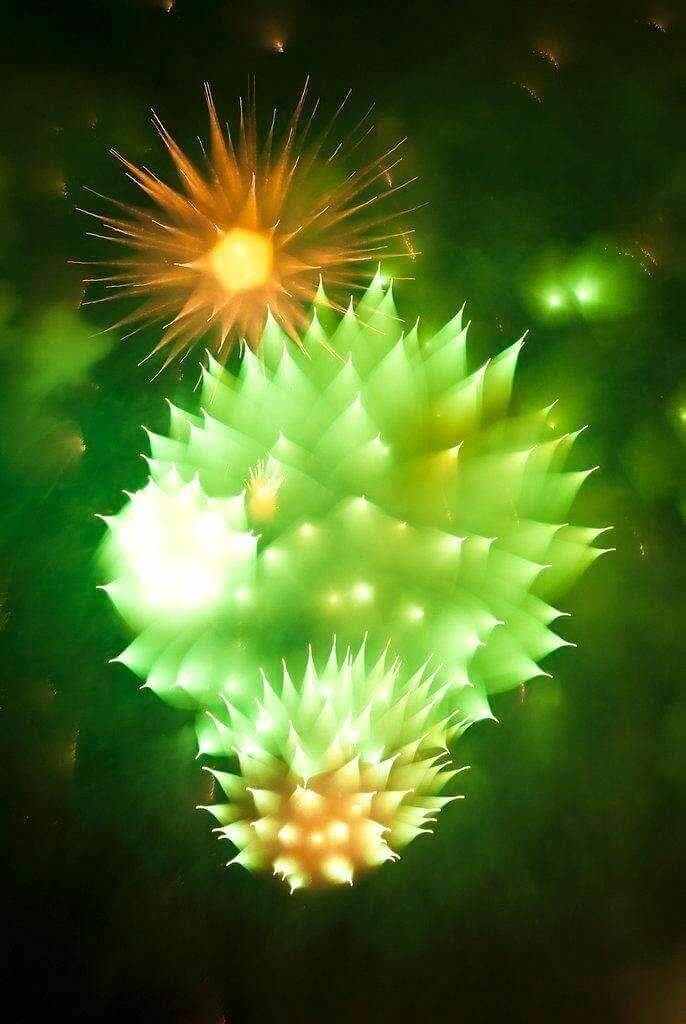 These look more like close up pictures of succulents instead of fireworks. 
22. A Water Bottle Before It Is Stretched
Have you ever wondered what a water bottle looks like before it is stretched and given a shape?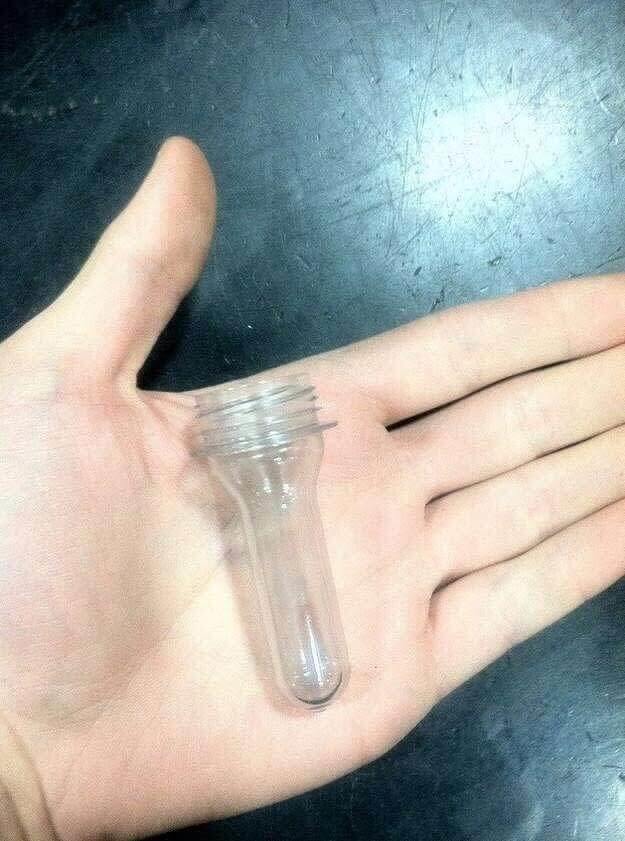 This small piece of plastic is what makes of the bottles that you drink out of and see every day. 
23. How A Cat Sees The World
Animals see the world differently than we do. They don't see color or light the same way. The top half of the picture is how humans see the world, and the bottom is how cats see it.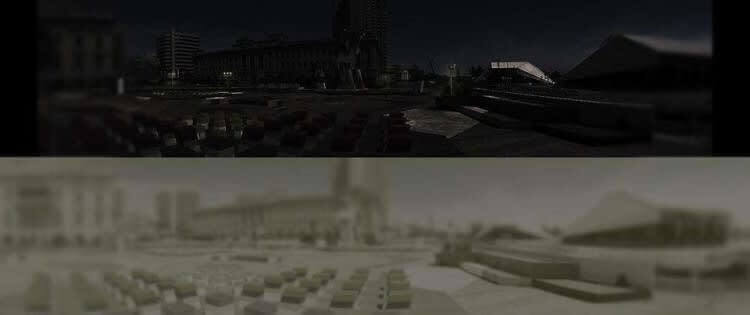 They are nocturnal, and it makes sense now because night looks like daytime. 
24. This Incredible Piece of Art Work
This incredibly intricate artwork is called a Murrine. It is detailed paintings inside of a glass cane.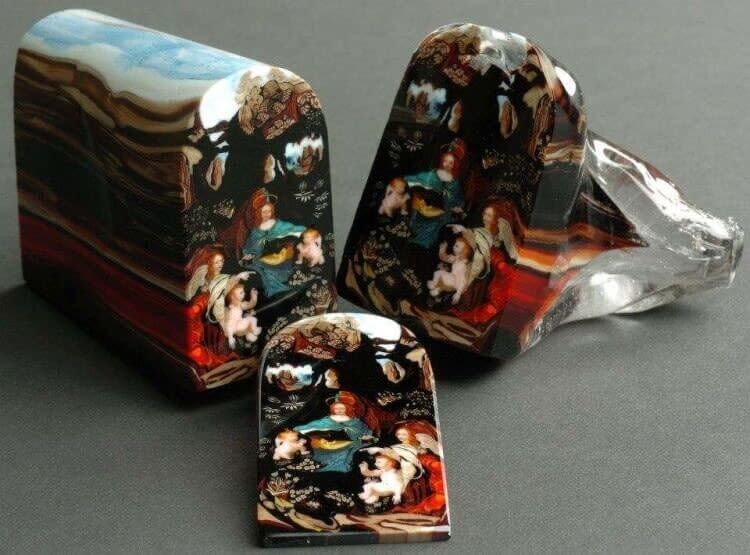 When it is cut into pieces, the painting is revealed, and you are left with small masterpieces. 
25. A 3-D Printed Cast That Helps You Heal Faster
If you have ever broken a bone, you must be familiar with the traditional plaster cast. This new technology is 3-D printed and uses ultrasound.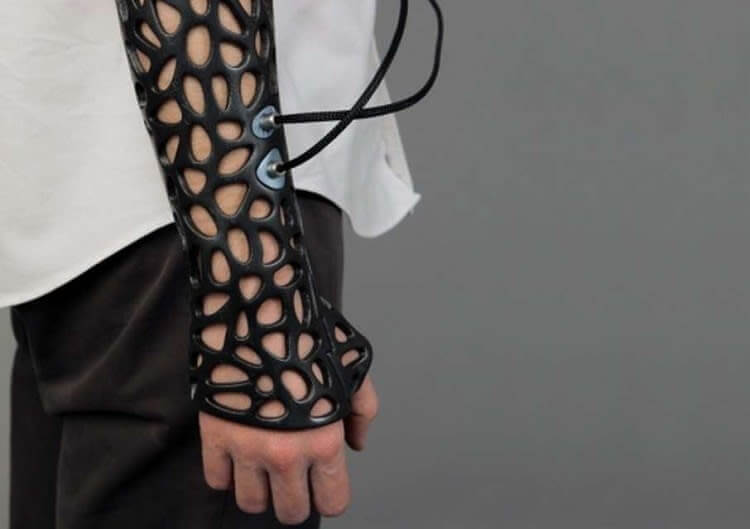 It looks a lot cooler than the typical cast, and it can heal your bones 40% faster. It is also waterproof! 
26. What A Pregnant Cat X-Ray Looks Like
A cat's litter can vary in size from three to ten kittens. This is what all those kittens look like inside their mom.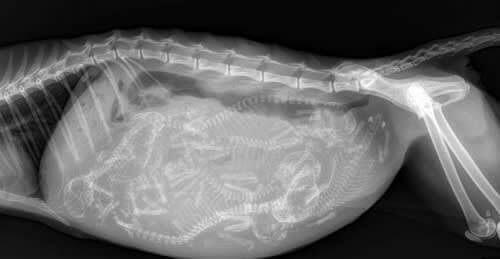 It is crazy how you can see all their tiny little bodies ready to come out into the world and steal people's hearts. 
27. When A Lizzard Sheds The Skin On Its Face
The process of a lizard shedding its skin is called molting. They do this so they can grow and get rid of parasites.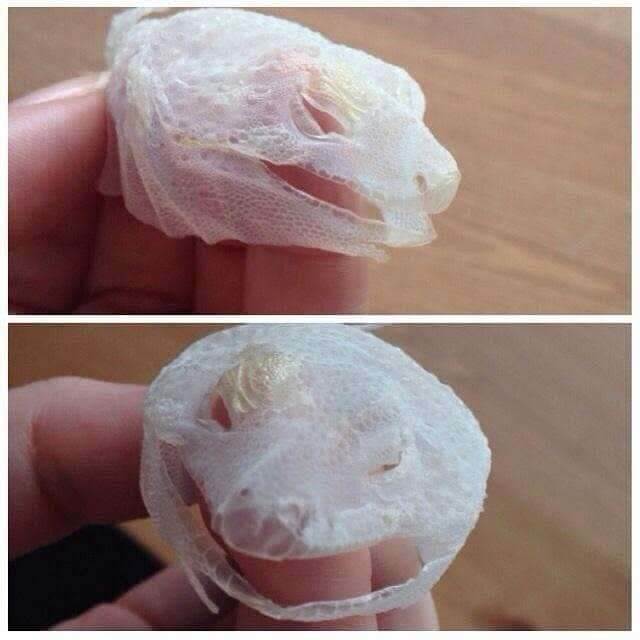 This is what the skin looks like after it has been shed. It is pretty creepy. 
28. Hitlers Original Mustache
Before Hitler has his infamous mustache, it was a bit longer on the sides. He had to trim it because it didn't fit under his gas mask.  
This was before he rose to power in his early army days. He looks unrecognizable to the images we usually see. 
29. A Naturally Formed Perfect Cube
It is hard to believe that these perfectly formed cubes are the work of mother nature herself.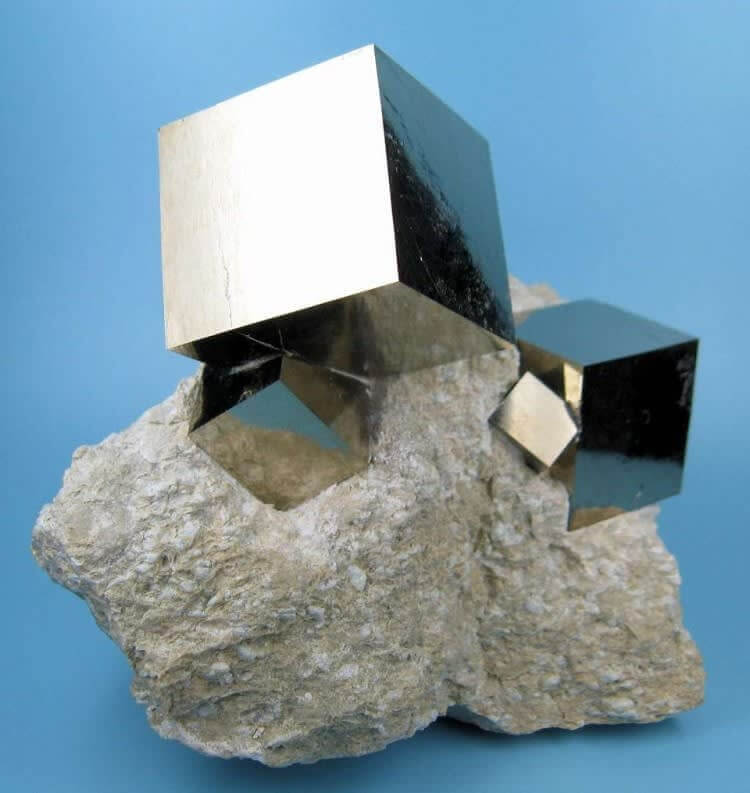 How are these perfect cubes more flawless than something most people could make? 
30. What The Earth Would Look Like With Saturn's Rings
It would be so interesting if the earth had Saturn's rings. You could get a different view of them from every part of the world.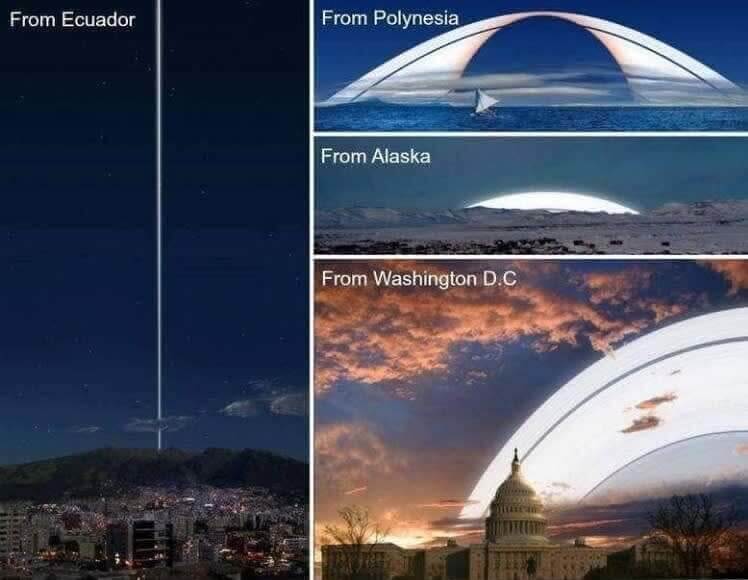 If people were able to live on Saturn, is this what they would see every day? 
31. The Inside Of One Of The Best Made Watches
These are the inner workings on a Patek Phillipe watch. These watches range from about $20 thousand all the way to $11 million.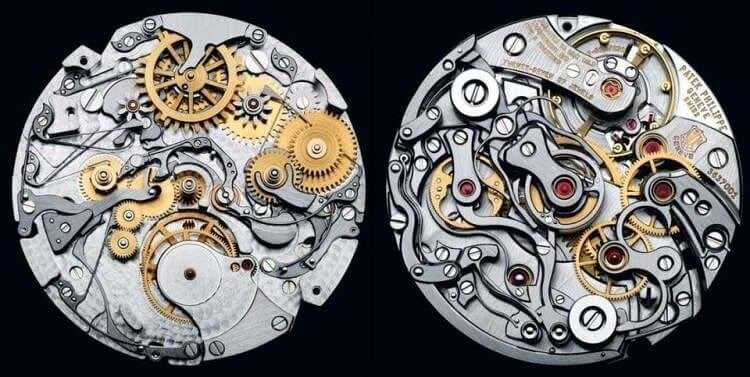 You cannot find a nice watch than this and the craftsmanship is flawless.  
32. The Chair That Abraham Lincoln Was Assasinated In
Abraham Lincoln was the 14th President of the United States. One night while he was attending the theatre, John Wilkes Booth shot him in the head in this exact chair.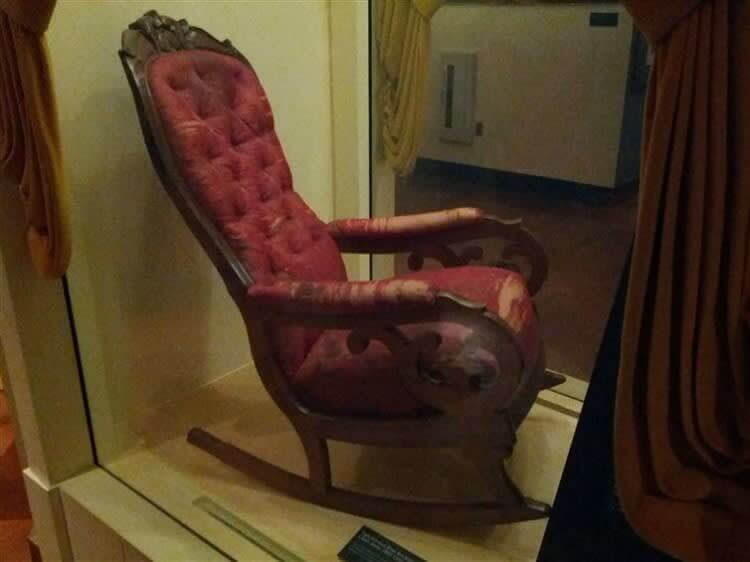 The chair is on display at the Henry Ford Museum in Michigan. 
33. A Childs Skull Before Baby Teeth Fall Out
This is a creepy image, but this is what your skull looks like before you lose all your baby teeth.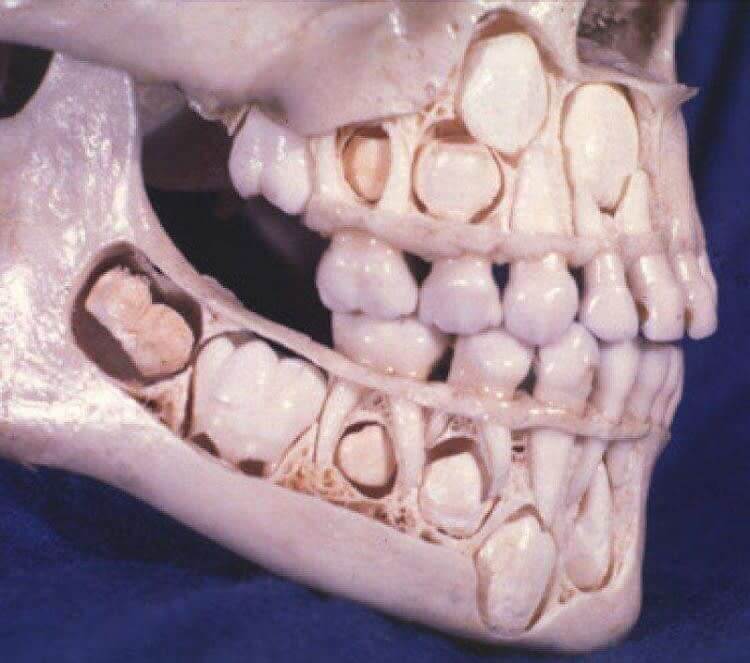 Does this make you feel just as uncomfortable as we do? 
34. What The Sunset Would Look Like Through A Wave
This illustration of a sunset through a wave looks so realistic like you could reach out and touch the water.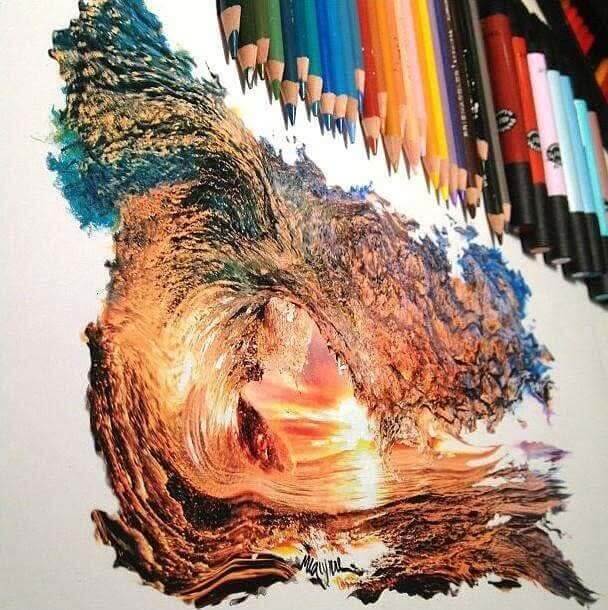 Somehow with just colored pencils and markers, this artist managed to create so much texture and detail. 
35. The Pattern When Lightning Strikes The Ground
When lightning strikes the ground, it spreads out and creates a pattern like this.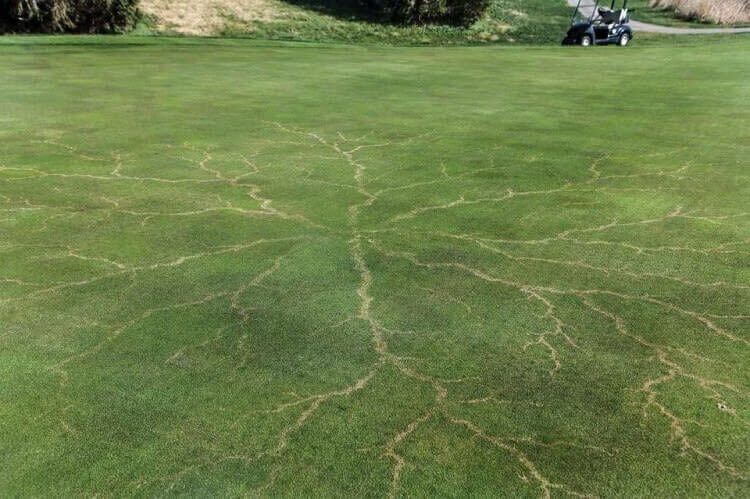 If a person is struck by lightning they can also have a pattern like this on their skin. 
36. Interesting Brick Formation
This is a very interesting brick design. It would be cool to see how they created this unique pattern.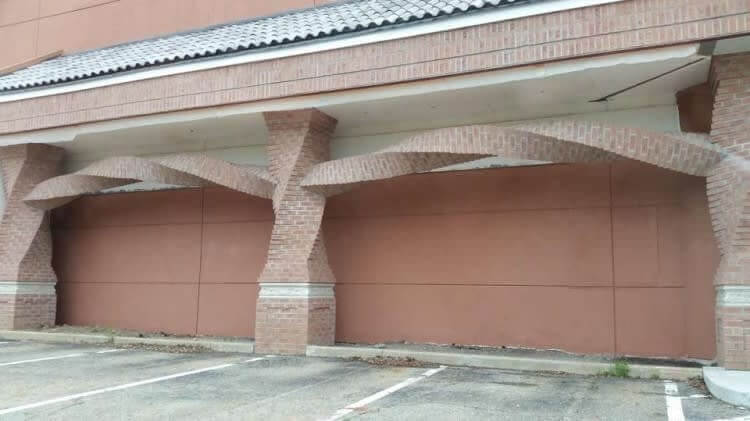 For such an intricate design, it looks like it is at a small-town strip mall. 
37. This Distored Image Of A Cabinet
Have you ever tried to take a panorama picture and your hand moves, messing up the image?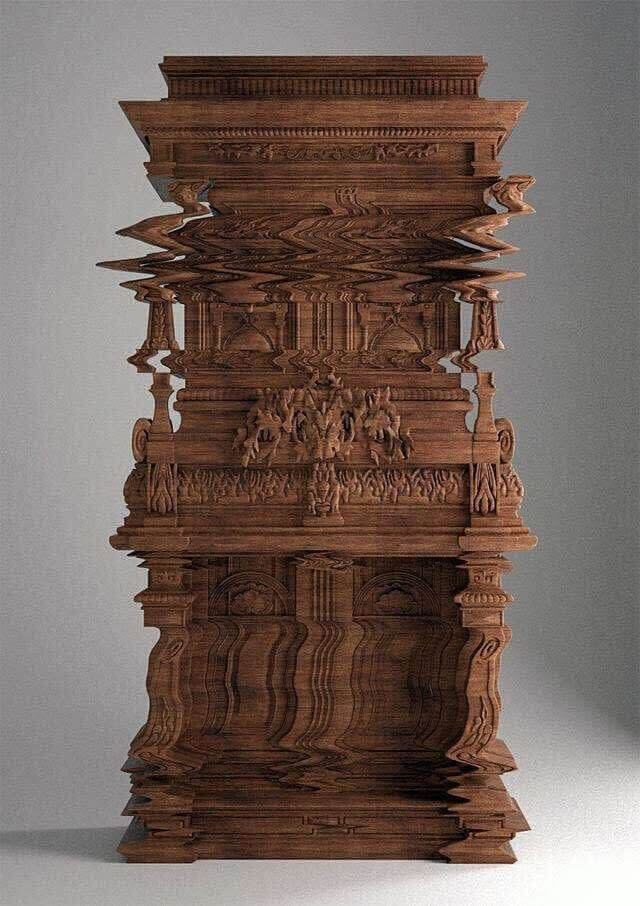 Someone did that on purpose to create this interesting picture of a cabinet that they plan to craft in real life.