There's nothing worse than walking into your living room and realizing, "I gotta clean up this pigsty." If you're anything like us then you try to maintain a certain level of cleanliness but certain things (work, kids, love of a good nap) just somehow always get in the way. Well, fear not! After exhaustive research, we've come to realize that cleaning, while never being "fun" for 80% of the population, can actually be really easy and really effective. So if you're ready to feel like you're living in a brand new shining palace then read through our list of the best cleaning hacks the internet has to offer and change the way you clean forever!
1. Clean Your Oven With Baking Soda And Vinegar
The self-cleaning function of an oven is not so reliable. Therefore, it would be best to use a safe, natural, and super effective method to get the job done. You could be dealing with some elbow grease, but will that be worth the trouble?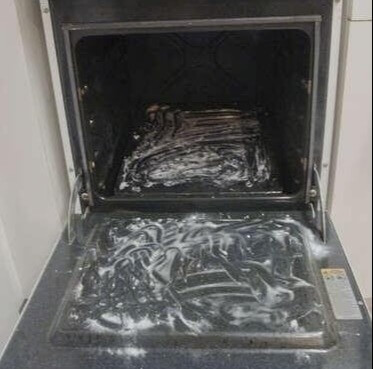 Mix a 1/2 cup of baking soda with a few tablespoons of water to have a spreadable paste. Simply coat the oven's interior surfaces with the paste and let it sit overnight. Clean the oven with a damp cloth and spray a little vinegar over baking soda residue. Take a wet cloth and clean the oven. Voila! All clean.
2. Cleaning A Wood Cutting Board With Kosher Salt And Lemon
The best way to maintain your wood cutting board is to give it a good cleaning every month with kosher salt and lemon.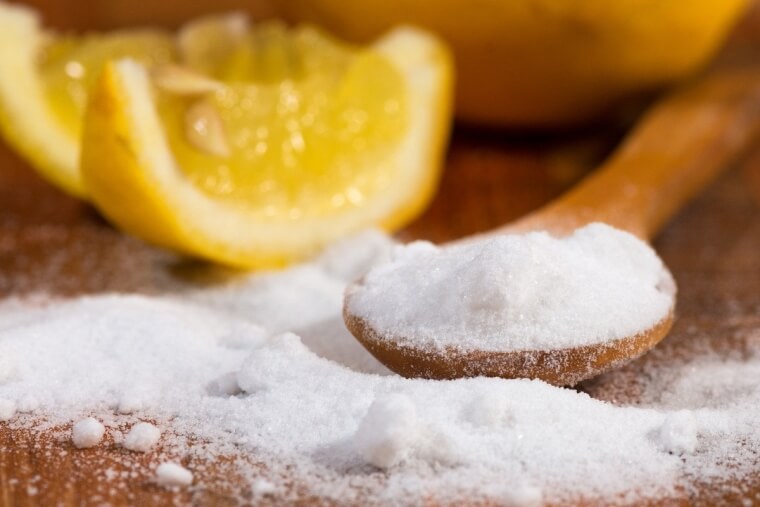 Take a lemon and cut it in half. Sprinkle the board with coarse salt and use the lemon to scrub the salt down each side of the board. Let the solution sit for about five minutes before cleaning the board off with a sponge.
3. Use A Disposable Razor To Remove Paint From Clothes
Although painting is fun, it can get messy. In the event that you get paint stains on your clothes or rug, there is no need to worry. If you're looking for one of the best ways to remove paint stains from your clothes, try using a disposable razor.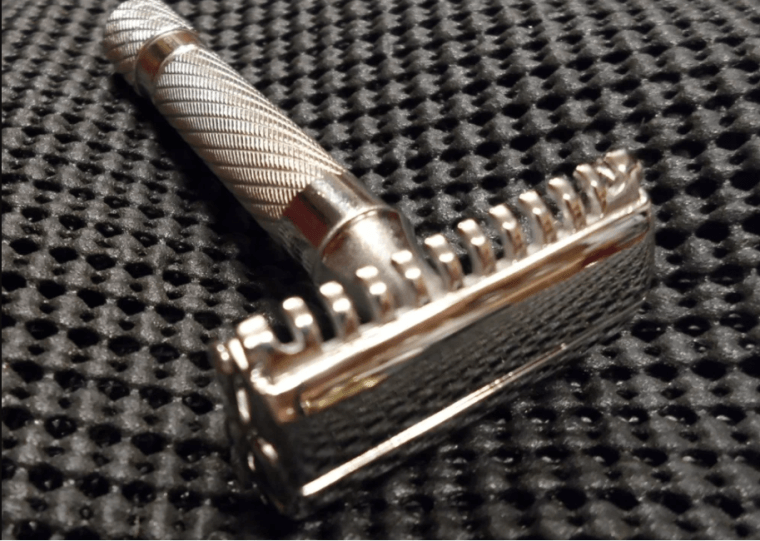 Place the clothing on an ironing board and gently scrape the paint off the fabric. Make sure to use an old razor because a new one could damage your clothing.
4. Clean Your Sofa And Remove Odors With Baking Soda
As your living space is incomplete without a sofa, it is important to clean it from time to time. However, cleaning a sofa and removing foul odors requires your time and effort. Using baking powder is one of the most effective and time-saving ways to clean a sofa.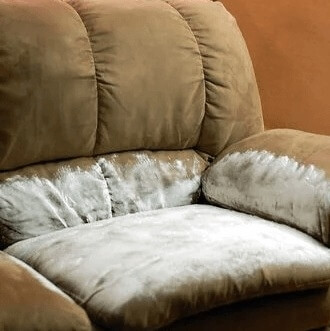 Simply sprinkle a thin layer of baking soda on your sofa. Let it sit there for approximately 20 minutes. Baking soda will help remove any unpleasant odors. Finally, vacuum the sofa. In case you want to remove stains, you can mix a tablespoon of white vinegar, washing-up liquid, baking soda, and warm water.
5. Clean Your Blinds With Water And White Vinegar
As grease and dust can accumulate on blinds over time, it is imperative to clean them once every month.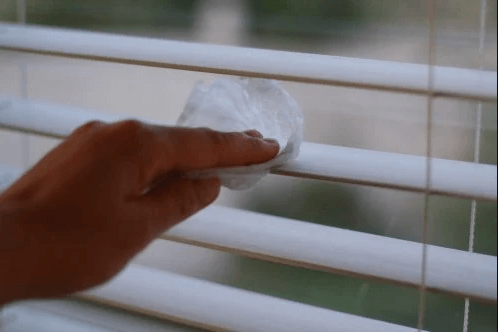 You can make a 50/50 mixture of white vinegar and warm water to clean your blinds. Wet a sponge in the solution and wipe down each slat. If you have wooden blinds, make sure not to put water on them.
6. Remove Oil Stains Out Of The Carpet With Baking Soda
Of all the laundry stains, the worst are grease and oil stains. But removing them can be easy. All you have to do is sprinkle baking soda on the fabric and let it sit for at least 1-2 hours.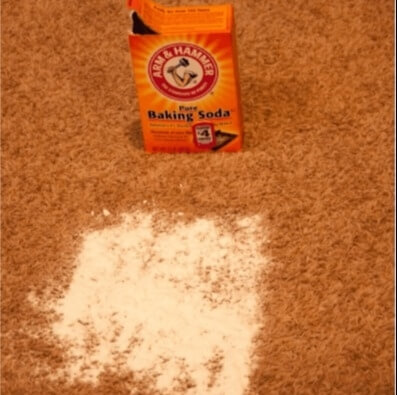 Put a few tablespoons of baking soda in hot water and soak the garment in it. Let it sit there for about 15 minutes before gently washing it.
7. Use A Hairdryer To Remove Water Rings From Wooden Surfaces
A nasty water ring can ruin the look of your beautiful wood furniture. If the damage has already been done, there is no need to panic. You can easily remove the water ring on furniture with a hair dryer.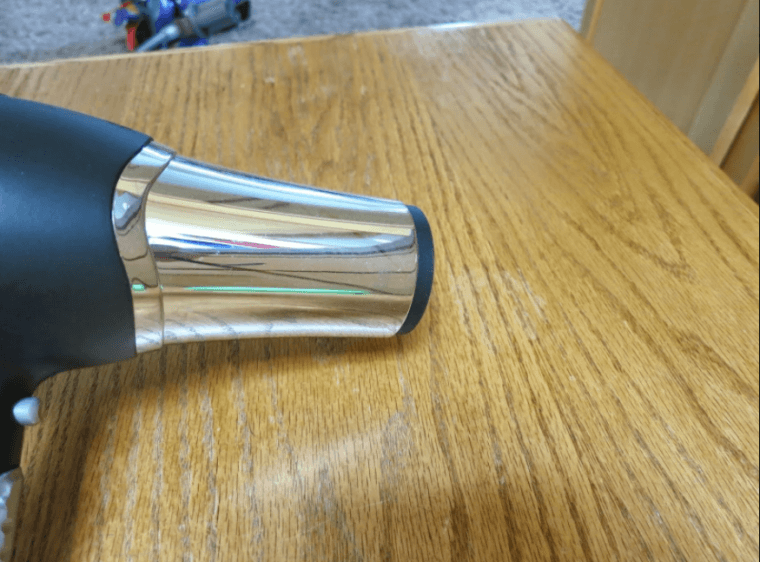 Simply set your hair dryer to medium heat and make sure to hold it at least 2 inches away from the stain. While applying heat, use a napkin to clean the mark. Use 2-3 drops of olive oil to give wooden surfaces a refreshing look.
8. Use Lemons To Remove Stains From Faucets
Getting rid of hard-water stains on a faucet is not easy. But there is one simple, natural solution. Cut a fresh lemon in half and remove stains with it.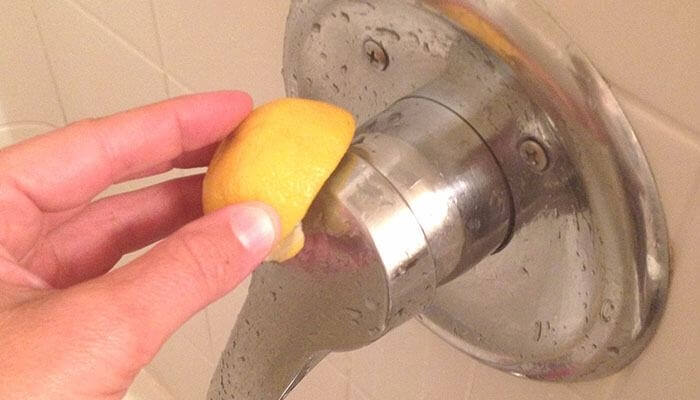 You can get rid of hard-water buildup by pressing the lemon onto the end of the faucet and securing it by putting a small plastic bag around the faucet with a rubber band. Leave it for a few hours and let the citric acid work its magic.
9. Clean Your Tub With Baking Soda And Liquid Soap
If your bathtub needs cleaning, don't use chemicals. There is an easy, effective, and safer solution.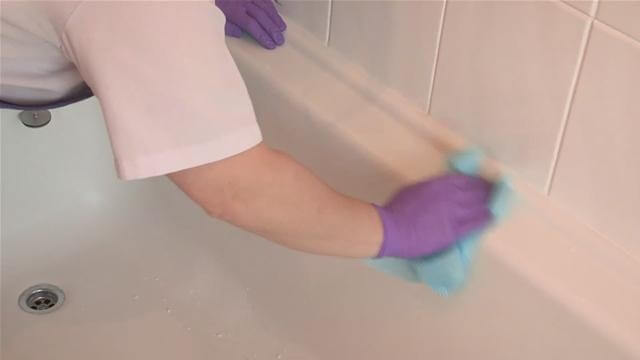 Just use a teaspoon of liquid soap, baking soda, and a few drops of antibacterial soap to create a paste. It will do the job better than other dangerous chemicals like bleach.
10. Clean Stainless Steel With Cream Of Tartar
You thought cream of tartar is only good for stabilizing whipped egg whites, and acting as a leavening agent for baked goods, right?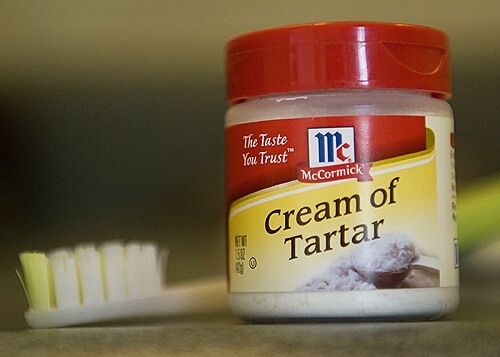 Did you know that you could use it to make your stainless steel sparkle? You just have to mix it with a bit of water to clean stainless steel. It will clean off any grit and make it look new.
11. Clean Cast Iron Dishes With Sea Salt
Cleaning cast iron dishes is not an easy task, but you can make it easier with just a tablespoon of sea salt.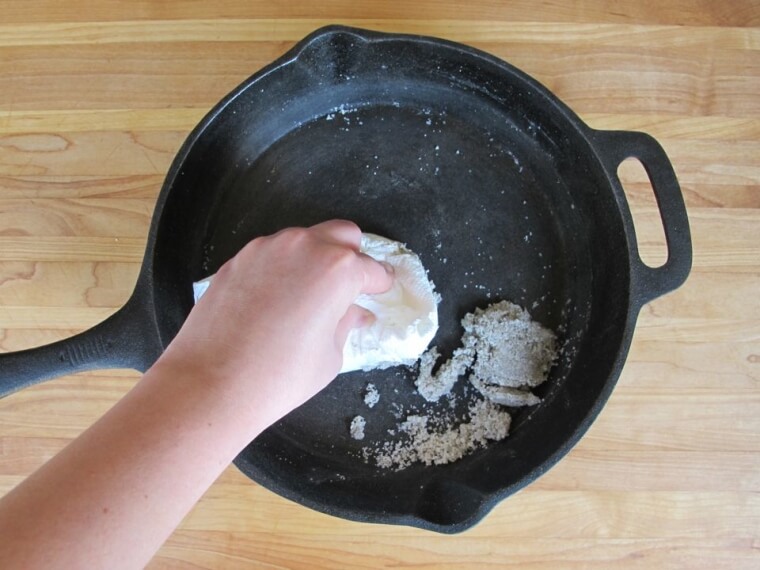 After sprinkling a tablespoon of sea salt onto the iron dish, use a sponge to scrub it around the iron. Once finished, clean the iron dish with warm water.
12. Clean Baseboards With Dryer Sheets
If your baseboards are covered in a thick layer of dust, you can clean them with dryer sheets.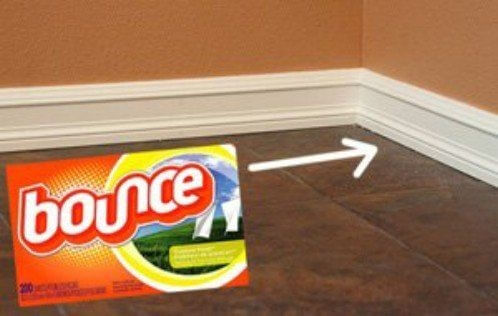 The baseboards are prone to getting dusty and covered in hair. So, simply swipe the used dryer sheet over your baseboards. The sheet will clean the baseboard and repel dust and pet hair.
13. Remove Grease Stains with Chalk
You can remove grease stains quickly by using chalk. Just rub a piece of white chalk onto your clothing and leave it there to absorb the oil before brushing it off.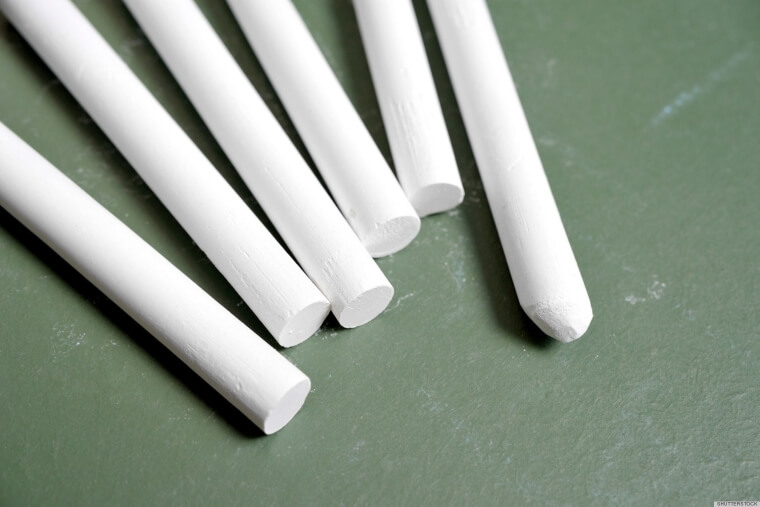 If the stain lingers, repeat it before laundering. It is a way better option than trying to scrub out the stain.
14. Clean Your Toilet With Vinegar And Duct Tape
You may consider yourself an active person when it comes to doing household hold tasks, but do you have the same enthusiasm while cleaning the toilet? We have a solution that can make this unpleasant task a lot easier.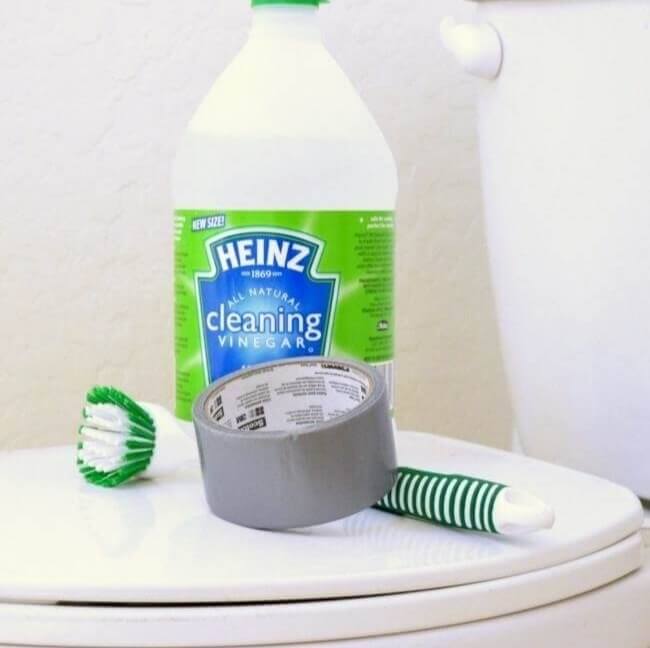 You need to tape off the siphon jets under the rim by using duct tape and then pour in it. Leave it for about an hour before flushing it, and make sure to remove the duct tape before using the toilet.
15. Clean Your Keyboard With An Old Toothbrush
Liquid, dust, food, and other particles can easily get stuck underneath the keys on a keyboard and prevent you from working properly.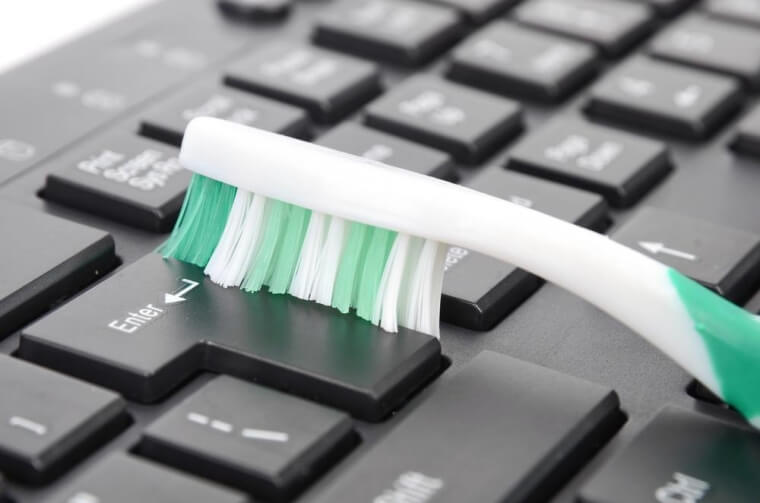 The easy solution to avoid the problem is to clean your keyboard with an old toothbrush. It will make your keyboard look brand-new in no time.
16. Use Baking Soda And Vegetable Oil To Cabinet Doors
Vegetable oil can help soften and get rid of stubborn stains, and you can also use it to clean your cabinet doors.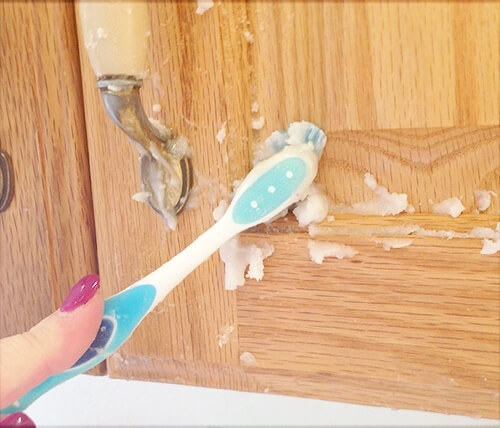 Mix two equal parts of baking soda and vegetable oil and rub the paste on the cabinets with a soft cloth.
17. Remove Nail Polish From The Carpet With Alcohol
A nail polish stain can ruin your expensive carpet. If you act quickly, you can easily remove nail polish from a carpet with the help of alcohol and a microfiber cloth.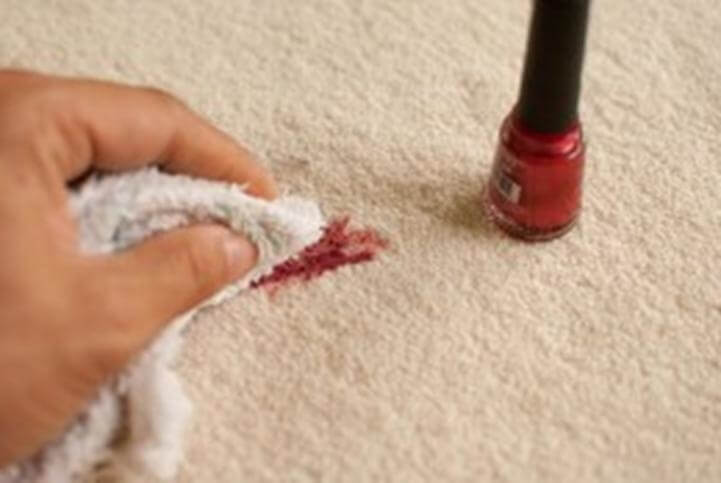 Pour a small amount of alcohol or nail polish remover onto a microfiber cloth and scrub gently in a circular motion until the stain comes out. Rinse the affected area with water and let it dry.
18. Remove Hairs from The Carpet with a Squeegee
If you want to get rid of pet hair on your carpet, there is no need to worry. Using a squeegee is a magical method for extracting hidden pet hair.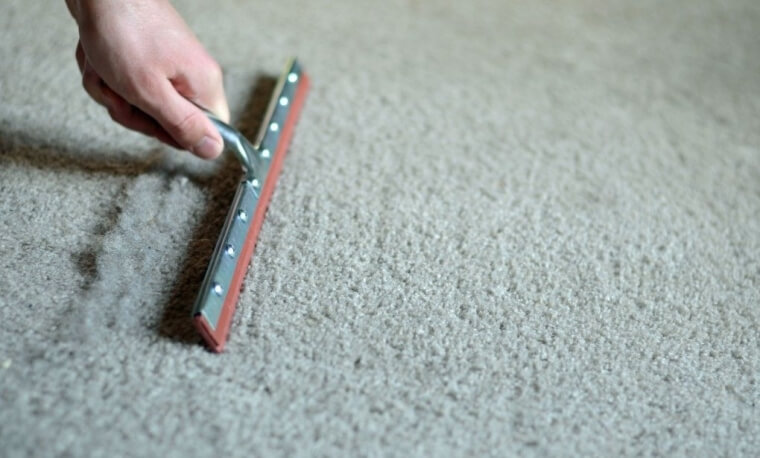 Just move a squeegee back and forth across the carpet and let it do the magic. Seriously!
19. Use Steel Wool To Clean Your Curling Iron
As home cleaning is always going to be an on-going endeavor, you need to make tasks easier. Take the example of cleaning a curling iron.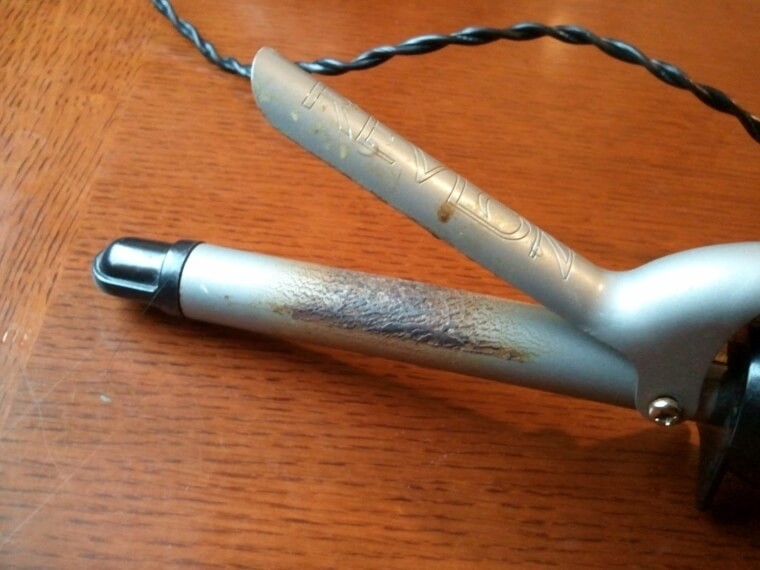 All you need is steel wool to clean a curling iron because it provides a powerful abrasion that helps in scrubbing any build-up of sticky, brown gunk.
20. Use Baking Soda To Clean Coffee Stains
Using baking soda is one of the best ways to clean coffee stains on hard surfaces, mugs, or carafes.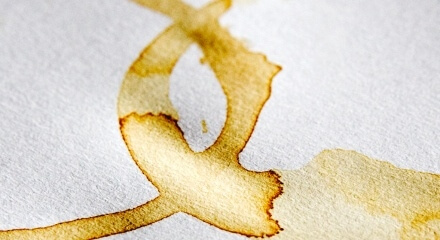 Just sprinkle a little baking soda on the stained area, add a few drops of water to form a paste, and scrub. The baking soda's gentle abrasion will help remove the stains in minutes.
21. Remove Spilled Glitter With Play Dough
Once your crafting session is done, clearing up glitter can be tough. It turns out that there's one easy way to get rid of those sparkles that spreads around the house.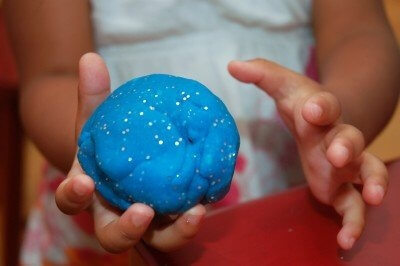 Just grab some play dough and press it over the affected areas. That's pretty much it.
22. Clean Glass Baking Dishes By Using a Ball of Aluminum Foil
First, you need to fill the glass baking dish with water and add a few drops of dishwashing liquid. Now, take an aluminum foil and create a small ball (don't start playing with the ball).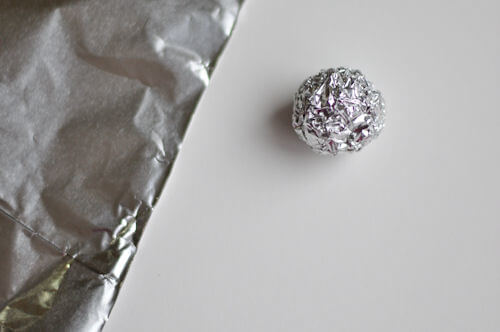 Scrub the baked-on grime off the dish by using the foil ball. It is one of the fastest ways to clean glass dishes.
23. Clean Makeup Brushes With Baby Shampoo
One of the best ways to clean makeup brushes is to use baby shampoo. Once you have rinsed them, hang them up by using a hanger and binder clip.

It is important to hang makeup brushes because any moisture in them can harbor mold and make the bristles fall out.
24. Clean Oil Stains With Coca Cola
The oil drips from your car tarnish the look of your garage. Instead of hiring a professional or using strong chemicals to remove the stains, there is one easy solution.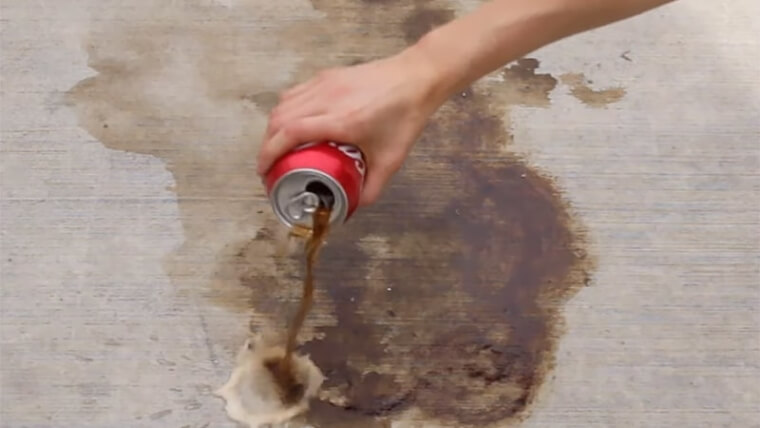 Just pour a bottle of Coca Cola on the stains and leave it. The acid in the coke will loosen the stains, which you can easily wash away.
25. Remove Stains From Your Shower Head With Vinegar
Vinegar is a veritable powerhouse that can be used for various purposes. It is super useful in getting rid of stubborn stains.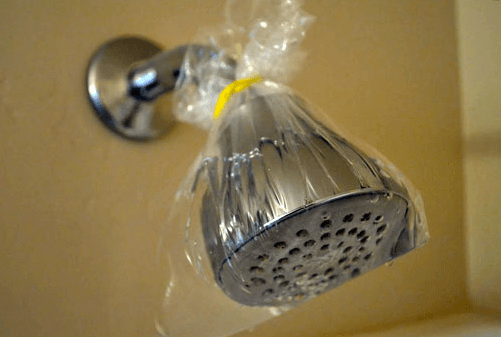 If you want to remove stains around your showerheads, put vinegar in a plastic bag and place it over the showerhead. Make sure the shower head remains soaked for several hours.
26. Make Your Coffee Grinder Smell Free With Uncooked Rice
When gunk builds up inside the coffee grinder over time, it starts giving off an unusual smell.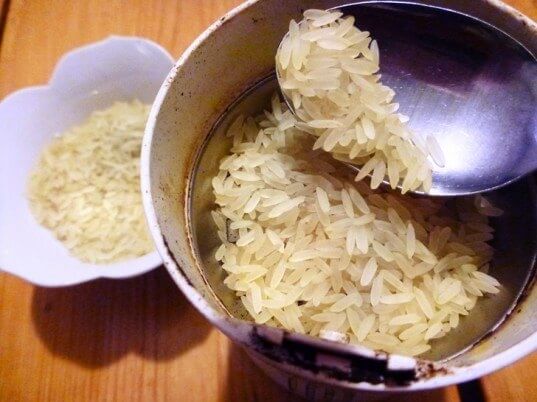 There is one best way to get rid of the smell. Just grind a small portion of uncooked rice in the grinder and say goodbye to the smell.
27. Clean Your Earbuds With A Q-Tip And Rubbing Alcohol
You can easily clean any nooks and crannies of your earbuds and headphones with a Q-tip or cotton ball and rubbing alcohol.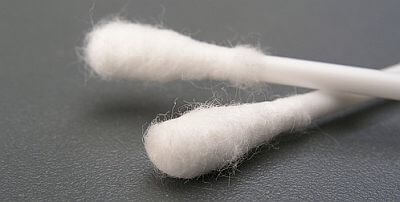 Just dampen the Q-tip with rubbing alcohol and wipe the bud mesh to disinfect and remove any dirt or residue that remains. Make sure not to saturate the Q-tip with too much rubbing alcohol.
28. Use Toothpaste To Restore Your Old Sneakers To Glory
If you're obsessed with your white sneakers, you probably don't wear them more often due to the fear of ruining their pure, beautiful look. You want to wear them and wish to keep them sparkling white, but this is not how it goes.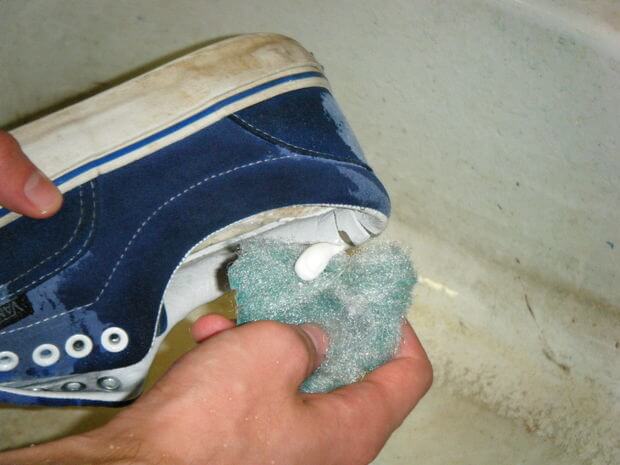 Fortunately, there are ways to make your shoes white even after getting dirty and ruined. Soak your shoes in warm water and take an old toothbrush to rub in the toothpaste. Once everything starts foaming, just let it sit there for about ten minutes before washing it off.
29. Toothpaste Cleans Your Engagement Ring
Keep in mind that abrasive materials or chlorine bleach should never be used to clean diamond jewelry.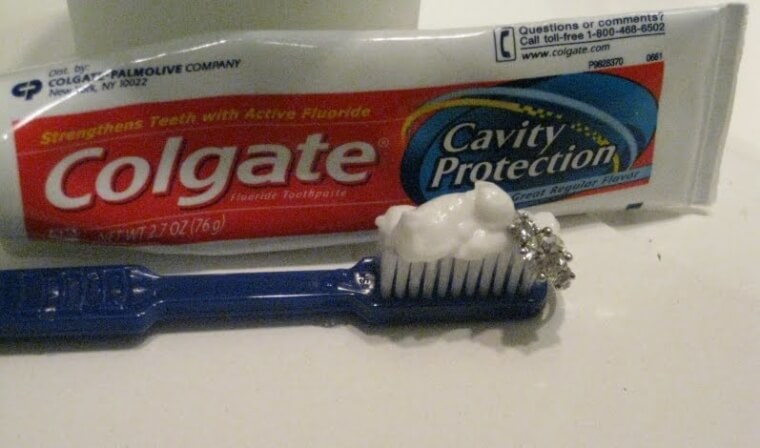 However, if you don't want to take your engagement ring to a professional, just use a small quantity of toothpaste, but don't scrub it too hard. Done correctly you'll have a gleaming ring once again.
30. Clean A Hairbrush With Shampoo
First, you need to fill a bowl with warm water and add a few drops of shampoo. Submerge the brush in water. Then let the brush stay submerged in water for about 3 to 5 minutes.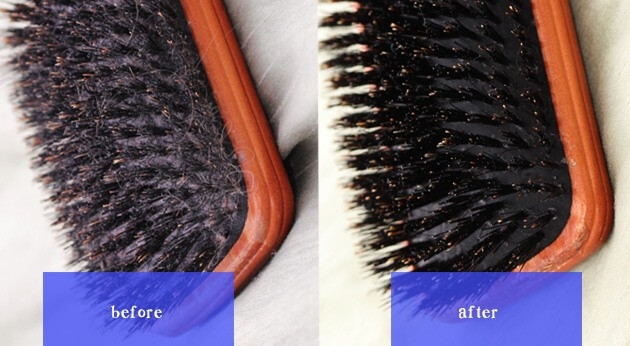 If you have a wooden brush, don't entirely submerge it. Take the brush out and shake it several times.
31. Clean Your Burned Pan With Vinegar
Cleaning a burned pan requires a lot of effort, right? You might even start thinking about buying a new one instead of cleaning it. But hold on, there is an easy solution for you.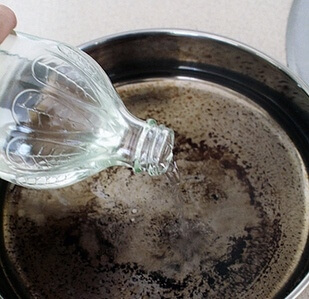 Simply fill the burned pan with water and two cups of vinegar. Bring the mixture to a boil before taking it off the heat. Now add two tablespoons of baking soda and leave it for a few minutes. You can thank us later.
32. Make Leather Furniture Look New With Shoe Polish
Dogs and cats love to scratch and play with different things in the house. Cats particularly love to scratch sofas. How can you hide those scratches?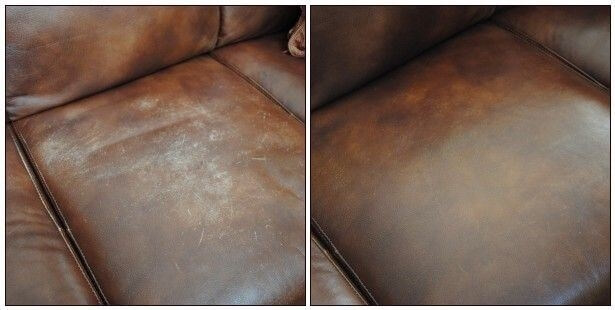 Well, you can hide the scratches in leather furniture with shoe polish. Make sure to use only appropriate colors and rub off any excess shoe polish.
33. Properly Clean Your Blender With Water and Dish Soap
Fill your blender with water and a couple of drops of dish soap. Blend for 30 seconds before rinsing it.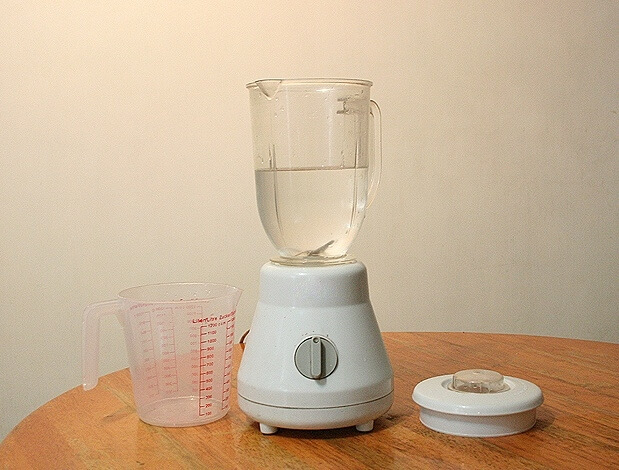 If your blender has a bad, funky smell, you can use a super quick fix. Cut up a lemon, add it to the blender with water, and blend for a few seconds.
34. Clean Your Bathroom With Bleach And Baking Soda
Cleaning grout in the bathroom has to be one of the worst chores. Scrubbing dirty grout using plain water is not easy.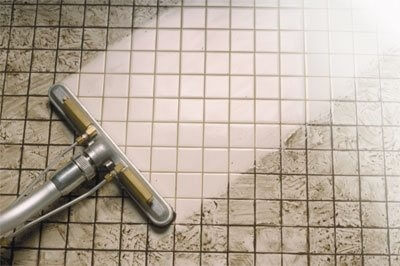 Therefore, you need to use baking soda and bleach to clean the grimiest grout in the bathroom.
35. Use A Piece of Bread To Pick Up Broken Glass
If you break a glass, don't try to pick it up with your hands. You have to be careful in dealing with broken glass. Therefore, use a piece of bread to sponge the area where the pieces shattered.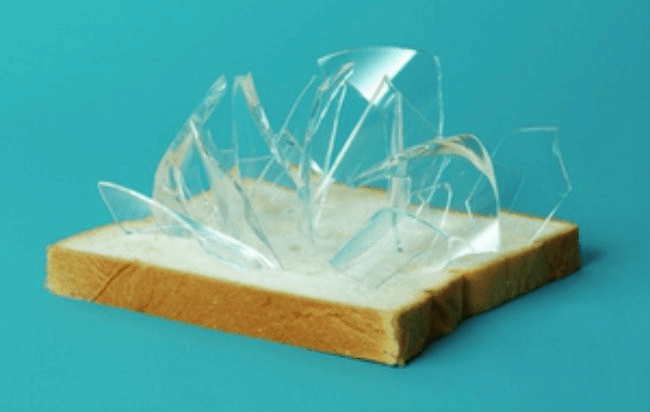 You can put peanut butter on the piece of bread to keep the glass particles from falling out. Just make sure not to mistake it for a peanut butter sandwich.
36. Clean a Glue Gun With A Ball Of Aluminum Foil
Cleaning a hot glue gun requires a careful approach. It would be best to use an aluminum foil ball to clean a hot glue gun.

It is because aluminum foil works as a good scrubber for a hot glue gun. Use the ball to scrape the nozzle.
37. Quick Dry Your Shoes With Crumpled Paper
As nobody likes wet shoes, tossing them in the dryer is not a good solution as it could shrink your shoes and damage the dryer as well.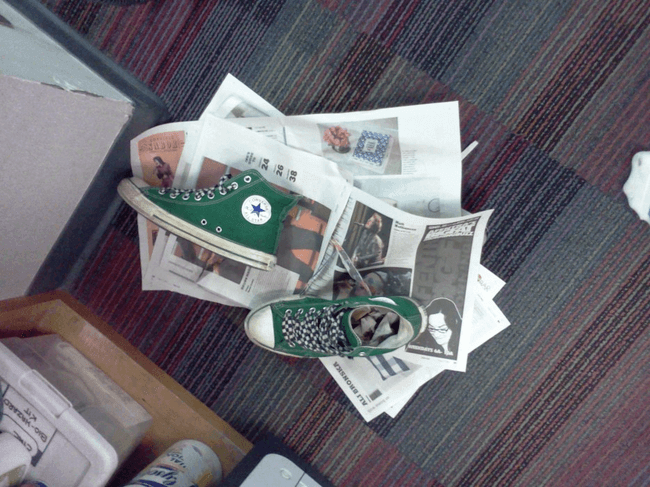 Instead, use newspaper or crumpled paper to quick dry soaking wet shoes. It works fast and does not affect your shoes as well.
38. Remove Bathtub Rings With Salt And Grapefruit
If bathtub rings are making you feel uncomfortable, there is no need to use bleach to remove them.
Cut a grapefruit in half and sprinkle some salt on the surface of the tub. Scrub away for a couple of minutes to get the desired result.
39. Clean Cheese Grater By Grating A Raw Potato
As grated cheese looks more attractive, the idea of cleaning a grater is not so tempting. To ensure you properly remove cheese particles, you need to grate a raw potato.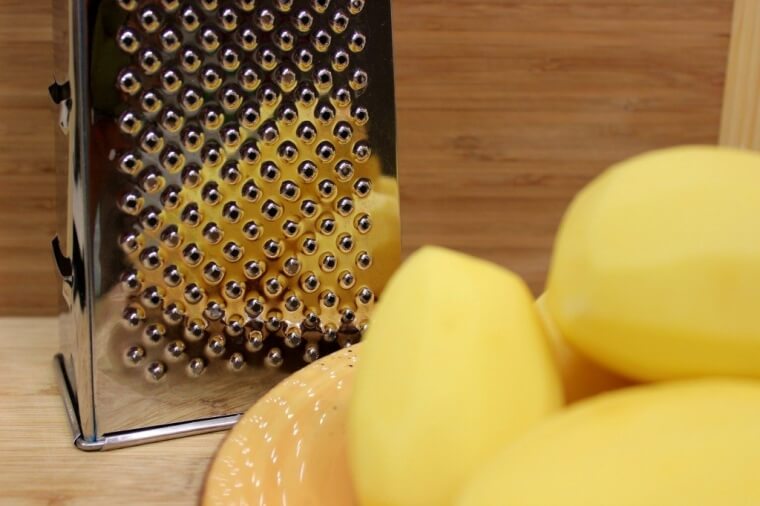 You can grate an apple as well as it helps remove any cheese contents left in the holes of the grater.
40. Remove Dust On Lamps With A Lint Roller
Although there is not much you can do to stop dust from coming back, you can clean it better with a lint roller.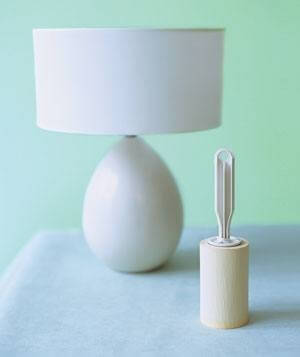 Use a lint roller to get rid of any dust or debris on lamps. If it is a paper lampshade, be extra careful.
41. Clean Your Microwave With Warm Water
Put a dishwashing liquid in a microwave-safe bowl. The bowl needs to be filled with warm water.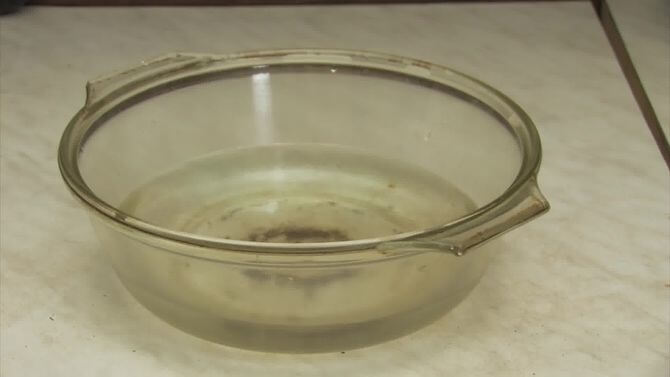 Now place the bowl in the oven and run it on for 5 minutes. Keep it in there for another 4-5 minutes. Take out the turntable and wipe it off with a damp sponge.
42. Remove Dust from Inaccessible Places Using Canned Air
If you do not remove dust from electronics it creates an insulating blanket that can cause overheating and even fire.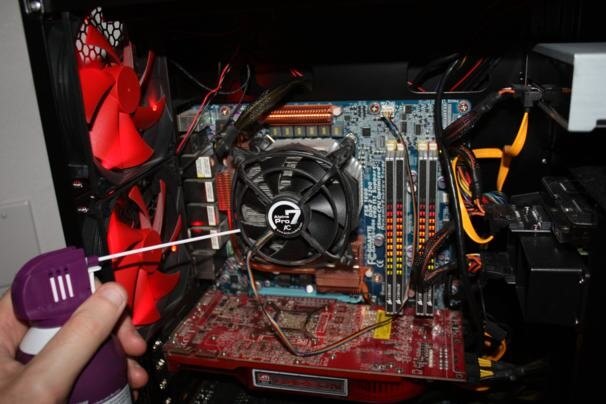 That's why you should use canned air (compressed air) to clean delicate or sensitive things.
43. Use Stockings To Bring Back Old Candles To Life
If you have old, used-up candles that you have been saving for many years, it is time to reuse them. Instead of rubbing alcohol to clean them, there is a much safer solution.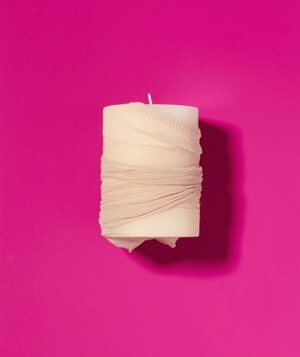 You can easily bring back your beautiful but old candles to life by rubbing them with stockings.
44. Clean TVs And Other Screens With Coffee Filter
Instead of using towels or cloth to clean LCD screens, try using coffee filters. Yeah, you read that right.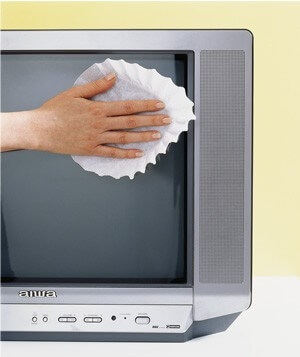 It is because coffee filters are lint-free and won't scratch the screen. That's why they are so good at cleaning TVs, monitors, and other screens.
45. Clean Iron Soleplate With Salt
To increase a steam iron's lifespan and efficiency, you must clean its soleplates from time to time. You need to remove dirt stains and accumulation of other materials.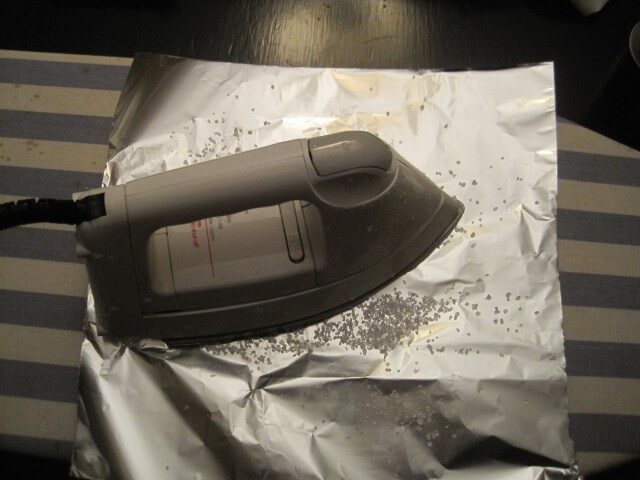 All you need to do is run the iron over a piece of foil or paper covered with salt. Make sure not to use steam.
46. Remove Lipstick Stains With Hairspray
Hey, that shade of lipstick looks great on you, but it doesn't look good on anything else. If removing lipstick stains seemed difficult for you, there is an easy fix.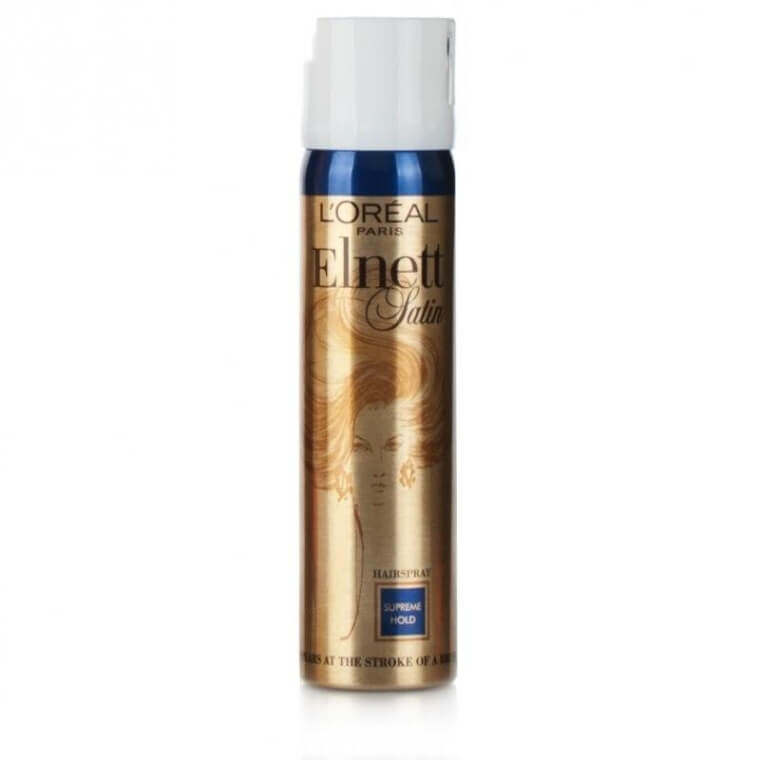 Spray the lipstick stain with hairspray and rub it with a damp cloth before washing it.
47. Use Newspaper To Remove Bad Smells From A Refrigerator
Baking soda can be super helpful in removing bad smells in the refrigerator. If you don't have it, there is no need to worry.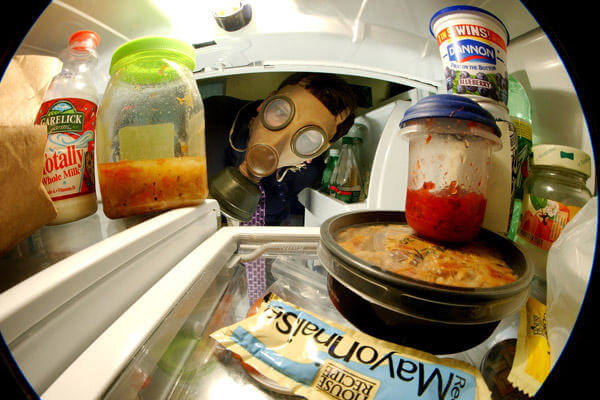 You can crumple up some newspapers, spray some water on them, and throw them in your refrigerator.
48. Clean Silverware With Baking Soda
As we mentioned above, removing bad smells from the refrigerator is possible without baking soda, but you will need this chemical compound to clean your silverware.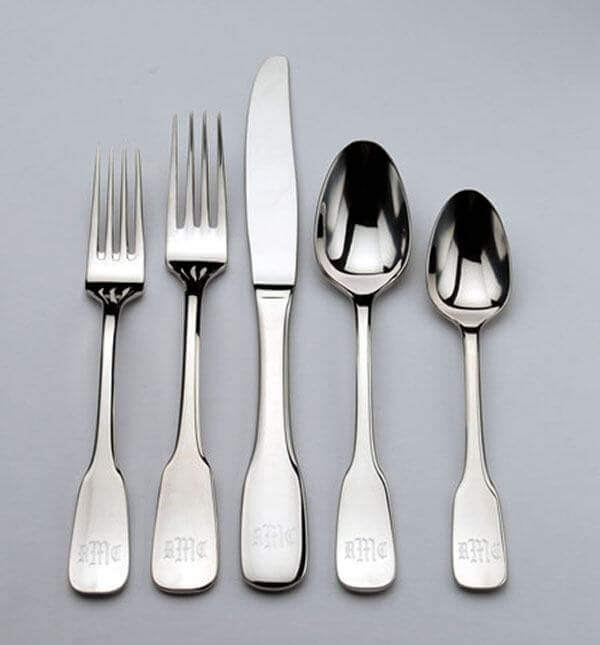 Take one liter of water and add one tablespoon of baking soda. Drop your silverware in the pot for at least 10 seconds (longer if needed) and use kitchen tongs to remove them.
49. Pick Up Small Toys Using A Dustpan
If your kid loves leaving small toys all over the house then you know picking them up one by one is tiresome. There is an easy fix for you though.
Simply use a dustpan to pick up small toys all over your home. It will certainly help in cleaning up toys in no time.
50. Prevent Jar Leakage with a Coaster
Do you also use the coasters strategically placed around the house? Instead of just using them to handle the condensation of iced drinks, there is another use as well.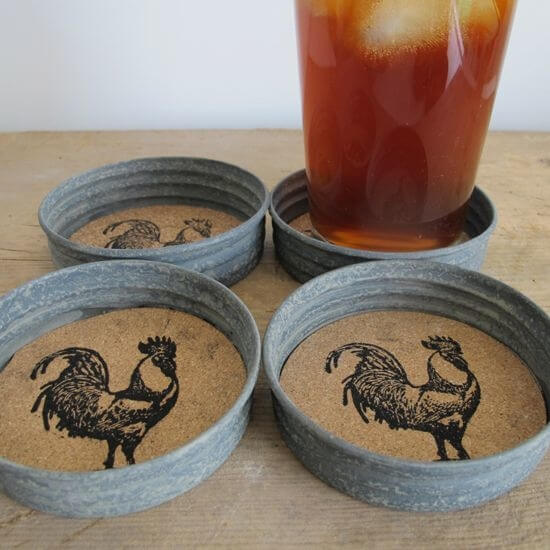 You can use coasters to prevent jar leakage. Place it in the lid of a plastic jar, and you no longer have to worry about anything getting wet.