Having a pet is all fun and games until they decide to eat your shoes or destroy the new toys you bought. The only appropriate way to punish them is public shame on social media, obviously. These people shamed their pets with the most hilarious signs. See how these pets are getting in trouble and keeping their owners on their toes. 
1. He's A Cereal Killer
Wanted: Cereal killer on the loose. Last seen outside the kitchen with two empty boxes. 
He is armed with teeth and a hearty appetite. 
2. "I Am A Panda Now"
This dog got too aggressive with the stuffed panda, and now he turned into the panda.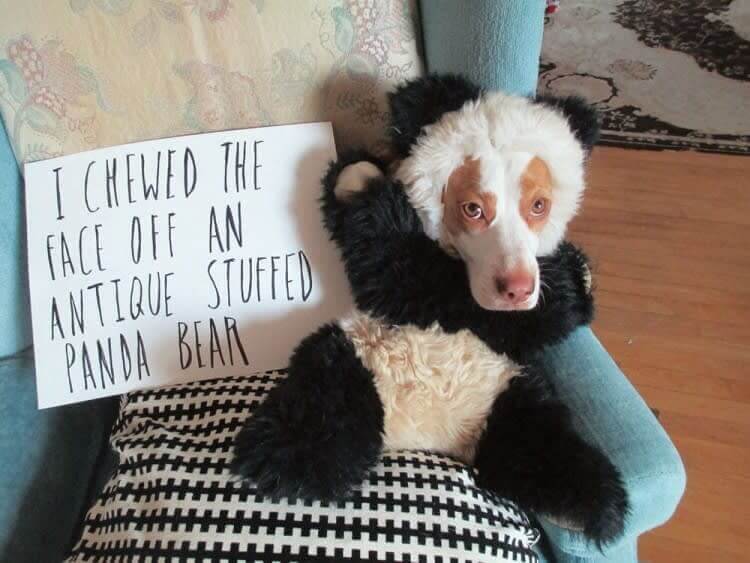 You know what they say, "you are what you eat." 
3. Shoes Are Low-Carb
Her diet was very difficult, so she decided to find low-carb alternatives for her favorite treats.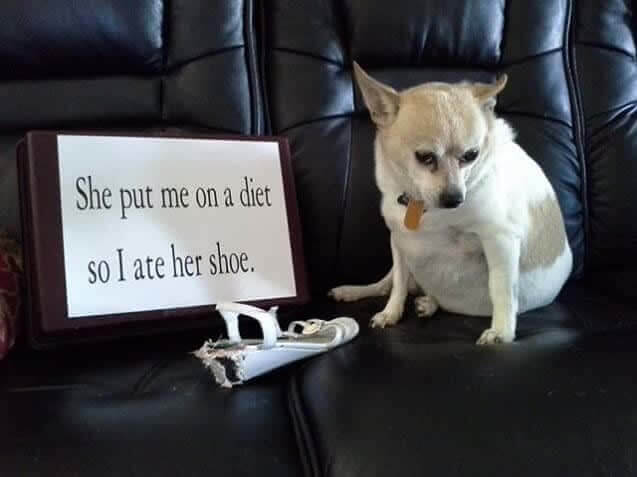 Apparently, shoes are a great alternative to those unhealthy, high calorie treats. 
4. Lefty The Shoe Bandit
"The left one has a better taste, I swear." This dog wanted his owner to have at least one good shoe.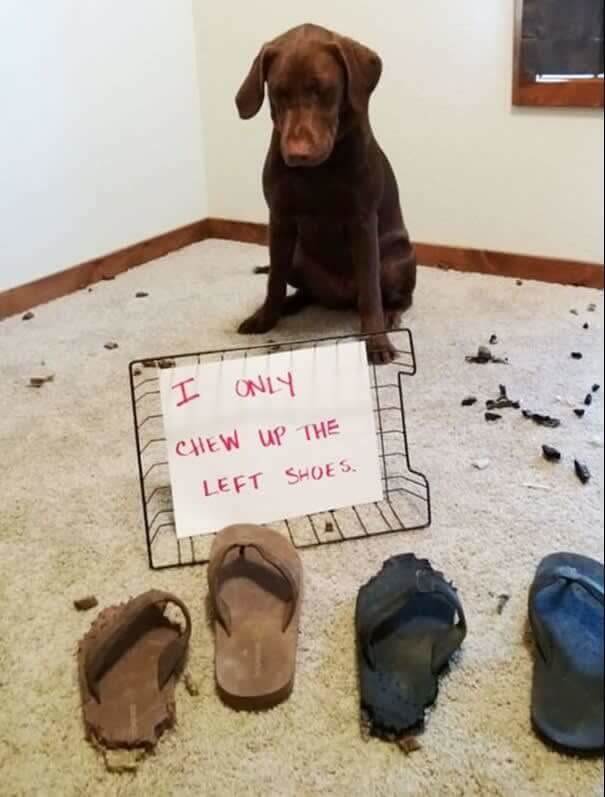 He thinks the left ones have a special taste. 
5. My Recycled Poncho
When you find a way to reuse the couch arm cover that you destroyed.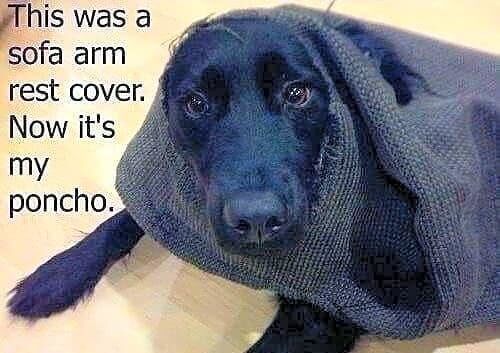 Now he has a cute poncho and he is happy, but still in big trouble. 
6. Yoda Needs Emergency Surgery
It was a gruesome scene. His stuffing was all over the place.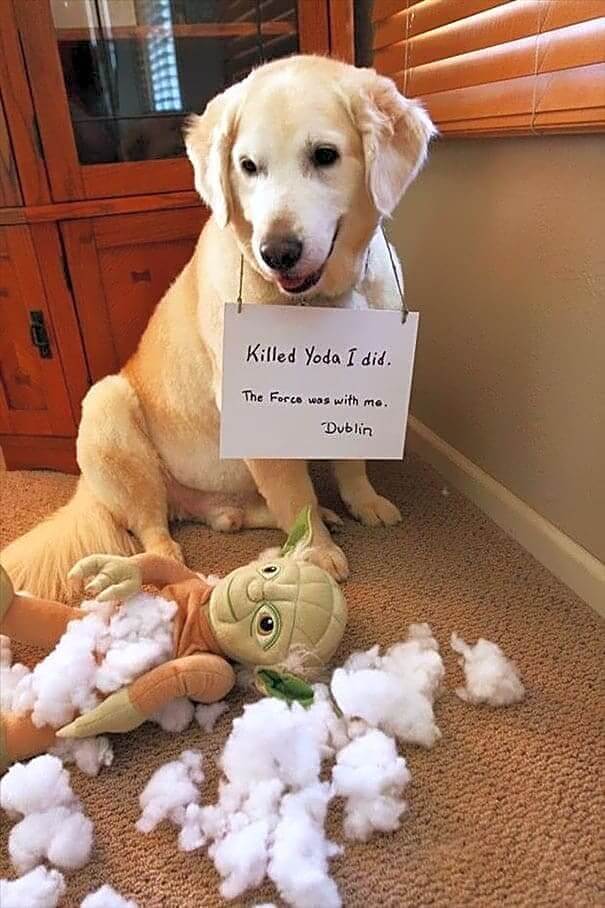 The criminal was caught at the scene of the crime, and although Yoda was rushed to emergency surgery, he sadly didn't make it. 
7. Princess Glitter Poop
When you just want to feel like you are sparkling from the inside out, so you eat glitter to see if it will help.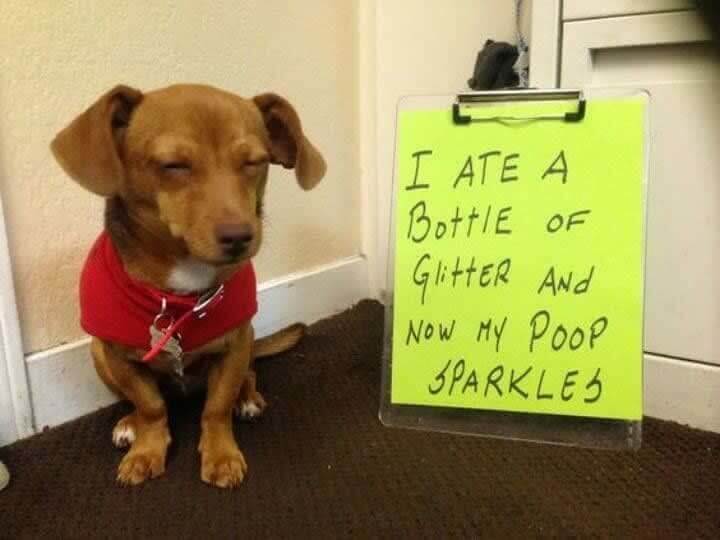 At least it comes out sparkly too. 
8. The Pacifier Thief
This little dog was jealous of all the attention the new baby had been getting, so he started to steal the pacifiers.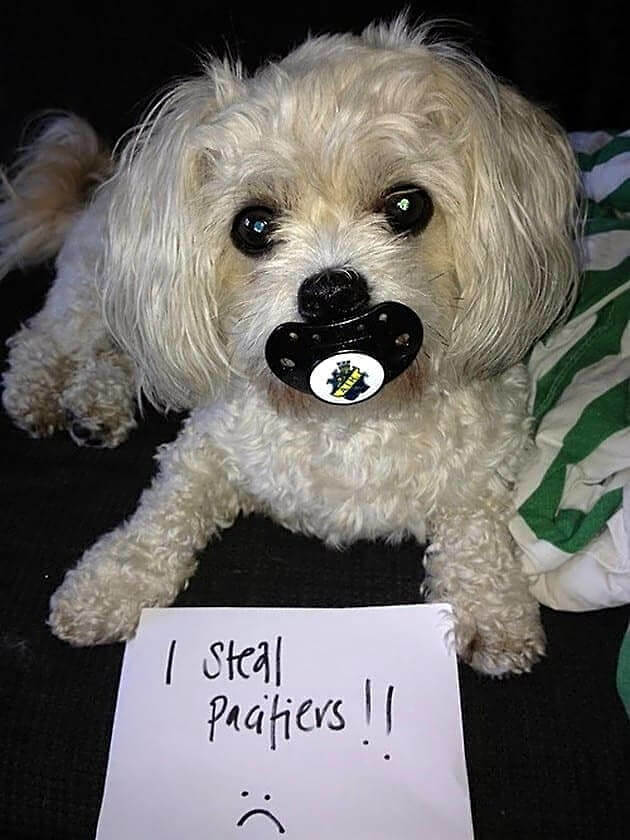 He thought if he looked like a baby, he would get the same amount of attention. 
9. You Are What You Eat
This puppy decided to eat the head off his bear, so now he is being shamed bu having to wear what is left of it. 
He looks even more adorable with the little bear ears, so it doesn't seem like much of a punishment. 
10. That Is Not Your Shade
This looks like a horrifying scene, but this dog just got into some bright red lipstick.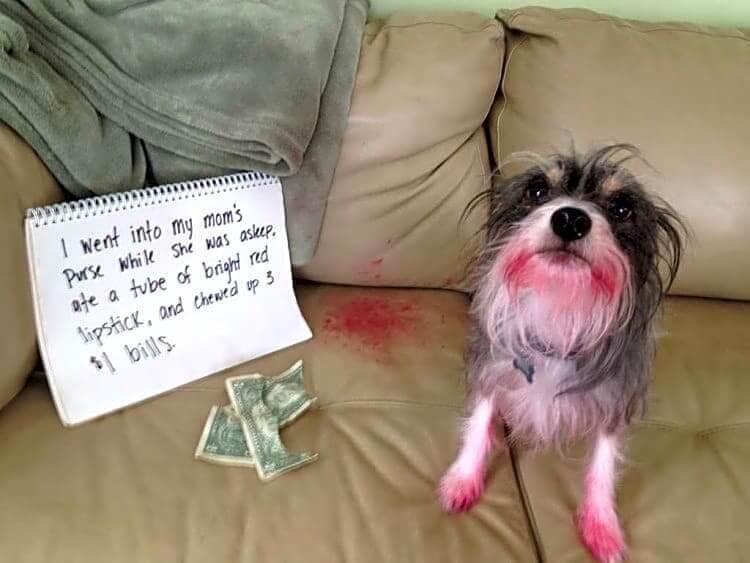 She was just experimenting with her makeup style, and we have to say this shade is not for her. 
11. It Was An Accident
It is unclear what exactly happened here. Did he get his head stuck in the toilet, or did he break it and then decide to wear it?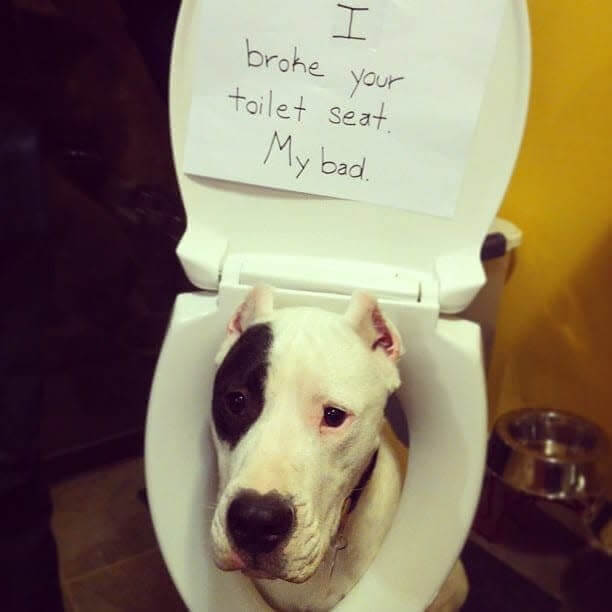 Either way, he looks adorable and it's hard to stay mad at that sad face. 
12. "He's Staring Again"
First of all, how could you be uncomfortable because of this adorable face?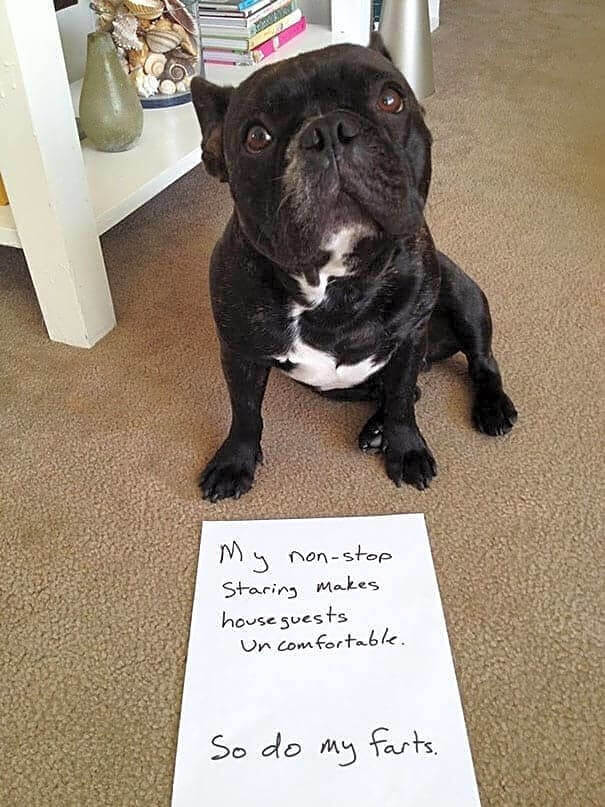 Second, he can't help that his farts are the room-clearing type. 
13. How The Grinch Ate Christmas
We have heard of the Grinch stealing Christmas, but we haven't heard of him eating it.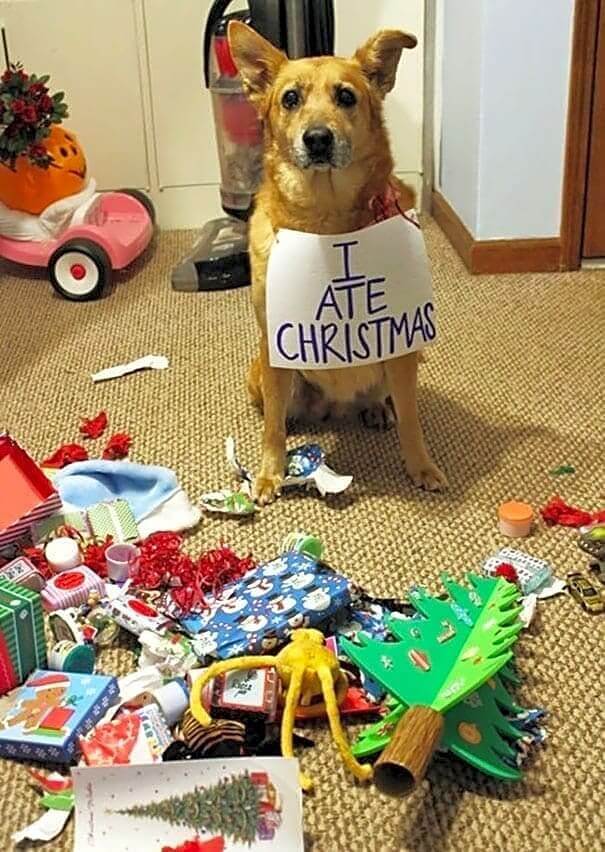 His heart isn't the only thing growing three times bigger; his stomach grew bigger too. 
14. I Didn't Lick The Couch, You Must Have Spilled Something
He was wondering how many licks it would take to get to the center of the couch.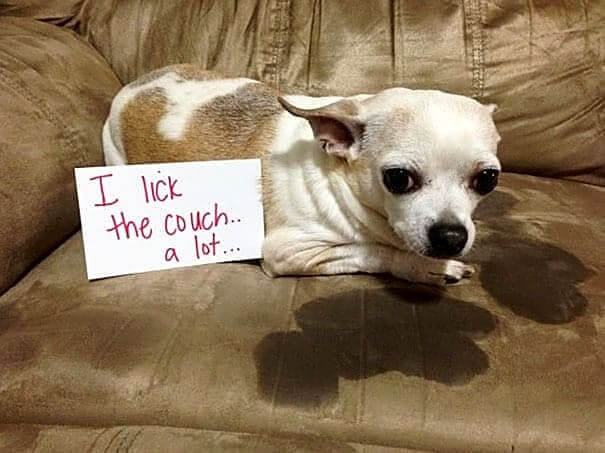 He still doesn't know the answer, but he will keep trying to find out. 
15. Mashed Potato Head
Sometimes you get so excited to be in the kitchen on Thanksgiving that you get under people's feet.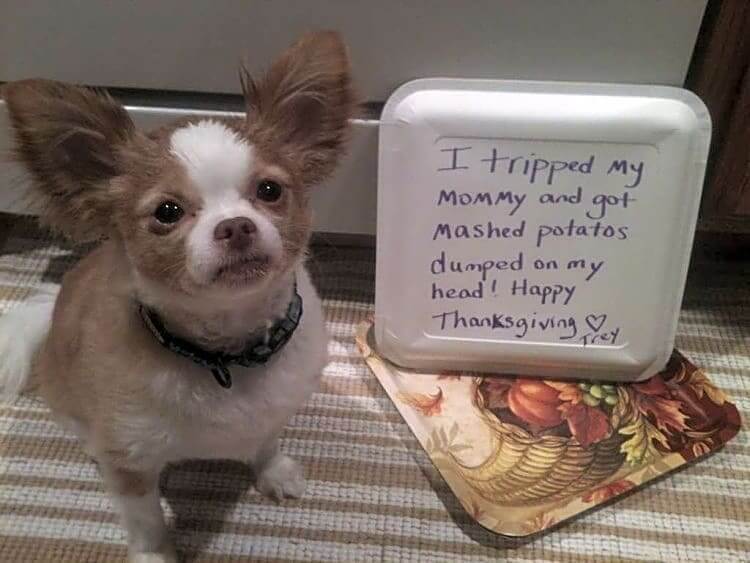 Instead of helping, you now have mashed potatoes on your head, and what is Thanksgiving without mashed potatoes??
16. That Is Not Very Polite
This dog needs to learn the correct way to sneeze instead of spreading germs to everyone in the room.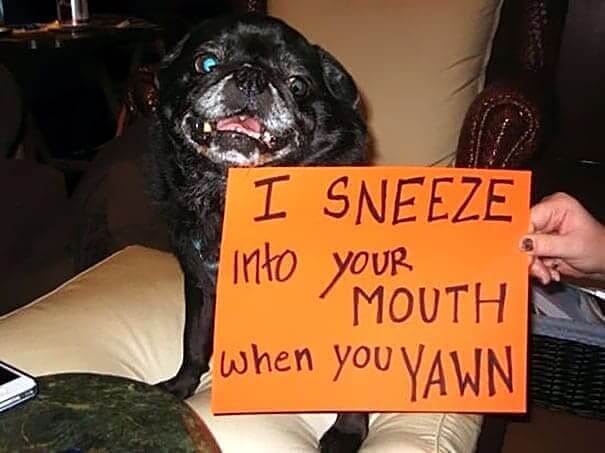 Someone send this dog back to etiquette school. 
17. When You Want To Be Included In The Photo Too
This dog is a well-known photobomber in his house. He has to be in every picture that is being taken.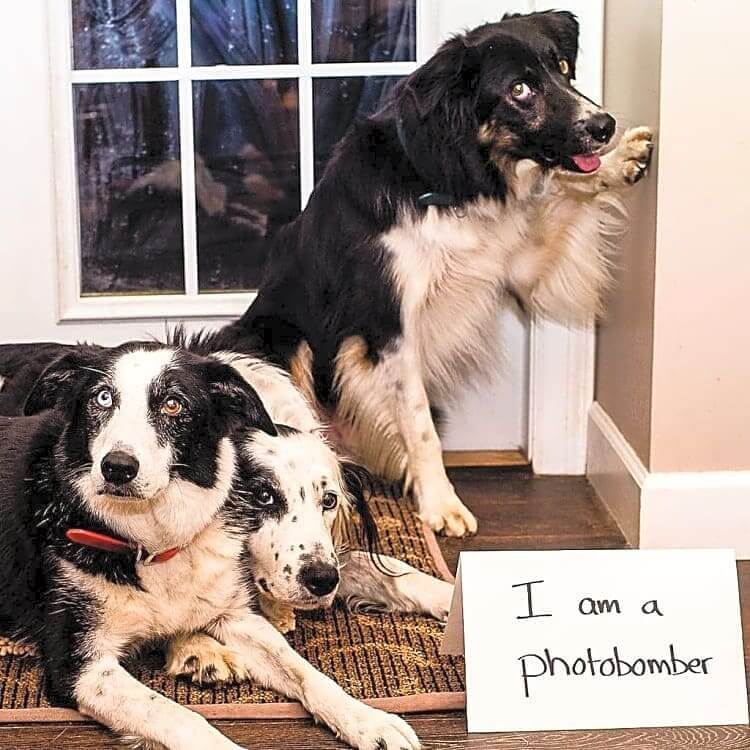 He knew photobombing was a trend, and wanted to get in on it. 
18. The Bible Tastes Like A Gift From God
This is a very holy dog. He has eaten 2 Bibles in one week, which must be a record.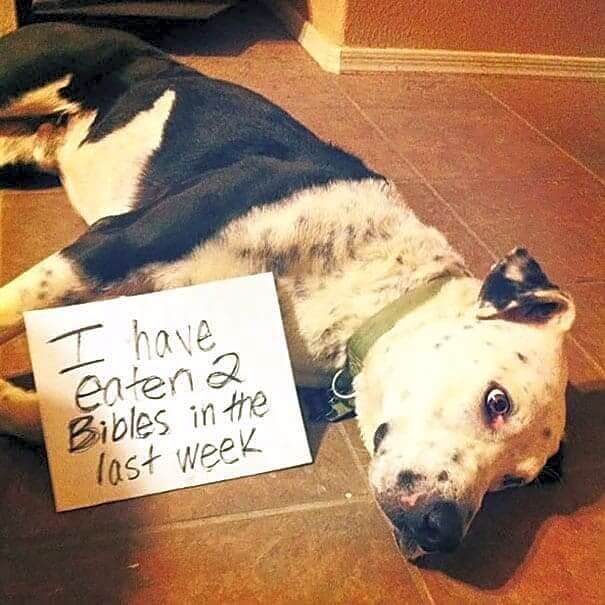 You can tell he is thinking about all the things he has done wrong in his life. 
19. A Naked Doggo
He was over the clothed lifestyle and decided to join the nudists.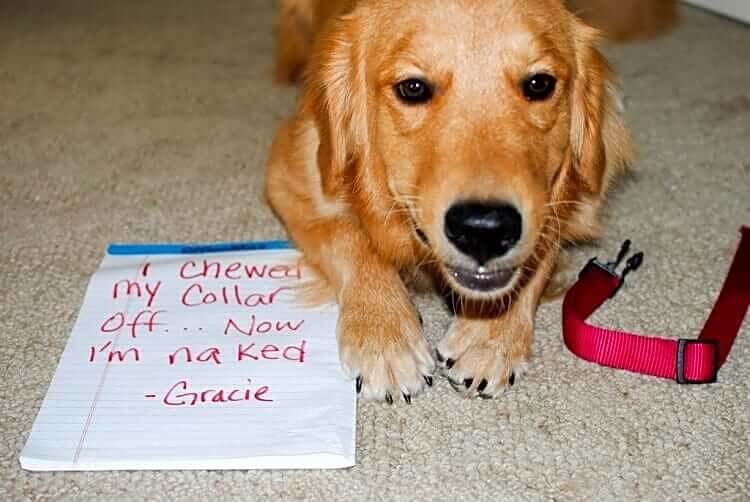 Unfortunately, his plan didn't work because he needs a collar to go for walks. 
20. Eeyore Looks At No One Now
Eeyore had it coming. He was giving this dog a funny look, and that's all it takes to get your eyes eaten.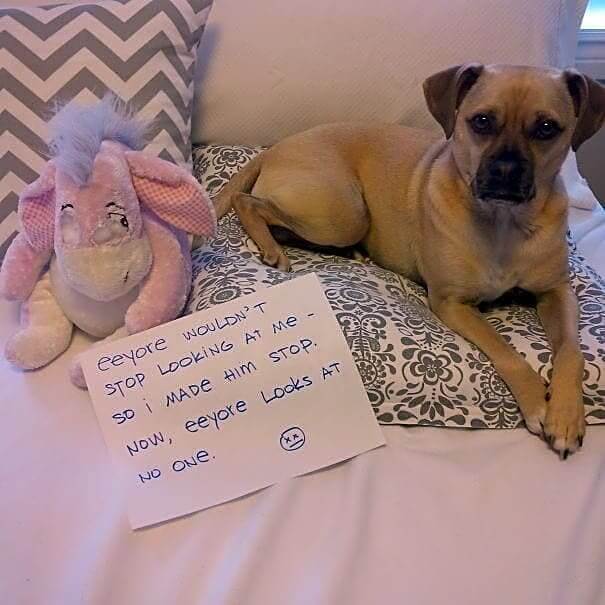 On this day, Eeyore learned never to cross this dog again. 
21. Hungry Hungry Puppy
Now that's what we call a major food baby. It looks like he ate a balloon.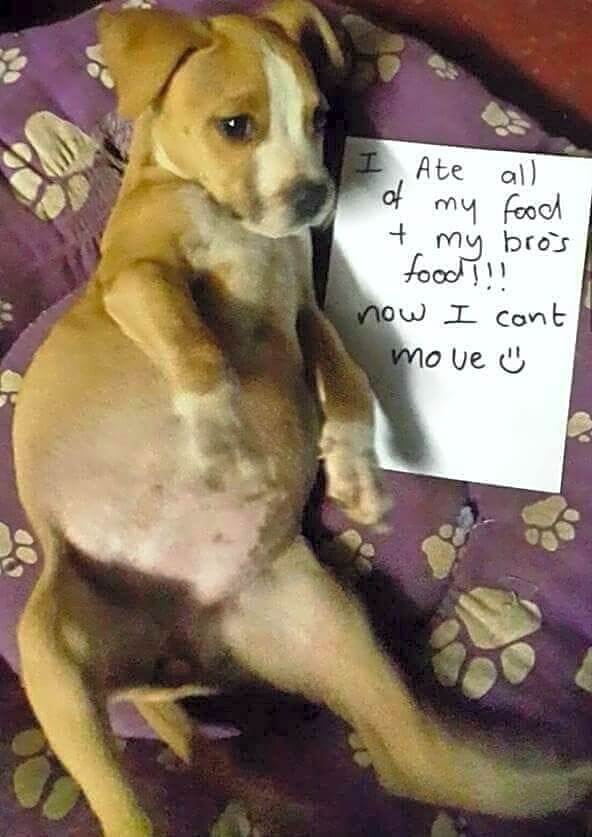 It's ok little buddy, sometimes your eyes will be bigger than your stomach. 
22. Taste The Rainbow
He wanted his poop to match his colorful personality.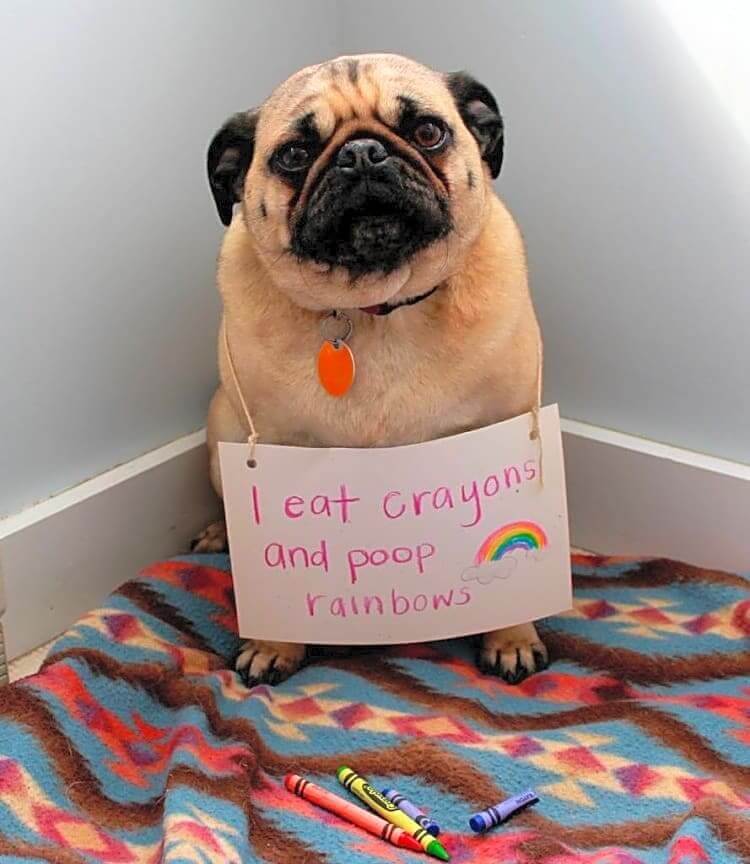 Word to the wide, do not try this at home, crayons are not a tasty snack. 
23. Don't Trust An Innocent Face
This dog may look innocent and cute, but he is an iPhone charger killer.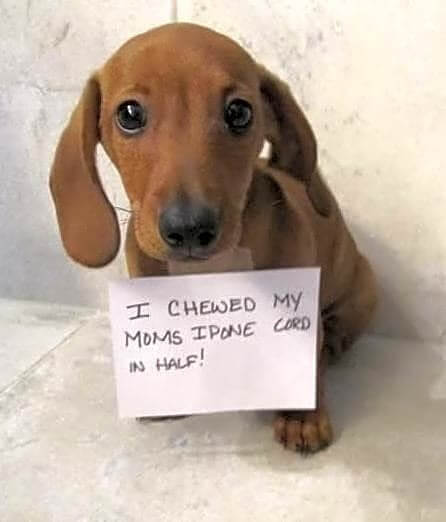 Even though it is frustrating to not have a phone charger, it is hard to stay mad at a face like that. 
24. Hannibal Turtle
When you get hangry and say, "I could eat anything right now." This turtle took that literally and ate all his friends.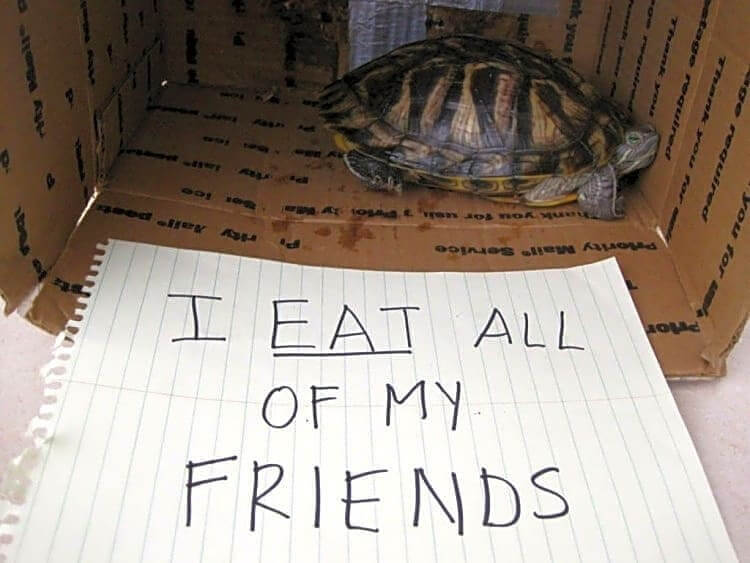 We wouldn't want to be one of his friends right now. 
25. Sharing Is Caring
He didn't want to be the only one to get to wear this amazing perfume.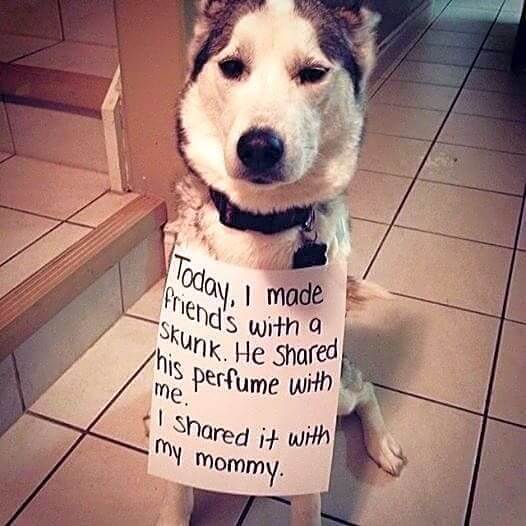 He just had to share it with his mom or it wouldn't have been very fair. 
26. "That's Where My Socks Went"
If you have a dog and you find yourself missing socks, check with them first.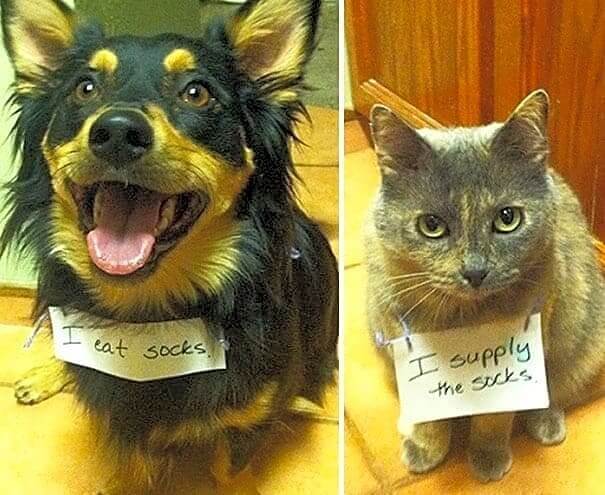 This dog had a partner-in-crime to help him get his sock fix.  
27. Morning Routine
In the morning this dog likes to leave a special surprise for his owner.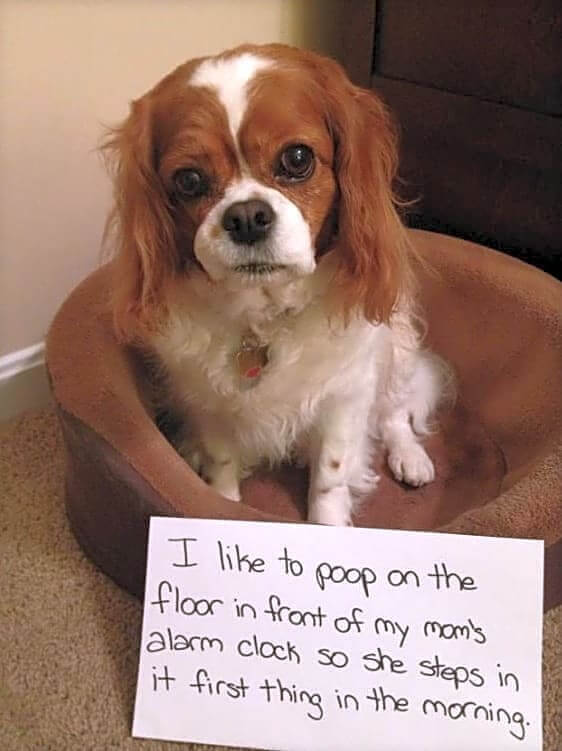 It is just not the surprise you want to wake up to every morning. 
28. My Lip Gloss Is Cool, My Lip Gloss Is Popping
She was jealous of her mom's pretty lip gloss and wanted to put some on too.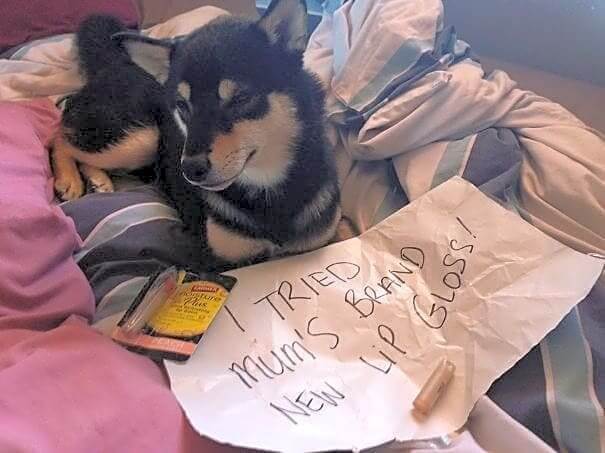 She just doesn't know the right way to put the lip gloss on. 
29. "I Don't Know The Power Of My Size"
It was all fun and games until the cat got crushed under the giant dog's weight.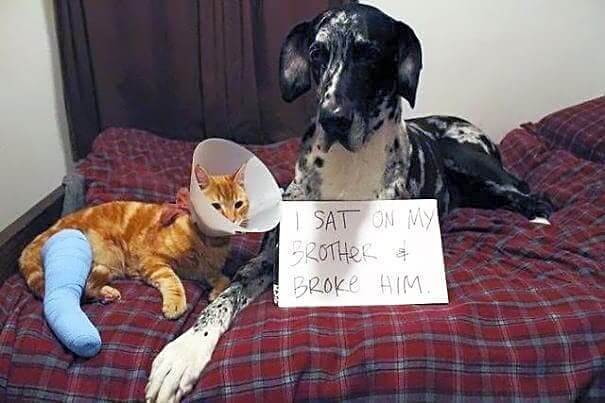 He felt terrible because he doesn't know the exact power of his size. 
30. Dora Is No Longer An Explorer
It was this day that Dora's adventures ended. She explored so many places in her life.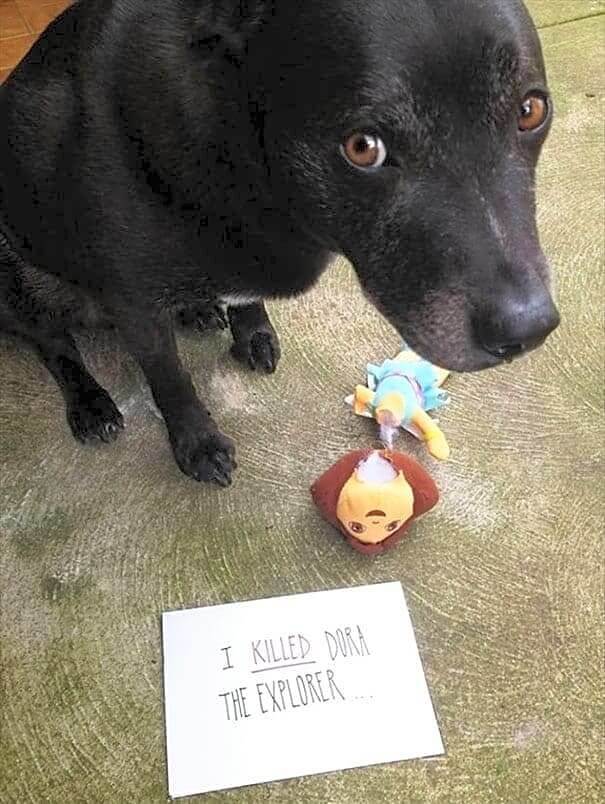 Let's take a moment of silence to remember Dora the Explorer. 
31. Oh The Irony
This dog was over the public shaming of his friends and decided to get rid of the evidence.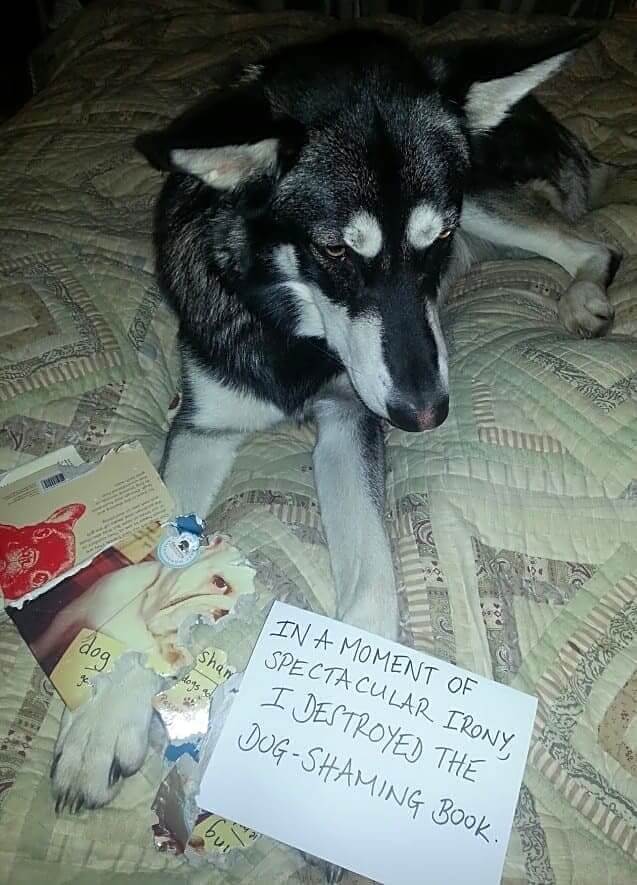 Sadly, he was caught and got shamed by his owner too. 
32. Finley Is Not A Good Host
The house cleaner was not happy with Finley after this day.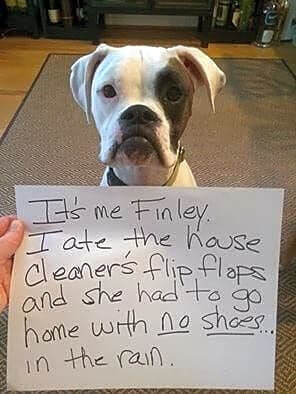 At least she learned to hide her shoes from him when she came back into the house. 
33. When You Really Want Attention
Sometimes you have to do whatever it takes to get the attention you need (deserve).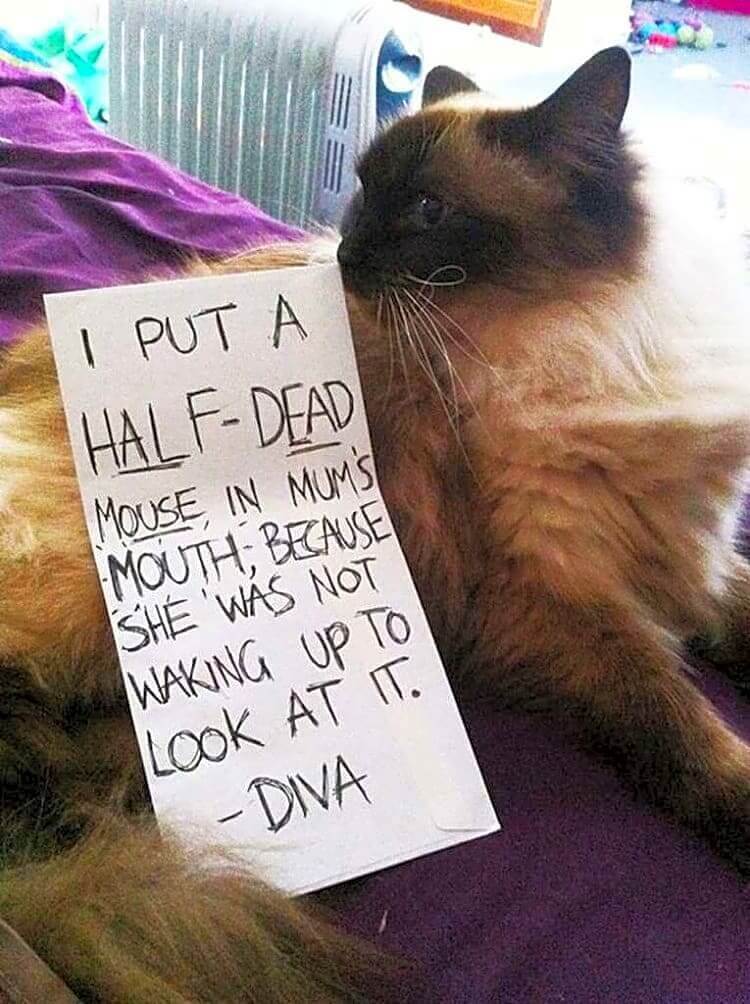 That includes putting dead mice in your mom's mouth if it means she will pay attention to you. 
34. Never After 4 PM
We want to know what happens after 4 PM. Is that when he stops working for the day? Do his owners come home then?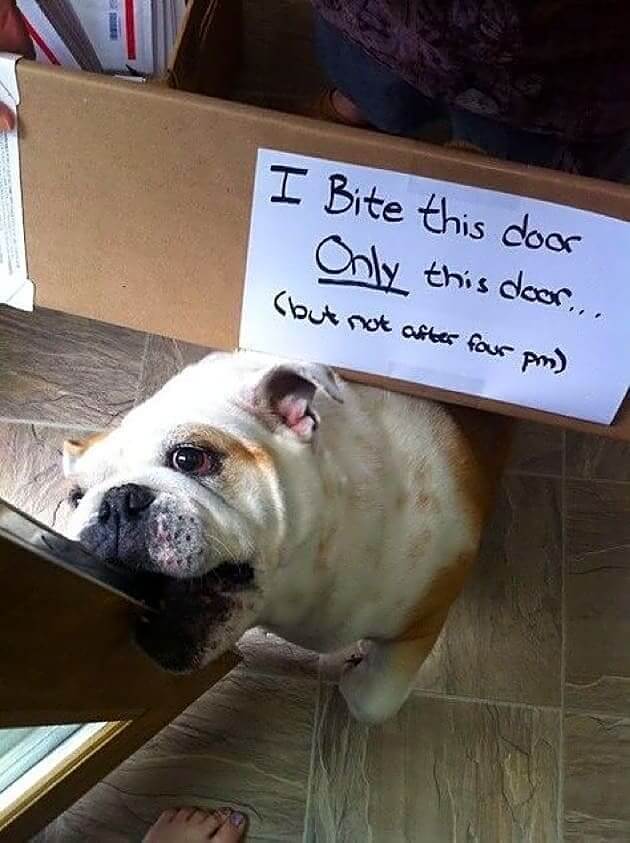 Maybe his chewing business hours are only from eight to four PM. 
35. "So This Isn't A To-Go Container?"
This sad dog thought his bowl was a to-go container so he could take his food wherever he wanted to.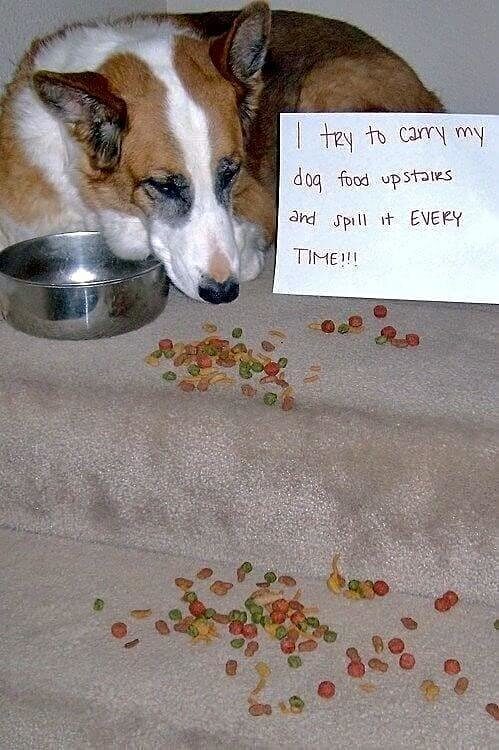 Sadly, it was not, and now his food is all over the stairs, and he is not happy about it. 
36. Never Change Your Routine
Dogs sometimes act out when their routine is disturbed. This dog decided to take it out of the blinds. 
At least he has a new necklace. Very stylish. 
37. The Case Of The Missing Butter Stick
There were four sticks of butter. The dog ate two sticks, smeared one onto the couch, where is the fourth stick? 
It's like one of those math word problems from grade school. 
38. "He Started It"
Sometimes the pillows need to be taught a lesson, according to this pup. 
When the pillow attacks first, he has all the rights to fight back. 
39. Two Wrongs Don't Make A Right
The real question is, who started this war?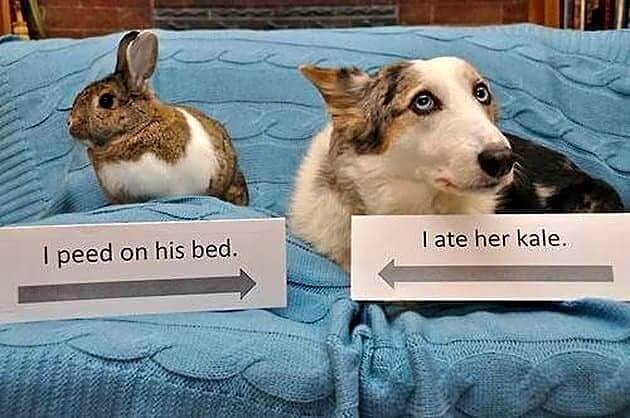 We believe that the dog ate the kale first, so the bunny took revenge, but revenge is never the answer. 
40. The Criminal And The Accomplice
His accomplice was kind enough to clean up all the evidence of his criminal act.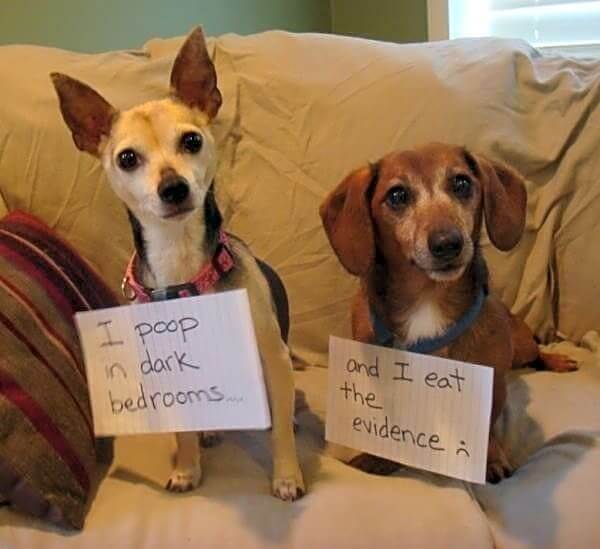 Although they both got caught in the end, they went down as the cutest criminals in history. 
41. Dumb And Dumber
These two look too happy to be in any actual trouble.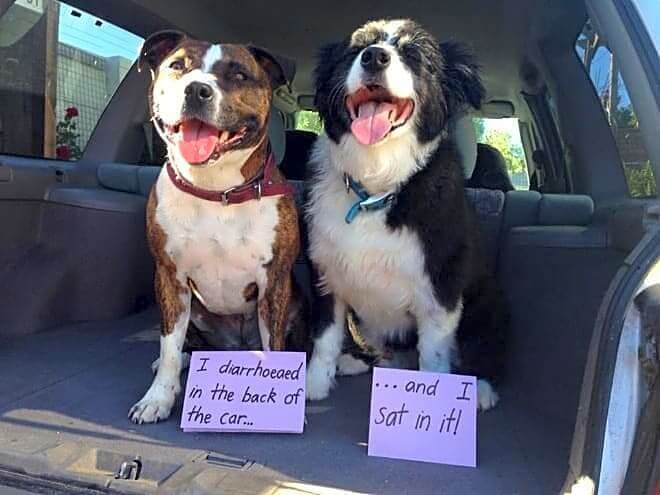 It's like they say, "the dumb leading the dumb," or something like that. 
42. Jesus Is Not Food
Just like the dog who ate the Bible's, this dog knows that trying to eat Jesus was wrong.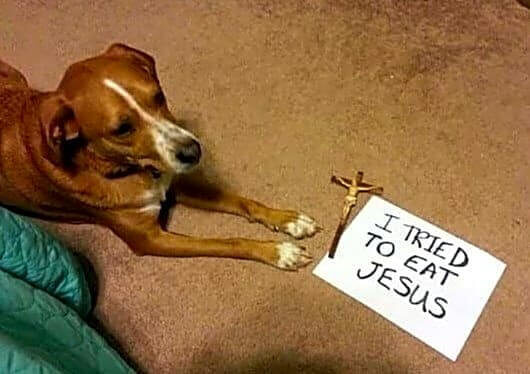 It was an easy mistake for a chew toy, he thought. 
43. Not A Good Neighbor
Instead of providing more offerings, this dog decides to take from his neighbors.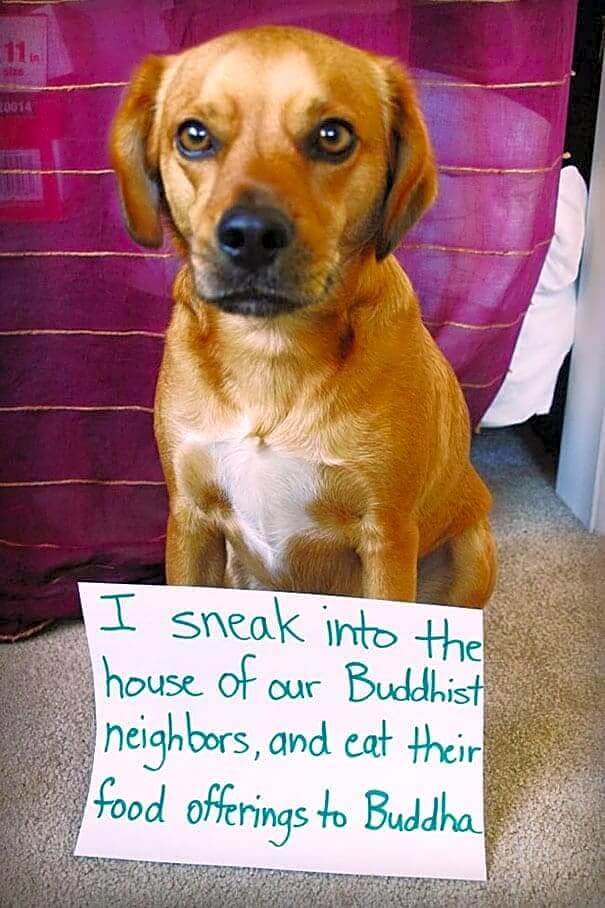 We don't think Buddha would be very happy with him. 
44. Puppy's First Bath
The puppy's first shower was a golden shower, then he had to take an actual shower.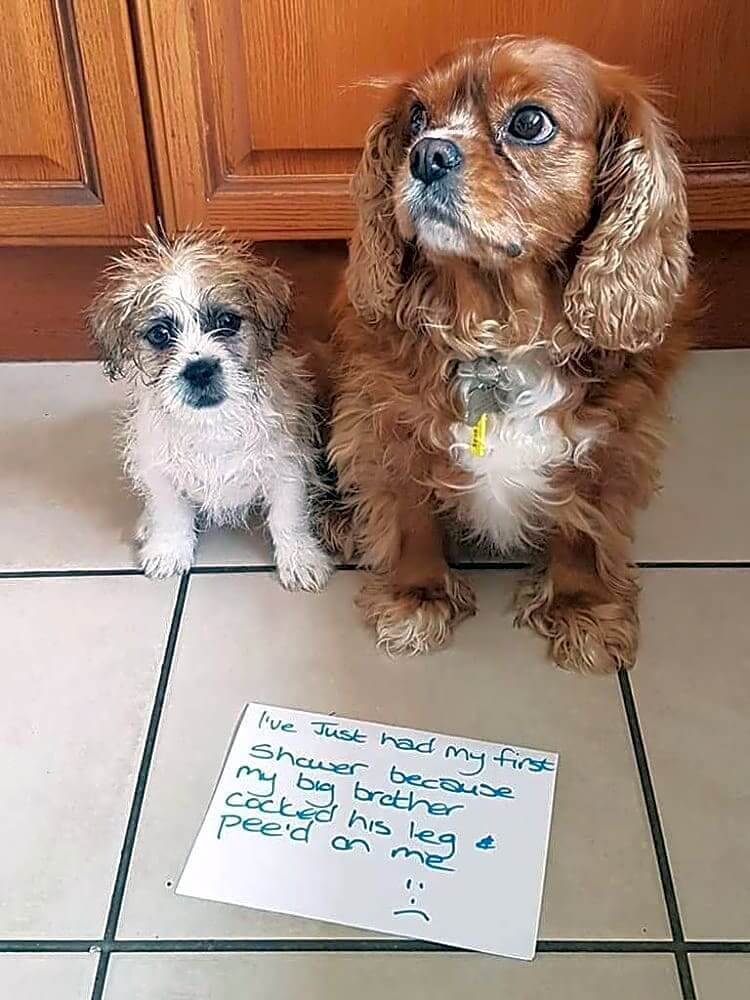 He seems slightly traumatized by the events of this day. 
45. Not A Very Good Waiter
When it's your first day as a waiter and you drop all the food.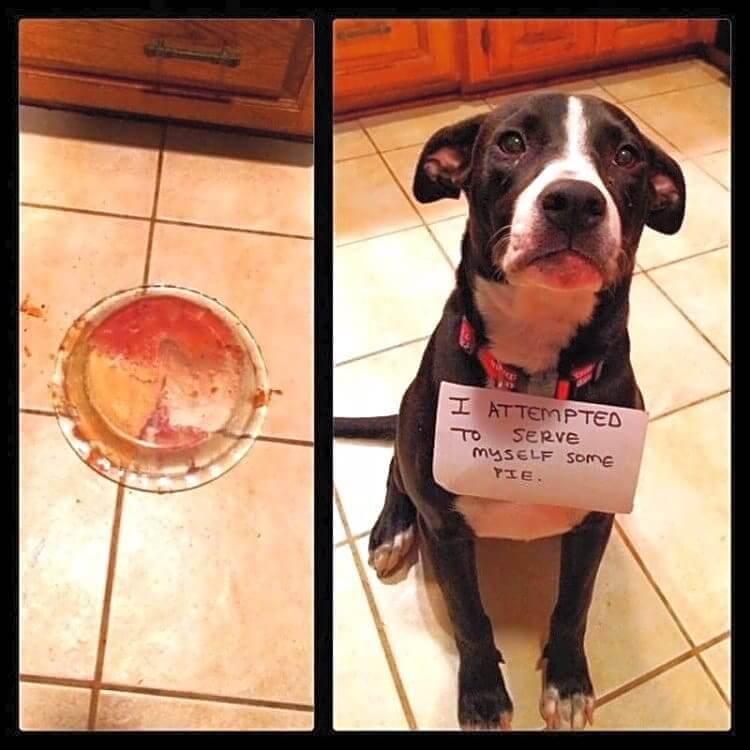 He isn't the best waiter, but he is adorable, so we will forgive him.