There is a very good chance that like many people, you have way too much stuff at home. According to professional organizer, Regina Lark, P.h.D, the average American home has at least 300,000 items just lying around untouched! While not all of us have the capacity to be minimalists, we are still able to reuse and repurpose many items that we already have. So take a look at simple but brilliant new uses for your everyday items. After all, you might be able to recycle what you already have, save yourself a bunch of money, and find an even more effective and ingenious way of going about your everyday life!
1. ​Run A Razor Over Your Pilled Sweaters
If you love your knits but hate it when they become wrinkly and old after a short period of time, there is a way that you could make them look like new. Simply grab a razor and start running it over your pilled sweaters.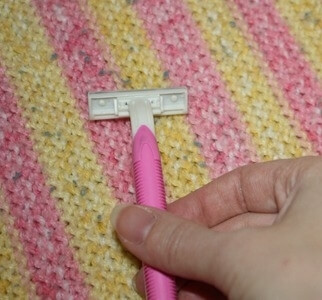 By doing so, you'll see that the fuzzy bits will begin to disappear and the fabric will remain intact.
2. Use A Cotton Swab To Clean Your Keyboard
Let's be honest, our keyboards can get pretty disgusting. And because many of us aren't sure of the best way to clean them, we end up postponing until it's too late.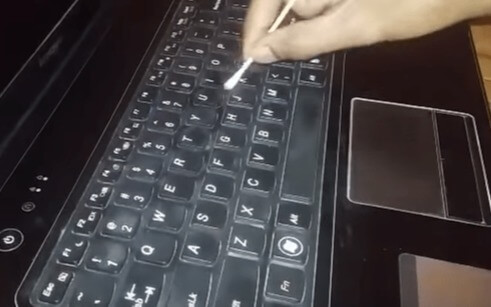 Well, if you want to fix that, just wipe away the dust and dirt once a week with a cotton swab that has been lightly dipped in alcohol.
3. Use Sandpaper To Make Your Shoes Less Slippery
Slippery shoes can be a total pain, but they don't have to be. While there are a few ways that you can resolve this problem, sandpaper might be one of the best.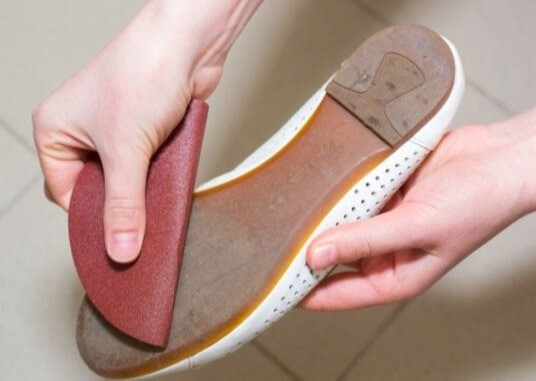 If you take a bit of sandpaper and rub it on your shoes you should be able to take away the traction that makes them slippery in the first place.
4. ​Grab An Eraser And Clean Your Suede
Though scuffed-up suede may look like it's there to stay, it's actually pretty easy to get rid of - just follow this tip. Grab your pencil case and finally find a use for that eraser again.
By using the eraser slowly on the suede, you'll ensure that the marks will eventually begin fading and you'll have one more problem behind you.
5. WD-40 Works To Remove Gum From Your Shoe
Getting gum stuck on a shoe can literally happen to any of us. It's one of those things that no matter how much we try to prevent, it's just too hard to avoid.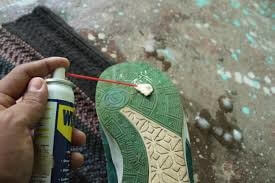 So, if this happened on your favorite pair of shoes and you want to get rid of it as soon as possible, just spritz some WD-40 on it and you're good to go.
6. ​Keep Your Glasses Frames Really Tight With Nail Polish
With time, your glasses' frames may loosen up and you may find yourself always having to take them for a quick fix at the optometrist. Instead, you can actually do it by yourself. You can simply grab some clear nail polish and brush it on the screw.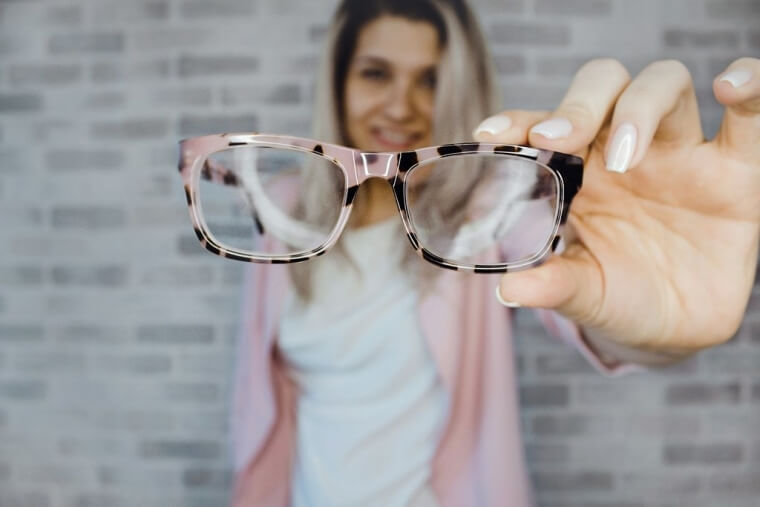 That will help the screw to stay in place for a while until you decide it's time for a revamp. 
7. ​Fix A Run In Your Stockings With Nail Polish Too
Turns out that isn't the only thing you can fix with some clear nail polish. Stockings are prone to get scratched with almost anything. The good thing is that the run is not necessarily the end of them.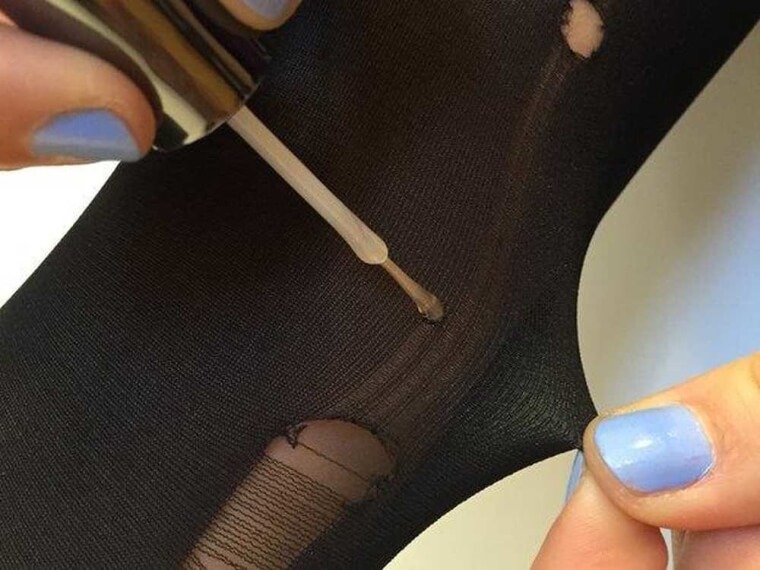 You can just dab a bit of clear nail polish on either or both sides of the run and you'll see that it will stop extending much more.
8. ​Use An Old Sponge To Remove Nail Polish
Now, if the thing you need is to remove nail polish, but you find yourself with no kinds of cotton to dip in your nail polish remover, there's another small and easy fix.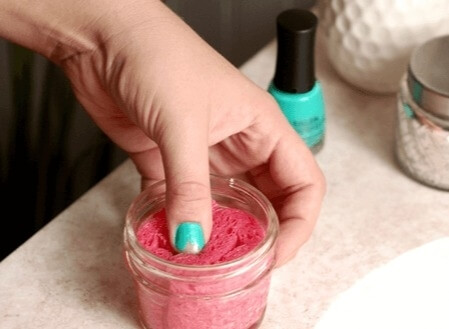 Soak a bit of sponge in your nail polish remover and roll it up in a way that creates a hole in the center, then stick it in a jar. Afterward, just stick your fingers into the middle part of the sponge and you're done!
9. ​Old Kitchen Sponges Can Also Work To Make Stamps
Do you need a new creative and fun project to do at home? How about making use of some of the old kitchen sponges you have lying around to make some quirky stamps?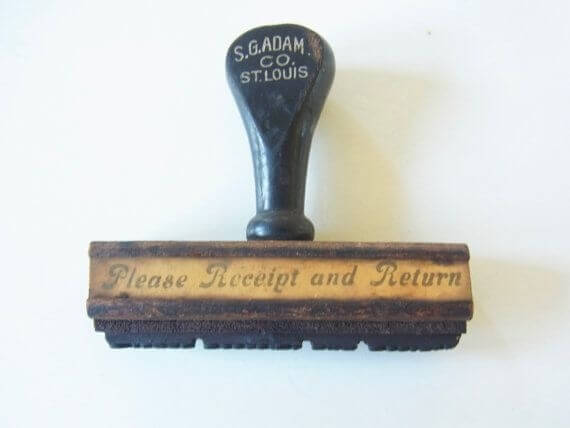 All you have to do is draw the shape you want onto the sponge with a marker, then, cut them with a good pair of scissors and use some tempera paints to make the design of your choice.
10. ​Make A Sprinkler With An Old Plastic Bottle
You might have heard of this little trick, but it's never a bad time for a good reminder. If you use plastic bottles and want to make sure you recycle them instead of throwing them into dubious recycling bins, try this.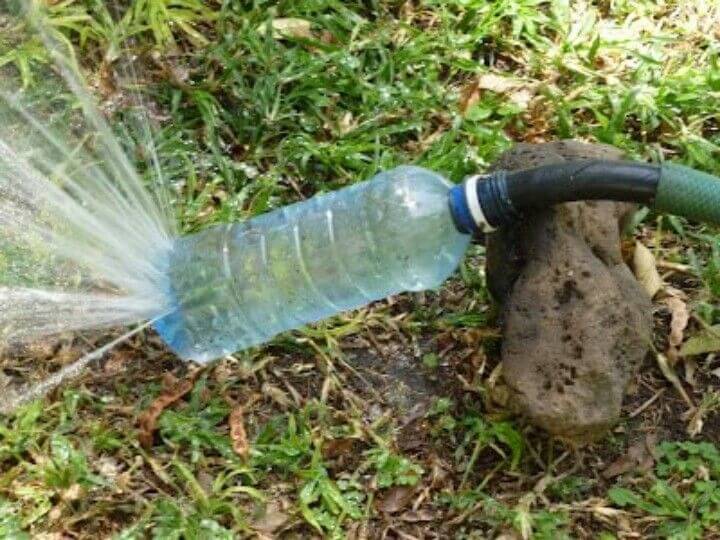 Make some puncture holes and then secure the mouth of the bottle to the garden hose with some duct tape.
11. ​An Ice Cube Tray Can Help You Portion Better
Instead of tossing away old ice cube trays, use them to portion butter. It may sound strange but it's actually fairly simple. You may use them to save some cooking stock or compound butter until you're ready to use it again.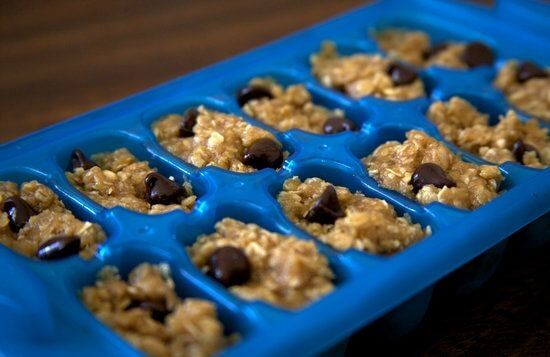 When the time to prepare a meal comes again, you can just use one of the cubes and start cooking away!
12. ​Use Tongs To Juice Your Lemons
Lemonade is delicious, but juicing those lemons can be such a tedious experience. So if you want to spice things up, just try to squeeze your lemons between tongs.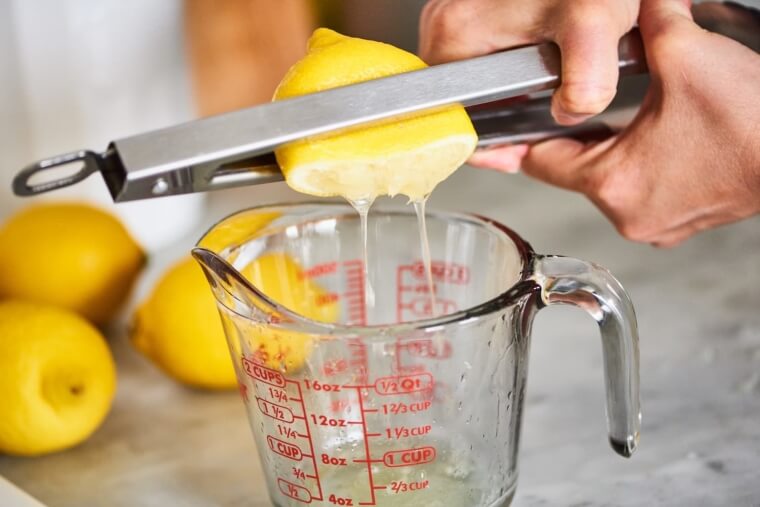 This will not only protect you from that occasional citrus sting but will also allow you to get more juice than you would if you were to simply squeeze them by hand like always. 
13. ​A Lint Roller Can Be Used To Clean Silverware
Cleaning silverware is necessary, but it's one of those things that many of us put aside for the longest time. Instead, just make your life easier by using a lint roller.
Put a sticky lint roller into each compartment of your silverware drawer and you'll see that you'll be able to grab the crumbs from the storing space.
14. ​Use Cupcake Liners To Organize Cooking Ingredients
If you want to take a step further in your "mise en place" skills, grab some cupcake liners! The French term refers to having all of your cooking ingredients laid out and positioned just before you begin cooking.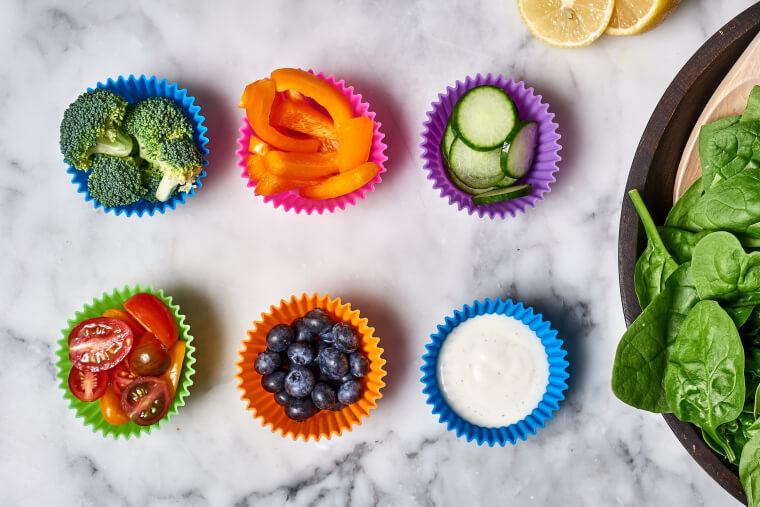 But instead of using a ton of bowls and expensive cookware, you can just use reusable silicone cupcake liners to make sure your ingredients are all lined up.
15. You Can Also Keep Your Popsicles With A Cupcake Liner
Keeping yourself or your kids from making a total mess while eating a popsicle may be a hard job. So once again, cupcake liners could easily come to the rescue.
You can just cut a small hole in the liner's center and get your ice pop stick in there. Make sure the open side is facing upward so you can catch the mess.
16. ​Use A Paperclip To Put A Difficult Bracelet
Bracelets can sometimes be difficult to put on by yourself. Luckily though, you can use a paperclip to ease your pain. Just unfold the paper clip and loop it onto the open side of your bracelet.
Then, hold the paper clip in place with the hand that you use to put the bracelet on. With the other hand, you can simply close the clasp and you're good to go!
17. ​Replace A Lost Earring Back By Using An Eraser
If you wear earrings then you know that if there is one thing that gets lost way too often is the earring back. They get misplaced and, because of their tiny size, it can be really hard to get them back.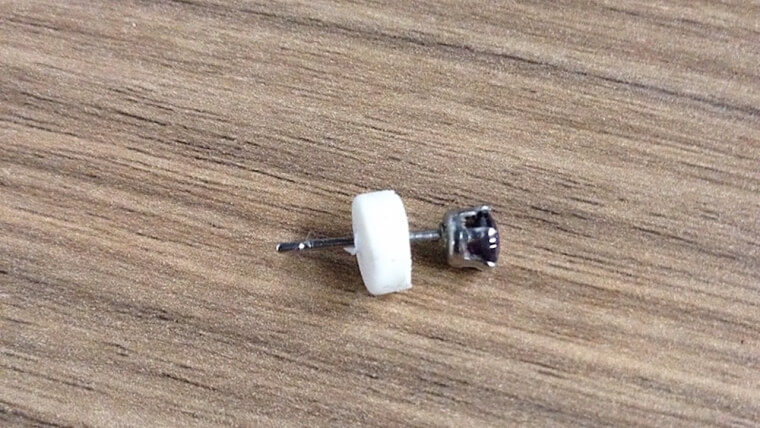 So, instead of giving up on wearing your favorite pair of earrings when you lose one, just use a pencil eraser to keep the earring in place.
18. ​Use Duct Tape To Remove A Splinter
Removing a splinter can be really painful, and mostly just an unpleasant experience. So if you'd like to refrain from using tweezers to remove it, try to use duct tape instead.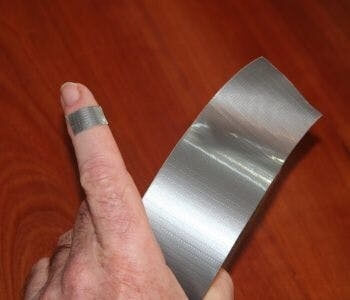 Simply apply some duct tape to the splinter and carefully remove it by pulling away from where you have the puncture. Hopefully, that experience will be a bit less uncomfortable and faster.
19. ​Make A Soap Dispenser With A Mason Jar
Mason jars are one of those items that have tons of uses outside of being simply a jar. One of these brilliant uses actually involves making a crafty soap dispenser.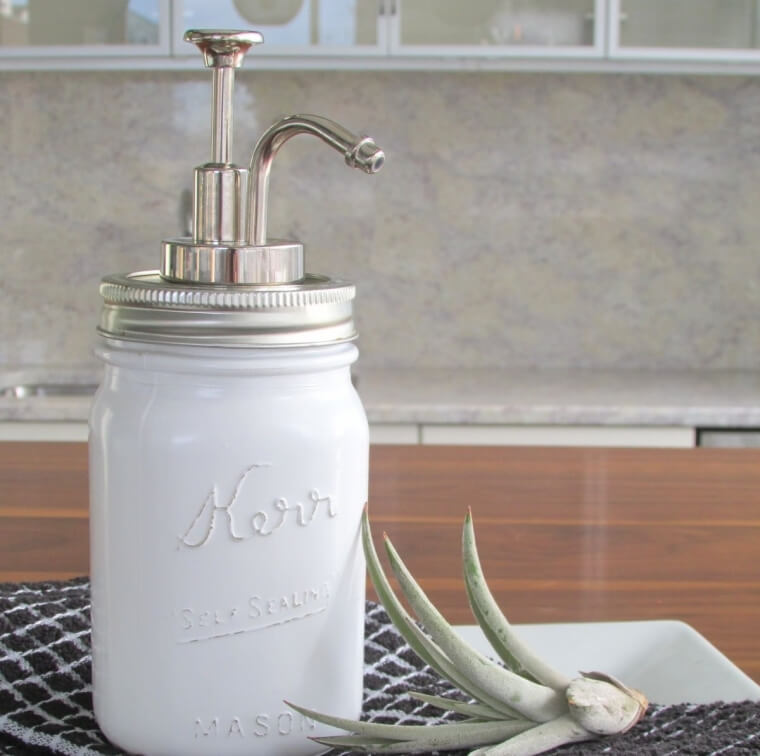 You'll just need a drill, some glue, a metal canning lid, and a dispenser pump that you can get from any old bottle of soap. Then, put everything in place and shape it to how you prefer.
20. ​Use Bar Soap To Keep Your Clothes Clean
It's not that easy to keep our clothes smelling freshly laundered on a consistant basis. Sure, it's not a necessity, but who doesn't like to put on a piece of clothing that smells good and feels super soft?
So, if you'd like to attempt doing this, you can simply use a block of bar soap. Just place several bars of soap in between different items in your drawers, and that should allow them to retain the smell.
21. Make Sachets Out Of Your Mismatched Socks
Having mismatched socks is one of the most common things any of us ever experience. For some reason, socks disappear, and there isn't much we can do about it.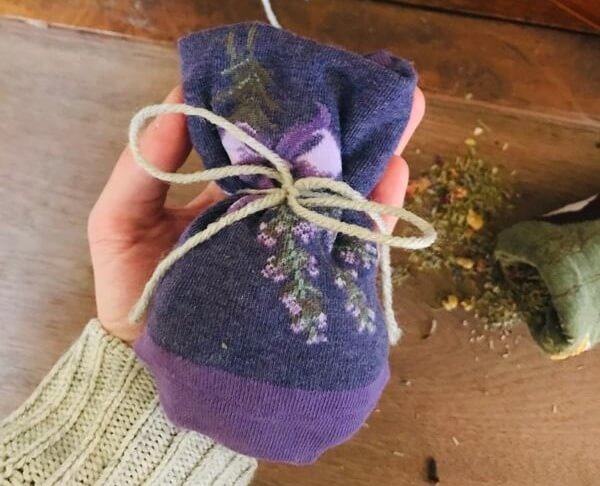 You could make use of some of your mismatched socks by turning them into sachets. Simply cut the sock you choose in half, fill it with scent boosters, sew it, and you're done.
22. ​Make Your Closet Smell Fresh WIth Chalk
If making your closet smell fresh is what you're looking for, then we have the perfect tip for you. Use some chalk to freshen up your closet by placing just a couple of pieces of it in your closet.
This will help to considerably absorb the odor you have in there. You can also add just a few drops of essential oil to the chalk to make it smell even better.
23. ​Use Wax Paper To Unstick A Zipper
Of the biggest annoyances you can experience when you're running late and trying to get out the door is getting your zipper stuck. While this can sometimes be easily resolved, it can also be a pain and a half.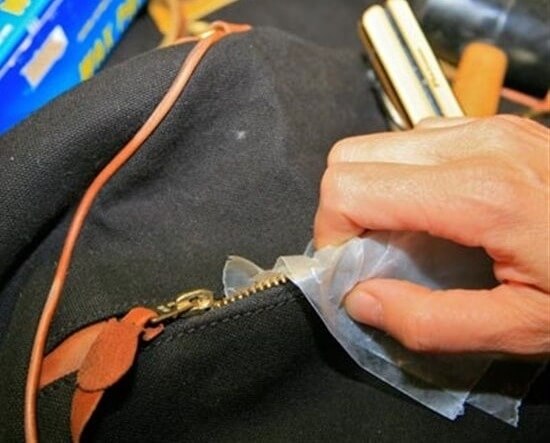 So instead of damaging the situation even further, you can rub some wax paper around the area where your zipper got stuck. This will provide a good amount of lubricant to help you free the zipper.
24. ​Open A Jar With A Spoon
If you've literally tried everything to help you cross that bridge with no success, try to use a spoon. It might sound weird at first, but just try to press the handle of a metal spoon to the inside of the lip of the jar's lid.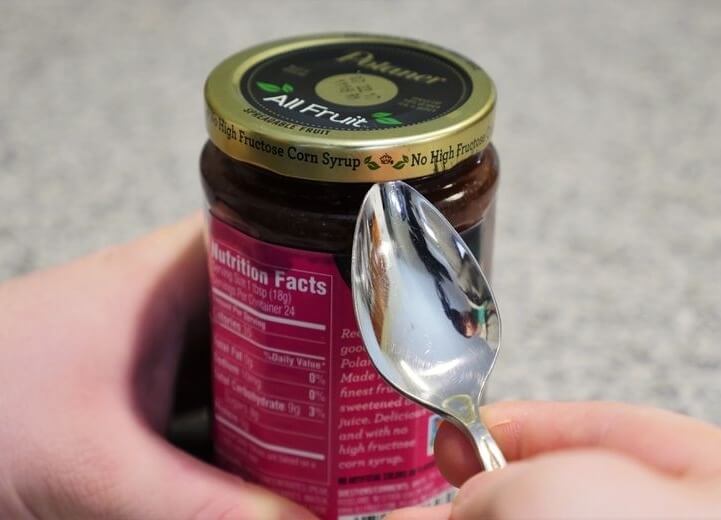 Once you apply some pressure, the seal will break and you should be able to open it.
25. ​Use A Can Opener To Open Hard Plastic Packages
The next time you find yourself struggling to open a plastic package, try this. Grab a can opener and refrain from wrestling your way through the craziness with a pair of scissors.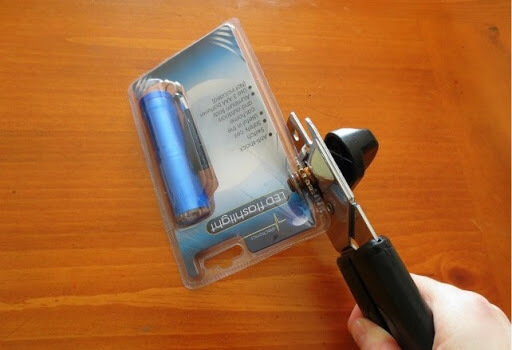 Simply run the can opener (it has to be a manual one) along the edge of the difficult plastic packaging. That should certainly help you open the item right up. 
26. ​Use Unused Clothespins To Hang Your Photos
Every once in a while, it's so much fun to use analog photos instead of simply staying in the digital world. And you can use clothespins in this process, by hanging the beautiful images you captured with your camera.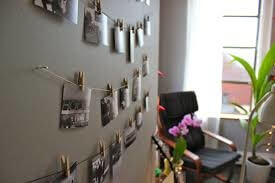 Simply tack on a line of a string to the wall, and start clipping your photos to it by using the pins.
27. ​Hold Nails In With Clothespins
Here's another great tip for what you can do with those extra clothespins. When you use your bare hands when steading a nail with a hammer, you may be aware that with a simple mistake or slip you may find yourself in a great deal of pain.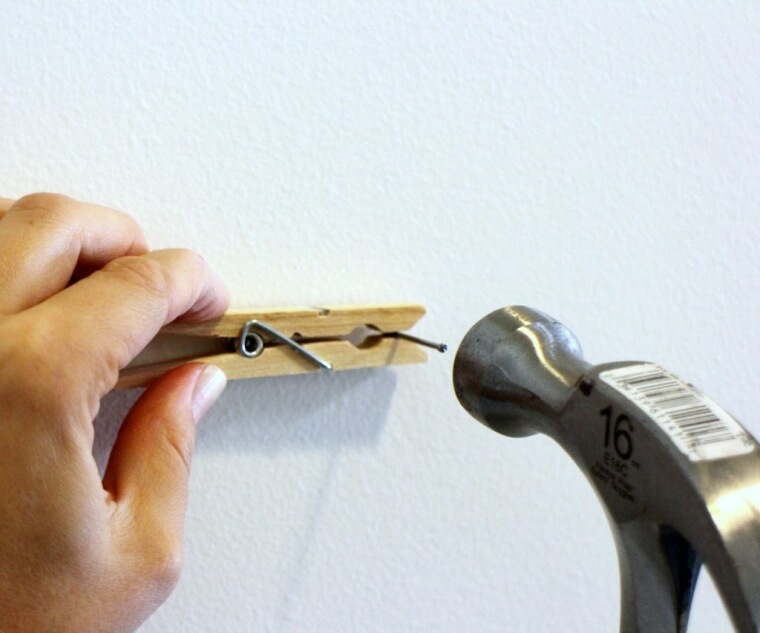 Instead, put a closed clothespin at the base of the nail to help you spare your fingers. 
28. ​Use Craft Glue To Fill Nail Holes
If you've moved houses once or twice, then you'll be familiar with the pain of having to fill nail holes and maintaining everything as impeccably as possible. Instead of spending too much money on this process use some craft glue instead.
You can just grab some craft glue, place it in the hole and begin smoothing the surface with a putty knife or a finger. 
29. ​Recycle Your Toilet Paper Tube By Making A Pencil Holder
Using your recycling bin is great, but we all know how sometimes it just gets way too filled up with cardboard tubes. Instead of adding one more to the bin, turn them into something useful and crafty.
Just wrap the entire tube in wrapping paper or washi tape, including one open end (to make sure that it's really covered), and you've got a pencil holder!
30. ​Make A Compost By Using A Paper Bag
If making compost is something you've thought about giving a try, then we have the perfect tip for you. You can simply put all of your composting straps into a wax-free paper bag that you can easily get at a grocery store.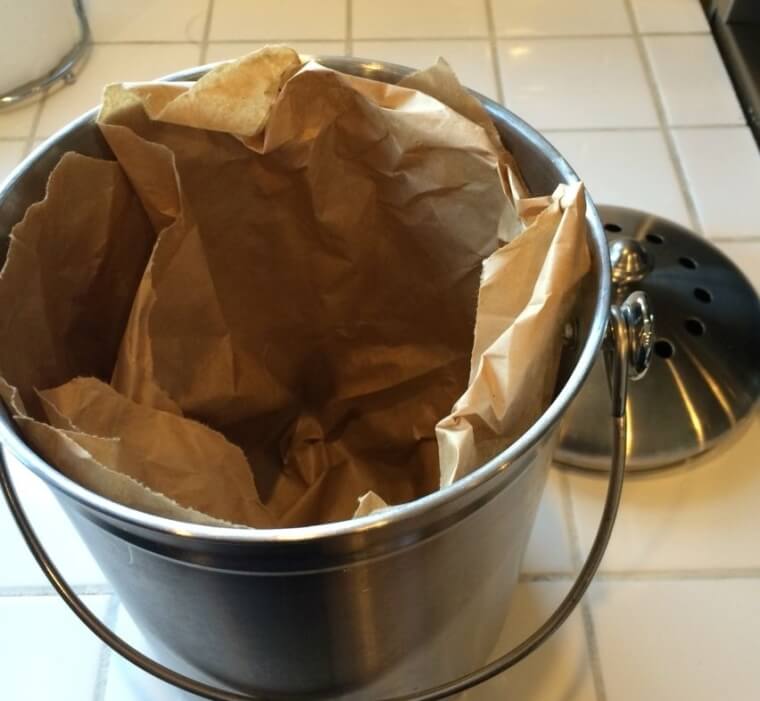 Then, transfer the entire thing into a compost bin located outdoors and you should be ready to help save the planet. 
31. Transform Your Grocery Bags Into Packing Material
Do you ever find yourself stuck with a bunch of bags from the grocery store? Though these are undeniably better than plastic bags, they can easily stack up.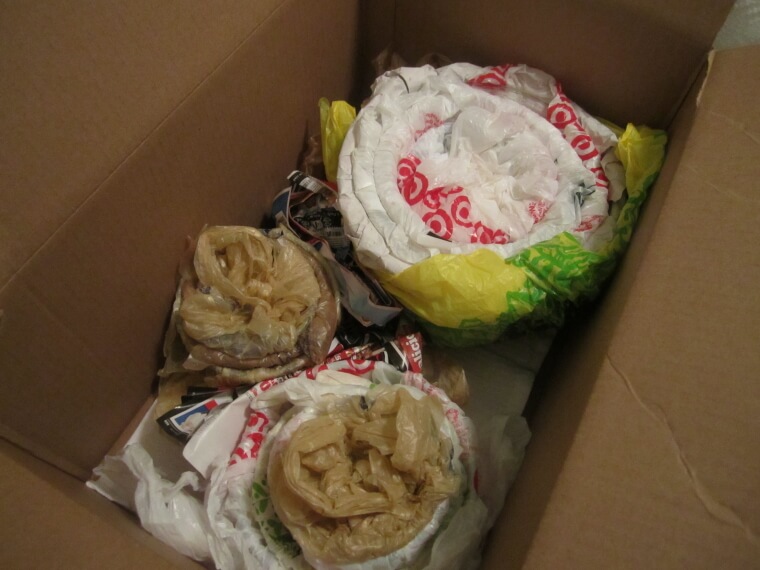 So instead of throwing them, you can actually transform them into packing material. Just crumple your used grocery bags and you should have packing material that is perfect to add to any fragile items.
32. ​You Can Also Use A Plastic Grocery Bag To Line A Paint Pan
If every time your home needs a bit of a touch up you find yourself buying new paint pans then this tip is definitely for you. You can line your paint pan with a plastic bag instead, which will not only help you recycle unnecessary plastic bags but also resolve a problem you may have.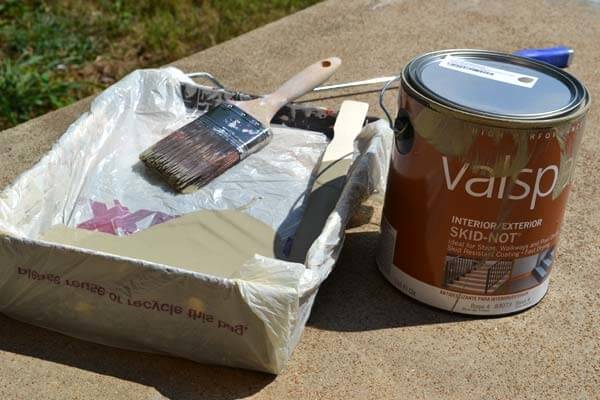 Afterward, you can just remove the bag and toss it in the bin.
33. ​Use A Freezer Bag To Add Icing To Your Cupcakes
Sometimes you may find yourself wanting to add some icing to a cupcake or a plate, but you realize you have no pastry bag. That's not a problem though.
You can make your own party bag by filling in a freezer bag with the frosting you made, and snipping off the tip so the frosting can easily flow through the opening.
34. ​Make Different Types Of Flours With A Blender
With people becoming increasingly health-conscious, you may want to start implementing some different types of flours in your day-to-day cooking and baking. The perfect tool to create different types of flour is actually a blender.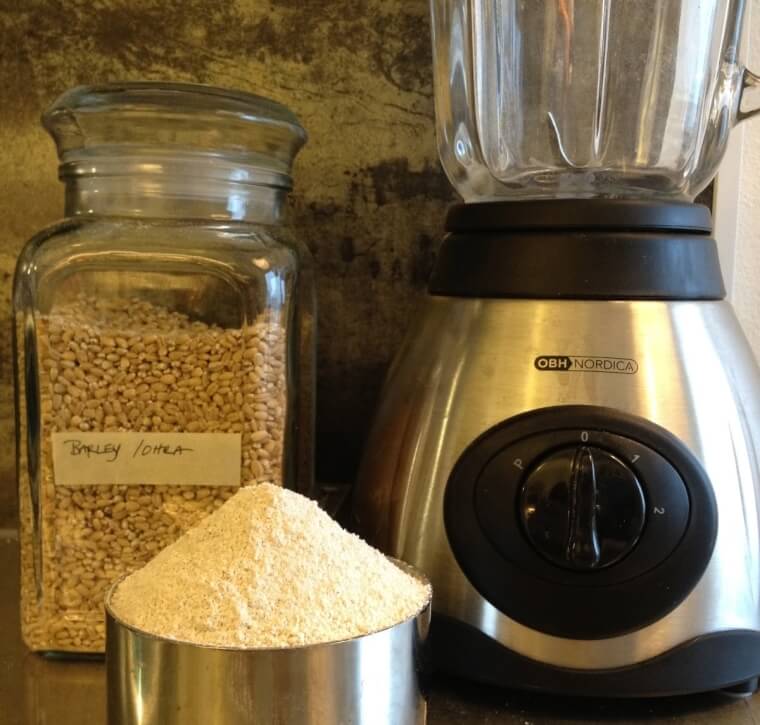 You can just get whatever you want to turn into flour (oats, almonds, or other), add it to your blender, and pulse it until it becomes flour.
35. ​Use A Coffee Filter To Infuse Flavor Into Your Food
If you own a single cup machine you probably find yourself stuck with too many empty coffee filters. Instead of tossing them away, use them to make your food taste better.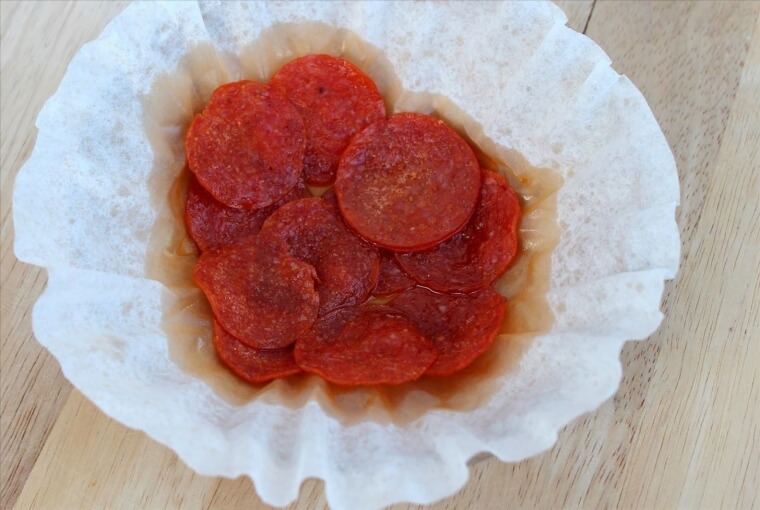 Just put some spices and herbs into the center of the coffee filter and tie it with a string. Then, carefully drop the bag into the recipe and remove it as soon as you finish cooking. 
36. ​Separate Your Plates With A Coffee Filter
Another way you can use your coffee filters could be in making your life easier when you want to separate your plates.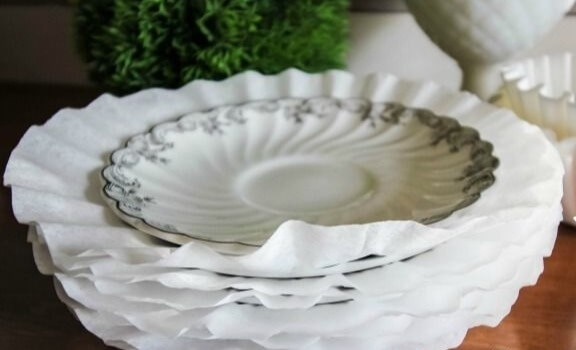 When you're packing your plates during a move, for example, you can simply place the coffee filters in between them and that way provides them with a necessary buffer. You'll prevent the plates from being chipped or even break.
37. ​Use Baking Soda To Clean Your Cutting Boards
The truth is that many of us don't do the best job cleaning our cutting boards. If you'd like to up your game use some wonderful baking soda.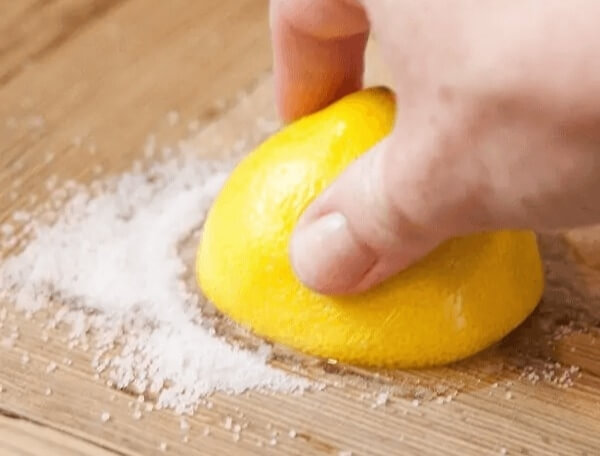 Simply sprinkle some baking soda on the cutting board you are about to clean, let it sit there overnight, and then rinse it all off in the morning. That will not only help clean it but will also remove any remaining smells. 
38. ​Snake A Clogged Drain With A Zip Tie
Zip ties are another item on this list that can be used for several things, and almost never disappoint! One of these can be to snake a stubbornly clogged drain.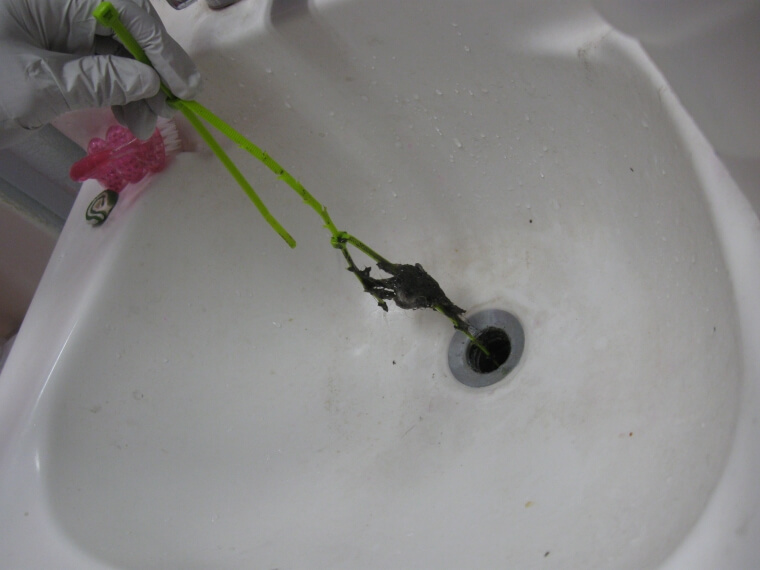 Simply cut tiny notches into the zip tie with a pair of scissors, stick them down the drain and you'll probably be surprised (and a little disgusted) with everything you'll be able to pull out.
39. Hold Your Bouquet Together With A Zip Tie
Flowers are a great and fresh addition to any home. So if you'd like the bouquet to not drop too quickly, don't place the flowers in a vase, instead, make sure you hold them together with a zip tie.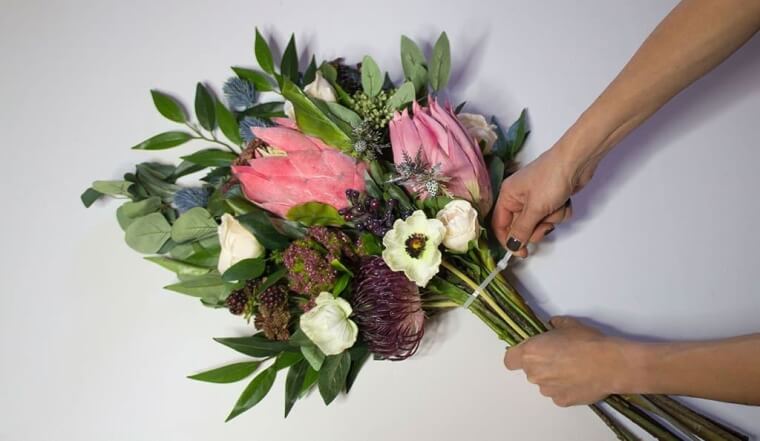 Remember to make sure of two things: the zip tie shouldn't be overly-snug and it also should be some three inches away from the bottom of the bouquet.
40. ​Organize Your Cables With Zip Ties
Another great use for a zip tie, which you might have already heard of, is using it to organize your cables.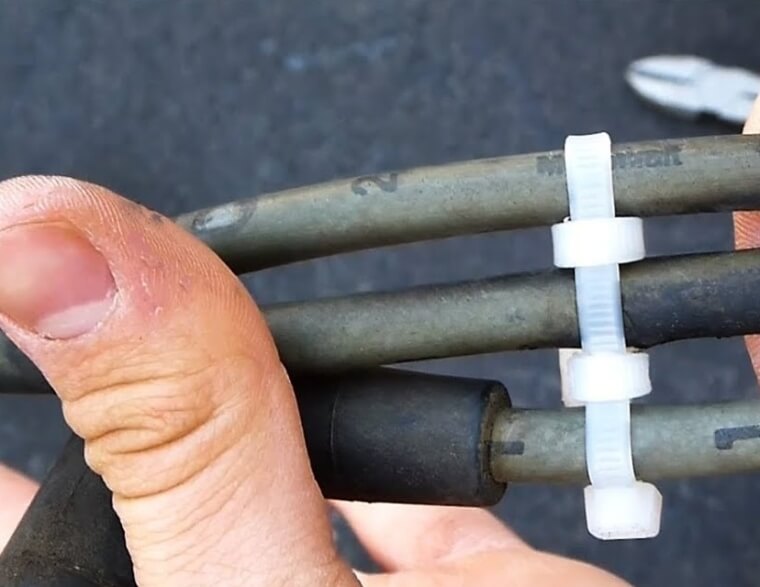 Tangled cables can be a total pain, so if you'd like to reduce this headache just make sure you put all of your cables together, separate them into categories, or whatever will help you identify them, and use the zip ties to prevent them from getting tied together.
41. ​Use A Hair Straightener To Press A Hem
If you ever find yourself not having a tie to iron a wrinkled hem don't panic. Just grab your hair straightener and place a little bit of fabric adhesive tape in between both sides of the hem.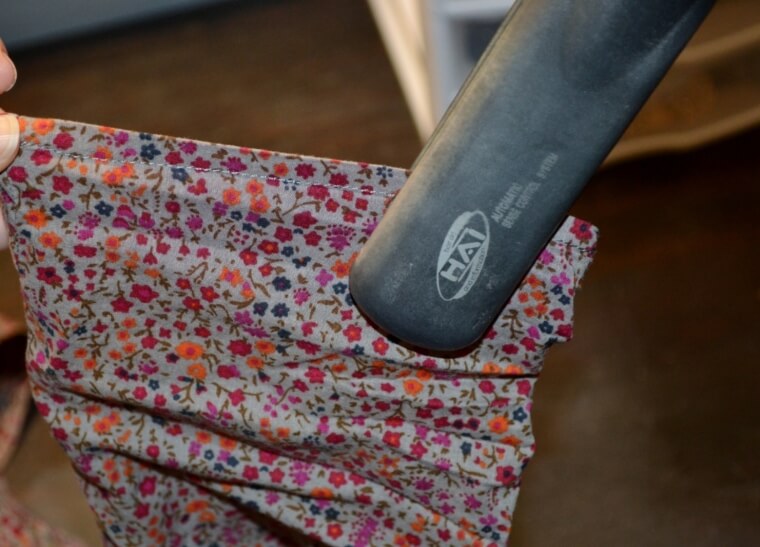 Then, begin pressing lightly while using the straightener all over it. Just make sure that the straightener is in a very low setting. 
42. ​Remove Stickers With Your Hair Dryer
Removing stickers is another task that can be really time-consuming and just generally annoying. What if we told you that there's a way you could do this without all of the headaches?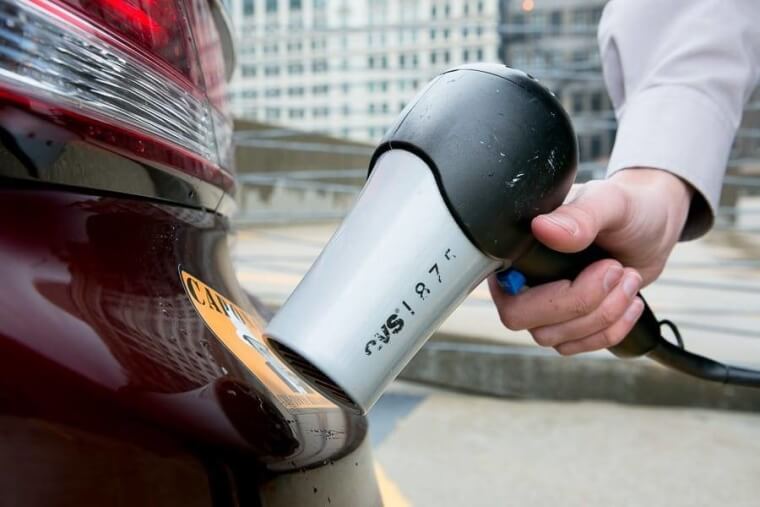 Simply grab your hair dryer and begin running some hot air all over the sticker. That will result in it slowly loosening, allowing you to peel it off right away.
43. ​Fight Frizz With A Dryer Sheet
Who would think that the best thing to help you fight some frizz with would already be located in your laundry room?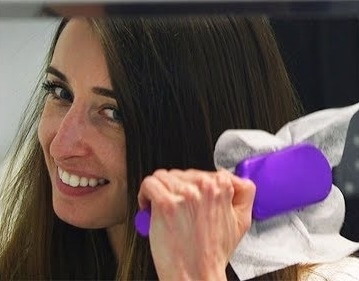 Yes, if you find yourself with frizzy hair due to the increase of humidity, or just because that's the way life works, try to fight it with a dryer sheet. You can just run the dryer sheet over your hair, and voila!
44. ​Use Tennis Balls To Prevent A Scuffed Floor
Tennis balls are another item you may easily get or you might even already have in the house without necessarily being a tennis player.
So, if it's finally time to prevent your chairs from dragging all over the floor and leaving them all scuffed and scratched, then cut some holes into tennis balls, fit them into the legs of the chair and you're done.
45. ​You Can Also Use Jar Lids As Furniture Sliders
Okay, if you don't have tennis balls that are easily accessible to you, there's another way you could present your furniture from scratching your floor. You can simply get some jar lids and stick them under the legs of the furniture.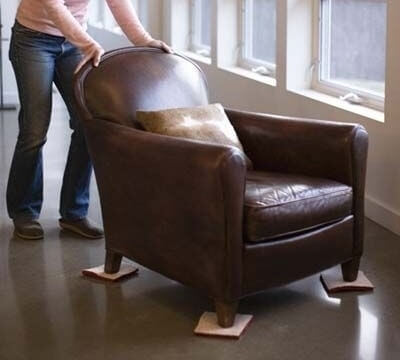 That will allow you to slide your larger pieces of furniture from one point to the other without damaging your floor. 
46. ​Use A Pool Noodle To Protect Your Table Edges
This tip can be helpful not only for making your house safer for everyone, but also for ensuring that your little ones are definitely protected from any table edge related situations.
If you have pool noodles collecting dust in your garage, you can just take some of them, cut one single slit in it and open it. Then, accommodate it to the edge of the table.
47. ​Use Your Curtain Clips To Dry Bath Toys
Bath toys are one of those items that with time (particularly the ones that are waterlogged), can get pretty moldy.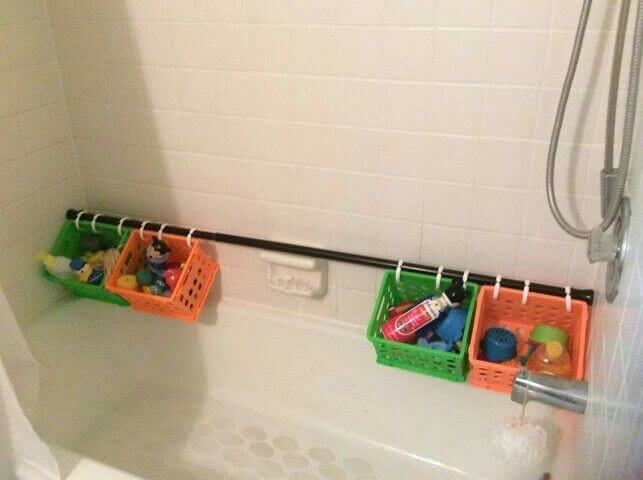 If you'd like to keep this from happening just empty each of them after bath time and hang them one by one on the shower rod. You can use your curtain clips for that until they eventually dry out completely.
48. ​Grab A Fitted Sheet And Keep Critters Away
It can be very frustrating to plant a stunning garden that is constantly serving as a smorgasbord for deer, rabbits, and a bunch of other animals. But if you grab an old fitted sheet you may be able to prevent this.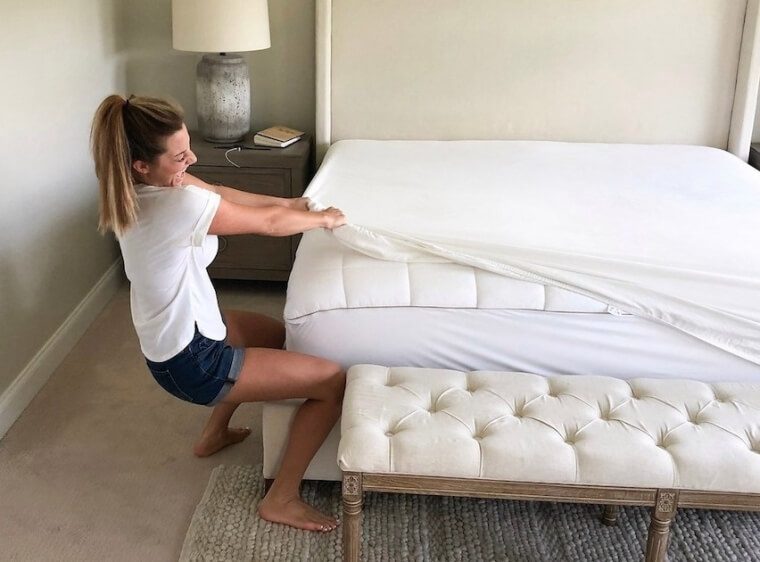 That way, you won't only be able to cover your raised beds in the middle of the night, but you'll also prevent critters from snacking on your garden. 
49. ​Use Tin Foil To Deter Pests
If you have one or more pets in the house you could be familiar with them scratching a bunch of furniture. To prevent that, grab aluminum foil and add it to the places they usually scratch or you want to prevent them from scratching.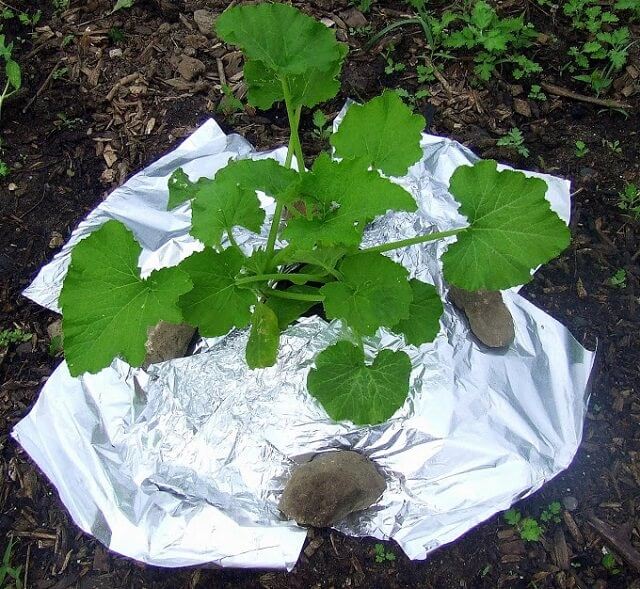 That will become a good deterrent since both dogs and cats don't particularly enjoy the feeling of scratching on the crunchy foil. 
50. ​Use A Rubber Band To Keep Doors From Locking
If you want to make sure that your kids and grandkids don't lock themselves in a room, you can get a rubber band and attach it to your door.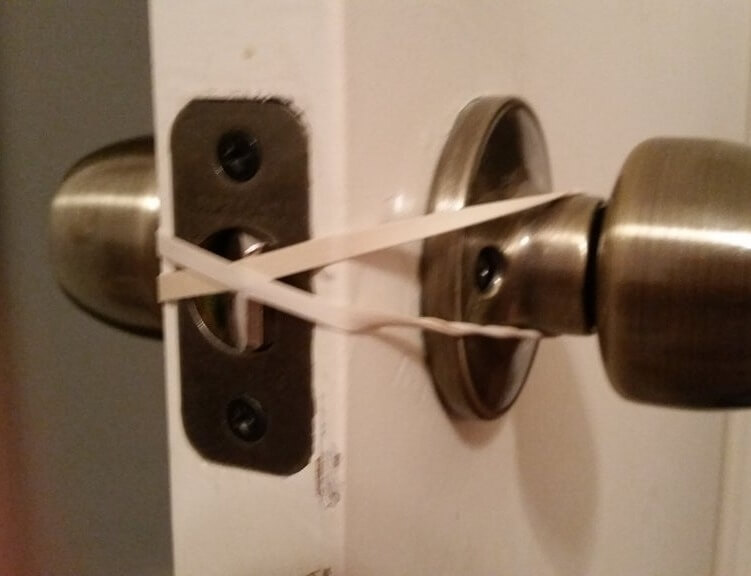 Just put the rubber band on one side of the doorknob and make a small twist in the center, to then loop the other end around the knob. Make sure to adjust it in a way that keeps the twist in place.