Let's start by stating the obvious - of course, that are many different "types" of girls in the world. Every person is unique in their own way, and there is no way that we can categorize billions of people into two groups. But just for the fun of it, we have to admit that in general terms, many girls can easily fall under two big groups. From girls who love to stand out from the crowd to really low-key ones, take a look at some of the most hilarious and recognizable differences between two different kinds of girls and see which kind you are or you know.
1. Some Girls Like To Flaunt It
Halloween is very easily one of the most exciting holidays of the year. We get to choose to be whoever we want and have several opportunities to dress up however we want. But at almost every party there are two types of girls and these young ladies in this picture show it perfectly.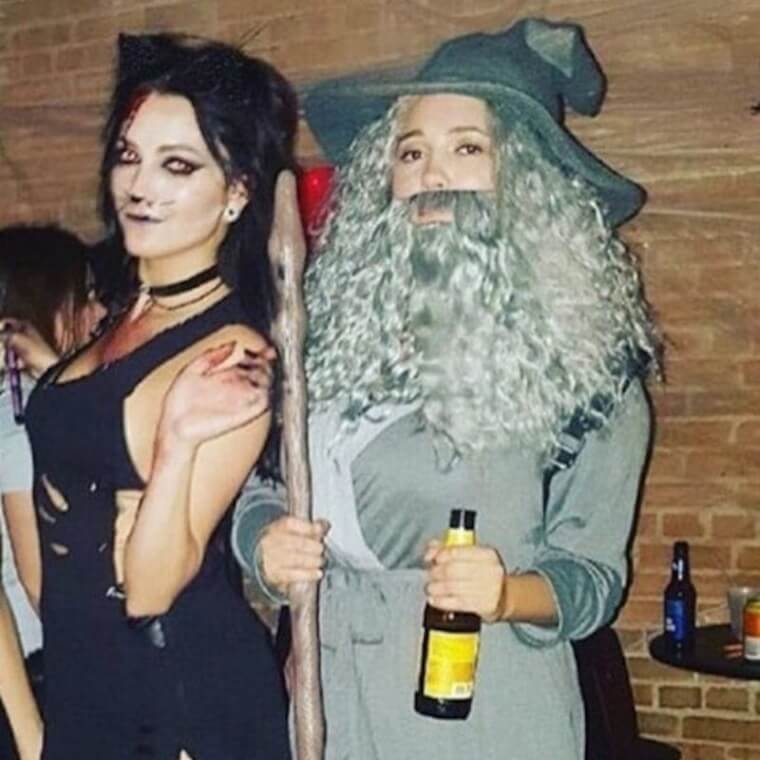 While one of them is wearing a "black cat" outfit, the other one seems to be a huge fan of The Lord of the Rings. She decided to dress up as Gandalf instead, which is the complete opposite of her "catgirl" friend.
2. Dressed For Different Occasions
Another typical example of two different types of girls can be found in the wardrobe choices in any office. While some girls prefer to follow new trends and look stylish, other girls would rather choose something a little bit more comfortable.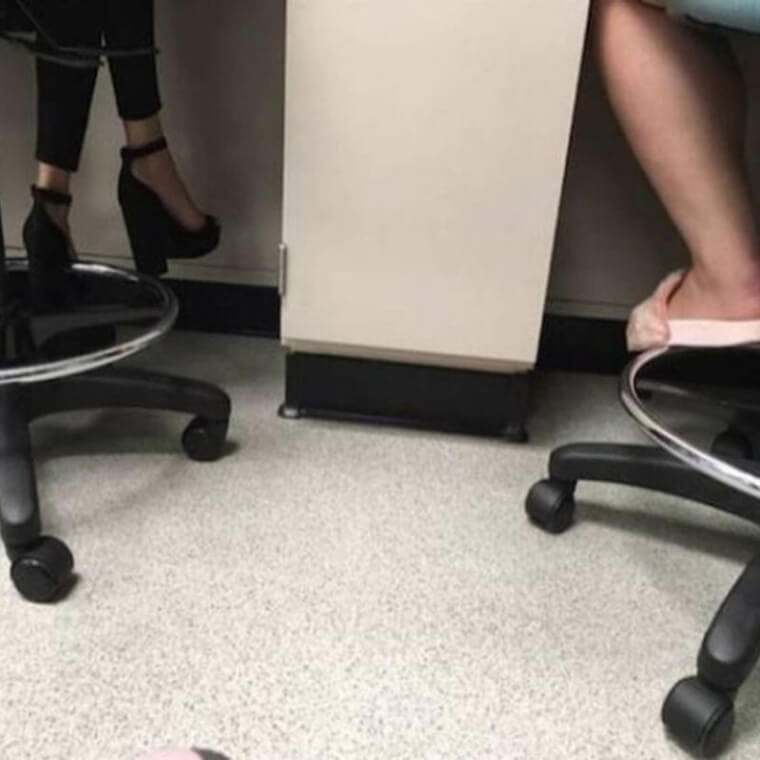 Here, while the girl on the left is wearing black heels and a tight outfit to work, it seems like her colleague on the right is wearing the most comfortable pair of slippers she found in her house. Either way, they seem to both be rocking their chosen outfits.
3. Different Bouquets
Flowers are great, but fried chicken might be better? Well, by what we get from these pictures, it seems like different types of girls have different ways of interpreting love. While some would rather get a stunning bouquet of flowers, others would like a bouquet of food, and we don't blame them.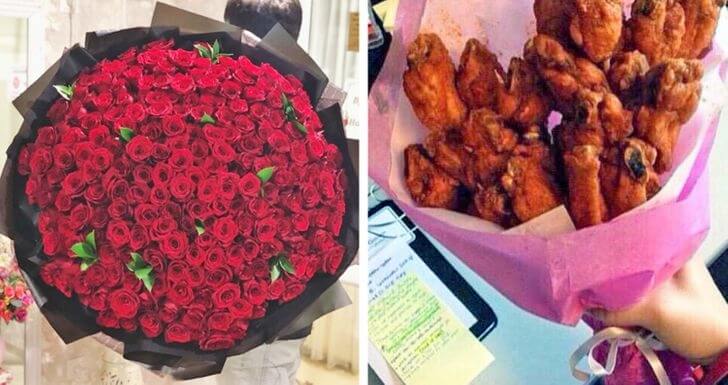 It could be nuggets, donuts, stir-fries, or any incredible food that is able to reiterate how much that person is loved.
4. Different Outfits To The Same Party
Here's another costume party that received completely different interpretations from the two girls in the picture. With the amount of creativity available out there, there are so many options for different outfits that one could choose from.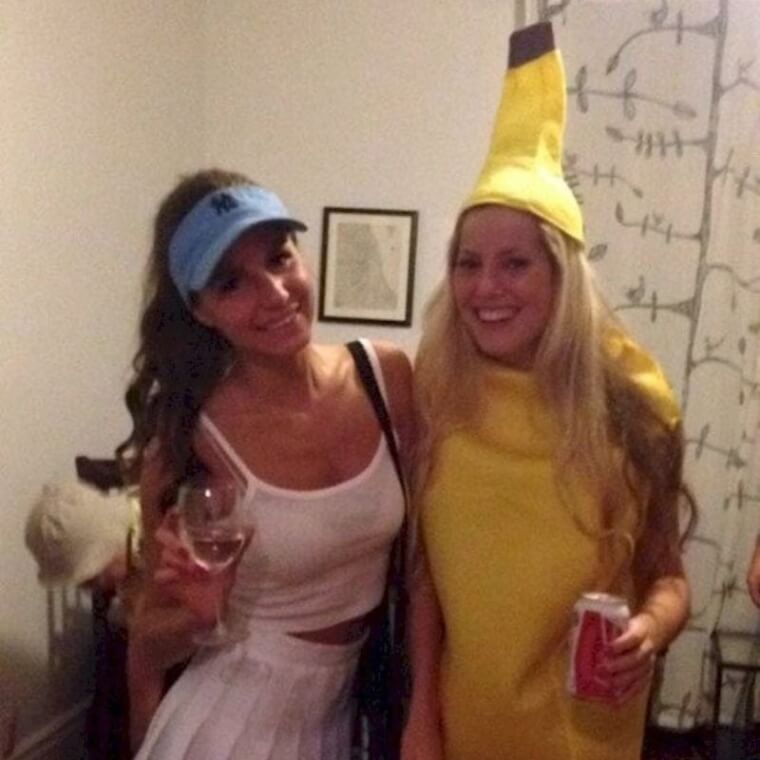 In this image, though the girl on the left seems to be a big tennis fan (or maybe even a player), the girl on the right thought it would be great to dress up as a banana. It's undeniable that bananas are full of minerals and vitamins that we all need, so why not dress as a giant reminder of how incredible bananas are?
5. Not Ready For The Camera
Let's be honest, some people are amazing on camera, almost like they were born for it. And then, other people could literally not look worse in pictures, no matter how good-looking they are.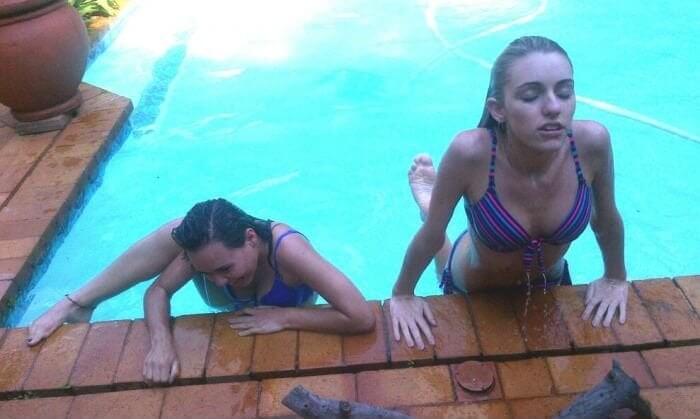 We are either born photogenic or have to work really hard to become it. This picture is the epitome of the two different types of girls. While one of them looks absolutely fabulous, the other one is probably fabulous in her own way but was caught completely off-guard.
6. Different Hairstyles
Beautiful hair comes in many forms and styles, no matter what texture it is, what color, and what length. But the truth is that keeping our hair smooth and healthy is not easy. It requires really putting time into applying the products and oils that actually result in luscious hair.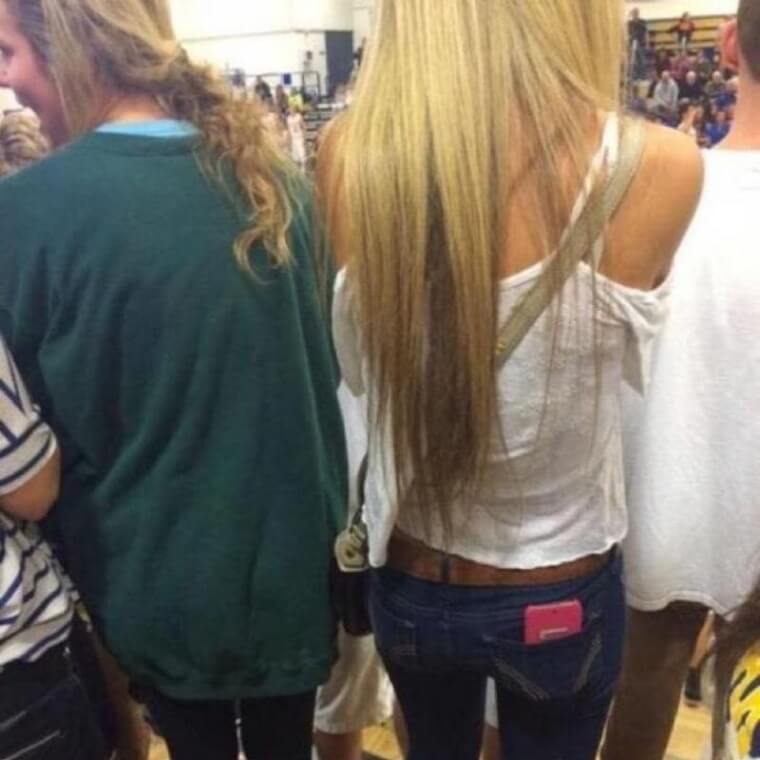 Clearly, these two girls in the picture have completely different priorities when it comes to their hair. While one of them most definitely puts in the time to take care of it, the other one has embraced the "messy hair don't care" look.
7. A Small Difference
When it comes to body types, there are tons of different and unique types of bodies in the world. But though some women prefer to keep their bodies slight and lean, like the girl on the left, others love to hit the gym in order to work on their muscle mass.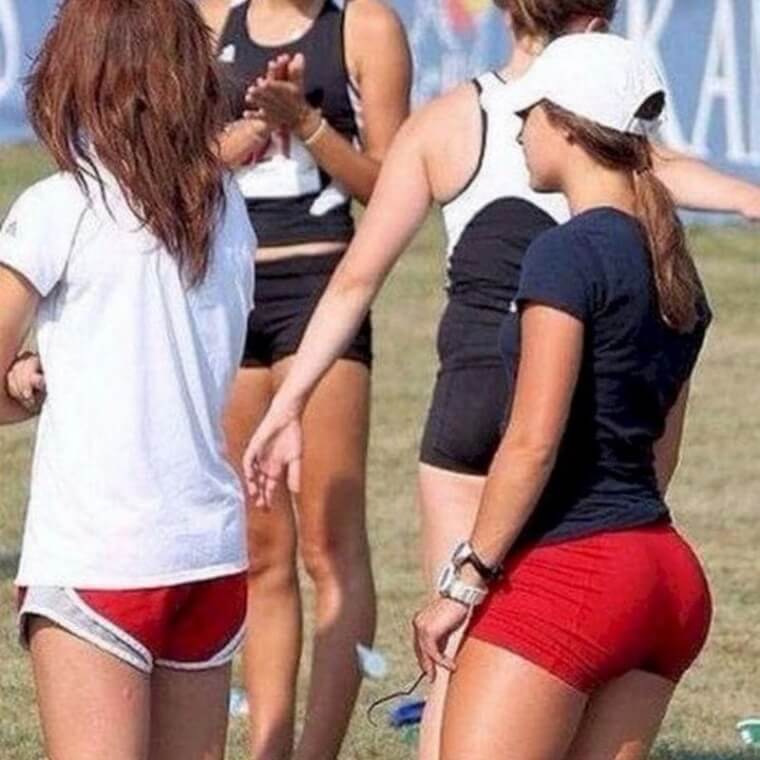 Either way, though both women are wearing pretty similar shorts, it's easy to see that their priorities are completely different when it comes to their fitness routines.
8. The Favorite Boots
A number of years ago, Uggs took the world by storm with its promises to revolutionize what comfort really meant. And though the boots are undeniably comfortable, we can't say that they are the most fashionable boots in the market.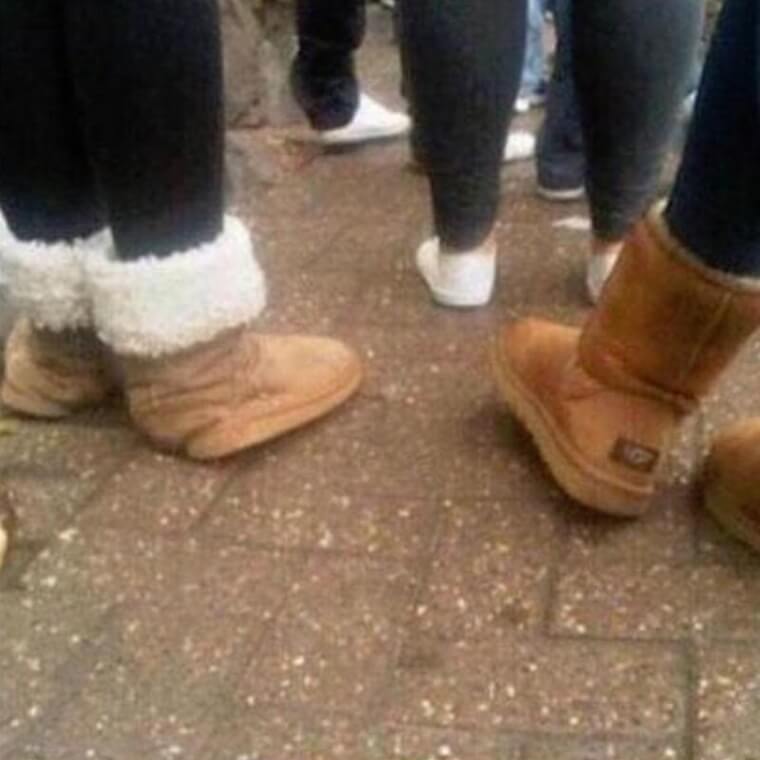 Yet, they have become a fashion statement for some girls, who literally save for months in order to buy one pair and then treat them carefully. Others, well, not so much.
9. Sleepover Diaries
When the Disney movie Frozen was released, kids and adults from all over the world got completely hooked. People of every single age dreamed about becoming just like the character in the film, which was a huge moneymaker for pajama and costume companies.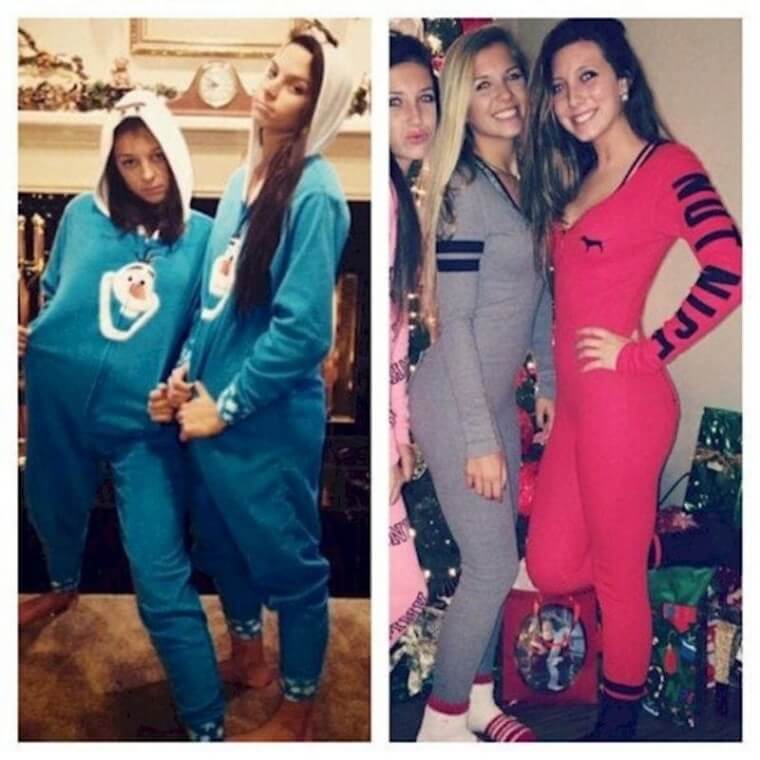 As it seems, the girls on the left clearly shared their love for Olaf and decided to dress up with Frozen onesies for their sleepover. On the right, the three friends went for more fashionable matching onesies.
11. Cookies For The Win
Here's another group of friends that couldn't be more diverse. Both groups of women in this picture honestly look like they put a completely different amount of effort. The girls on the left dressed up in a tight black outfit with high heels and cute bunny ears.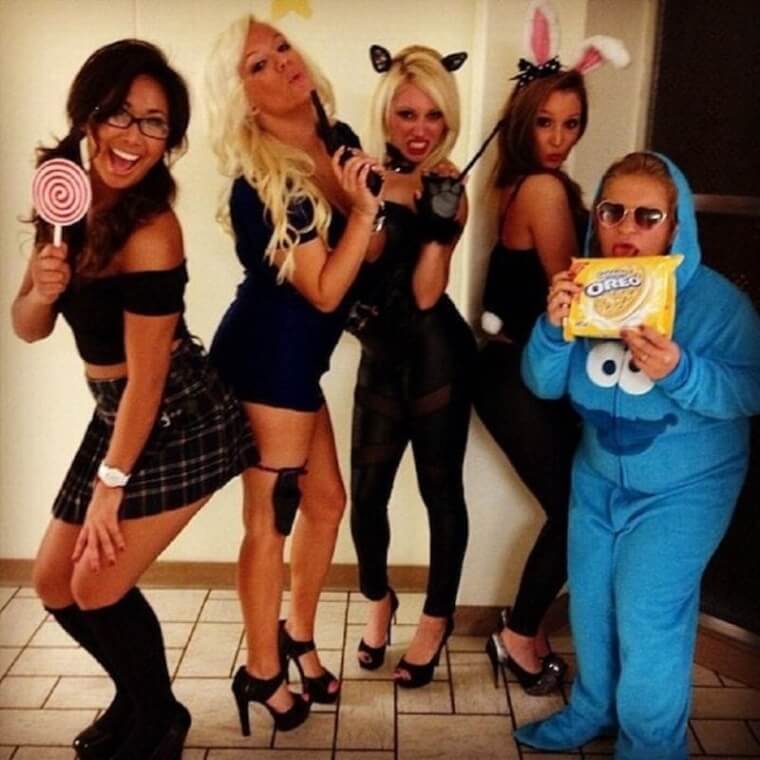 The other girl, on the flip side, was much more serious about her cookies, as she wore her blue onesie outfit with absolutely no care in the world.
10. Comfort Is Key
We can all probably think of a moment we had a similar conversation with a friend. "What are you wearing tomorrow?" We'd ask every time we got to go to some sort of event together.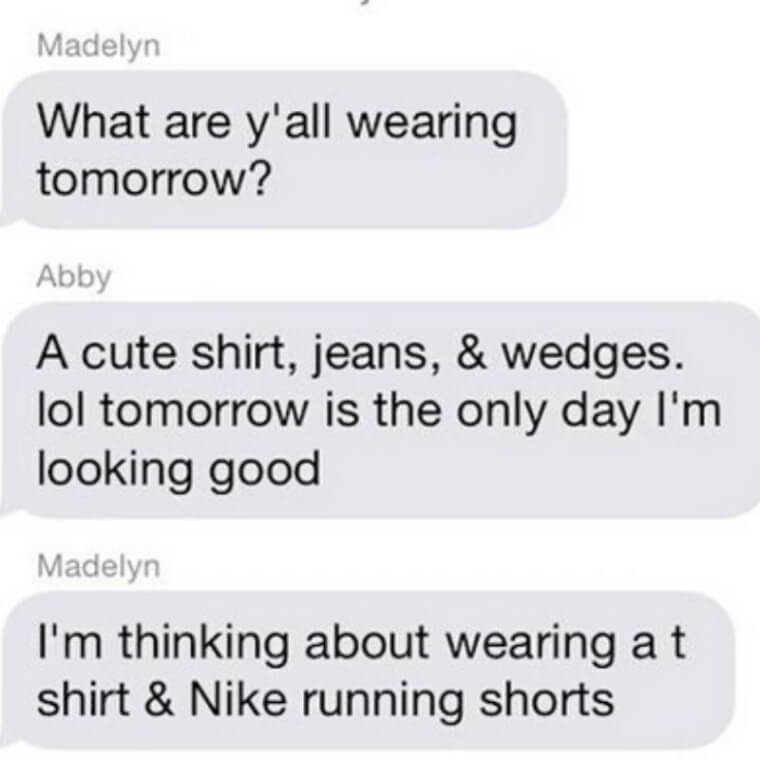 But like in every group, there are the laid back people and those who really like to look somewhat cute for the occasion. In this case, Abby was determined to look cute with a nice shirt and jeans, while Madelyn was pretty much ready to leave the house with a t-shirt and running shorts.
12. Powerful Stars
Just because they are celebrities, doesn't mean that our favorite stars don't also fall under some type of rule. For example, this picture clearly depicts how different of a style Rihanna has in comparison to Katy Perry.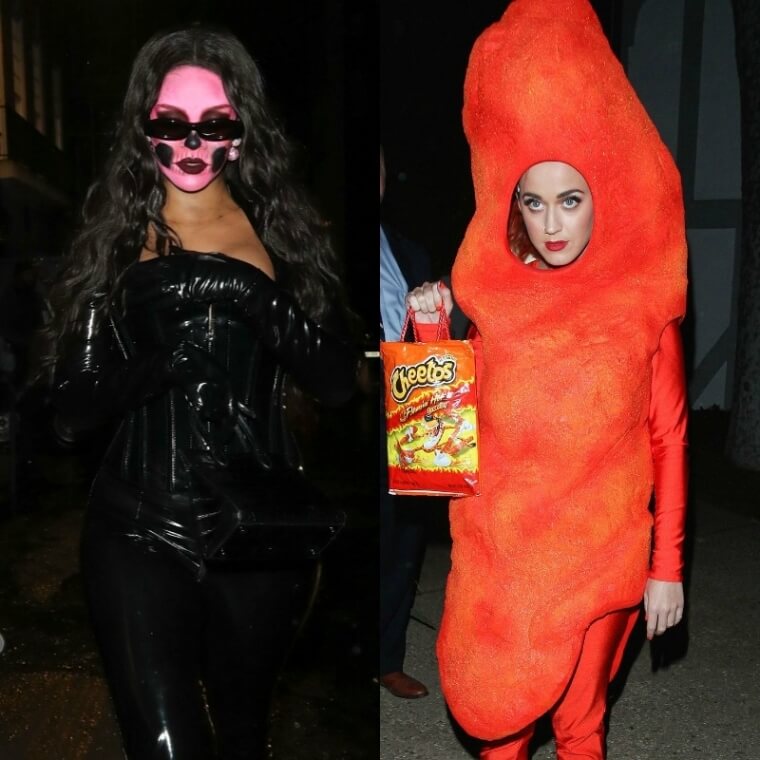 During Halloween, Katy Perry was ready to proclaim her love for Cheetos by literally dressing up as one. Rihanna, on the other hand, meant business when she chose a tight all-black mysterious hero for the evening. They each rocked their outfits though.
13. Not Up For A Group Costume
Sure, creating costumes together is a great way to spend some time with your friends, but not everyone in this world is up for a group costume, no matter how close the group of friends may be.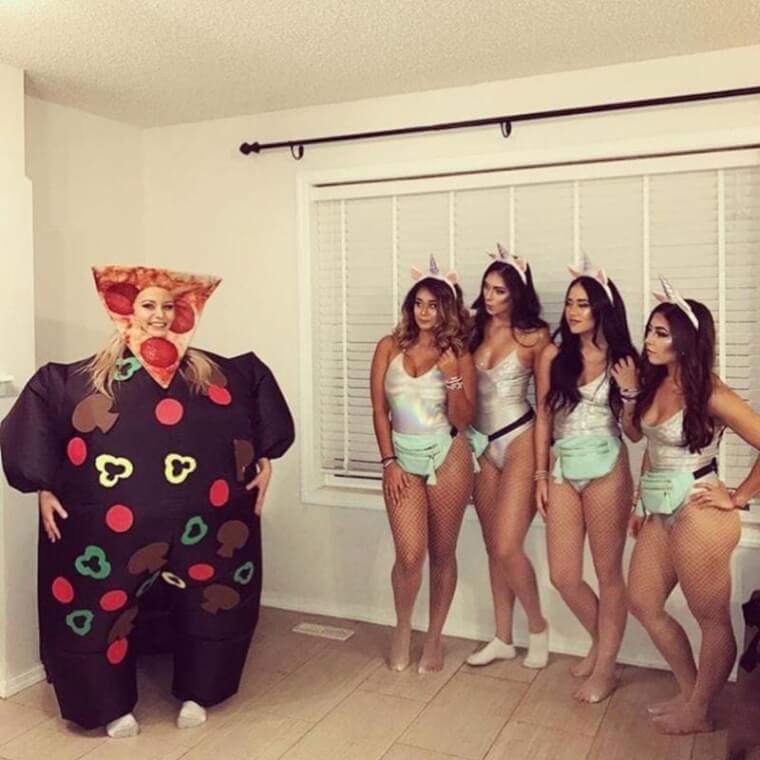 Clearly, this woman wasn't up for whatever her friends were planning, and she decided to rock up at the sleepover with a completely different costume that basically screamed "pizza". Thankfully, her friends in the unicorn costume found the moment hilarious and decided to take a group photo to always remember the moment.
14. The Effects Of The Day Before
College is fun, but sometimes it can get pretty rough. How could we ever forget being at a party at midnight and thinking about how hard it will be to wake up to class the day after? Well, it happens to the best of us, and it's a sign that we took our college experiences to the fullest.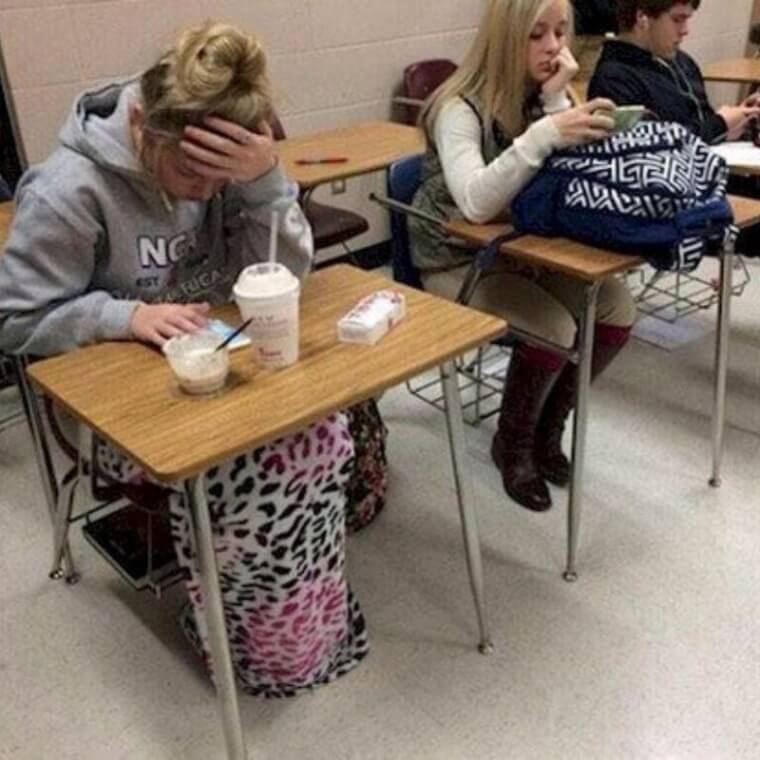 The two girls in this picture, for instance, show how some of us go to sleep early and have the time to take a shower and get all cute for class, while others barely make it there.
15. Different Priorities In Life
It's not a secret that we all may have completely different priorities in life. And by the looks of this hilarious picture, these girls do too. While prom and school dances may be the one thing that girls and boys look forward to the entire year, others couldn't be more unbothered by it.
Even though a group of girls in this picture is posing in stunning and stylish outfits for their school dance, a girl in the background definitely stood out from the crowd as she ate an entire bag of chips all by herself.
16. Showing Off For Different Reasons
Some of us have most probably seen one of those videos where a beauty influencer puts their fingers across their highlighter and then shines it right under the light. The action creates a blinding effect right away, showing just how powerful this piece of make-up is.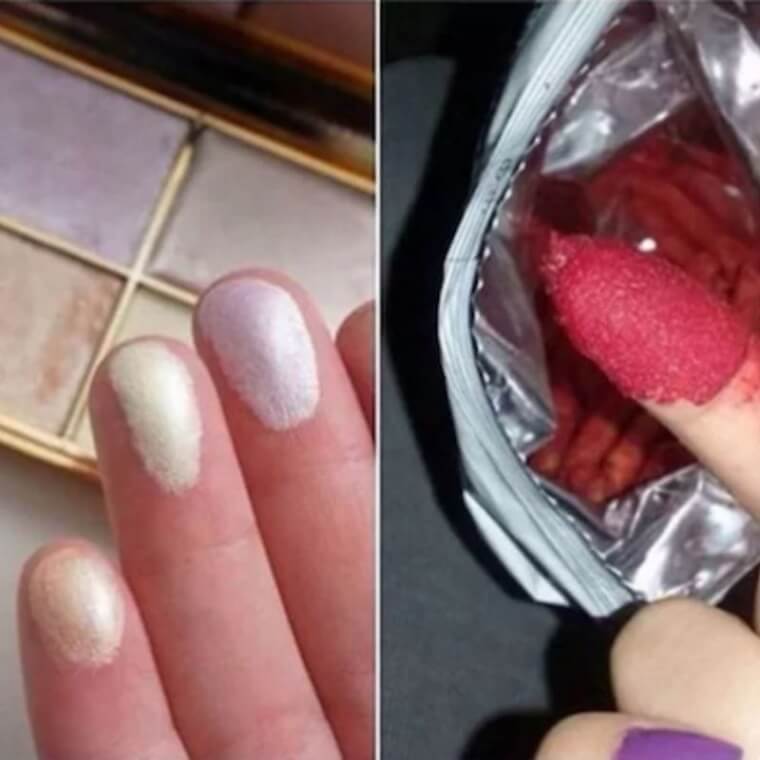 But as these two girls show, not all of us love showcasing our blinding make-up. Some girls would rather swipe their fingers across a yummy bag of Cheetos and share the remains of it.
17. Investing In Lipsticks
Lipsticks can be super fun and versatile. It can be a great time to experiment with different colors and outfits and pair it up with either a subtle make-up look or the boldest look they can create. But sometimes it can be really hard to find the perfect brand for us.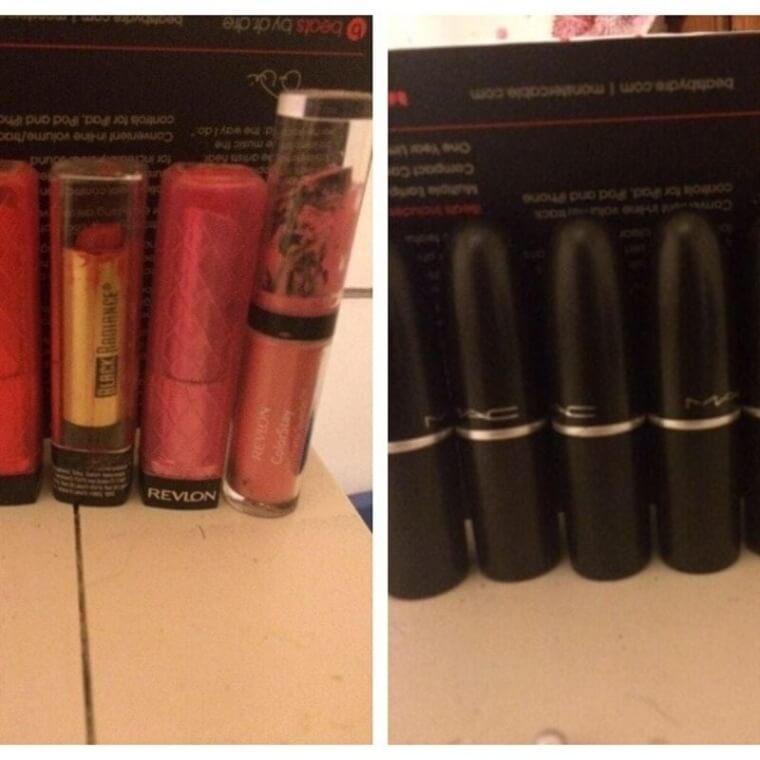 This is especially true with the array of prices and qualities in the market. Although some girls are willing to invest in some of the biggest brands, others are pretty much happy with the first lipstick they can get their hands on at their local drug store.
18. Wearing It All
Why choose between a pair of boots and sneakers if we can literally wear both? Or even better, why subscribe to being a type of girl, when one can simply choose to be both of them? Well, we have found our winner ladies and gentlemen.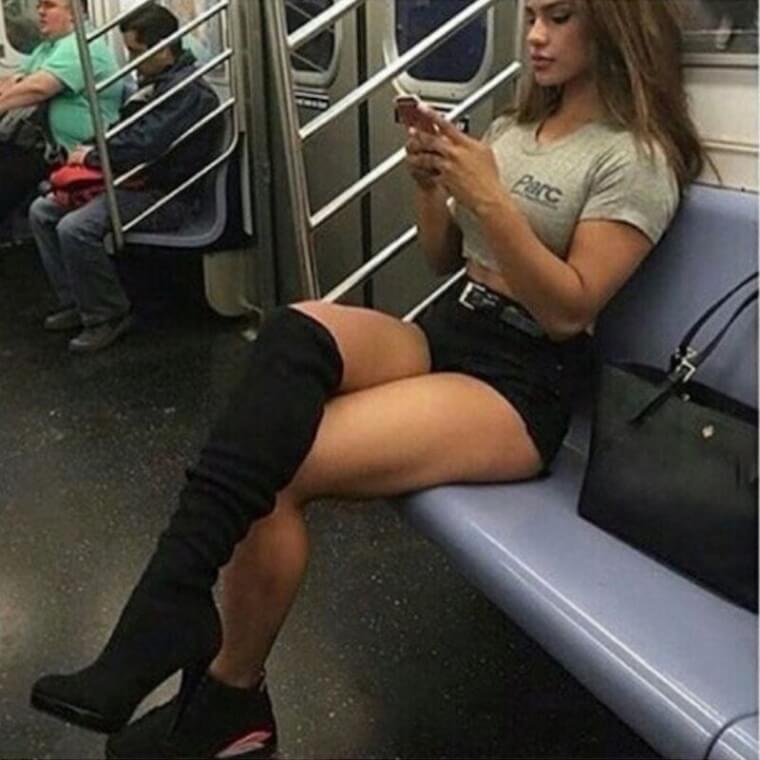 This girl who was pictured in the subway left her house feeling like she could literally wear whatever she wanted, and she rocked it. Instead of choosing between her high boots and a pair of sneakers, she simply wore both at the same time.
19. An All Blue And All Black Outfit
Halloween is probably our favorite occasion to realize how different some girls are. Once again, these two girls got completely different memos from the themed party they were invited to.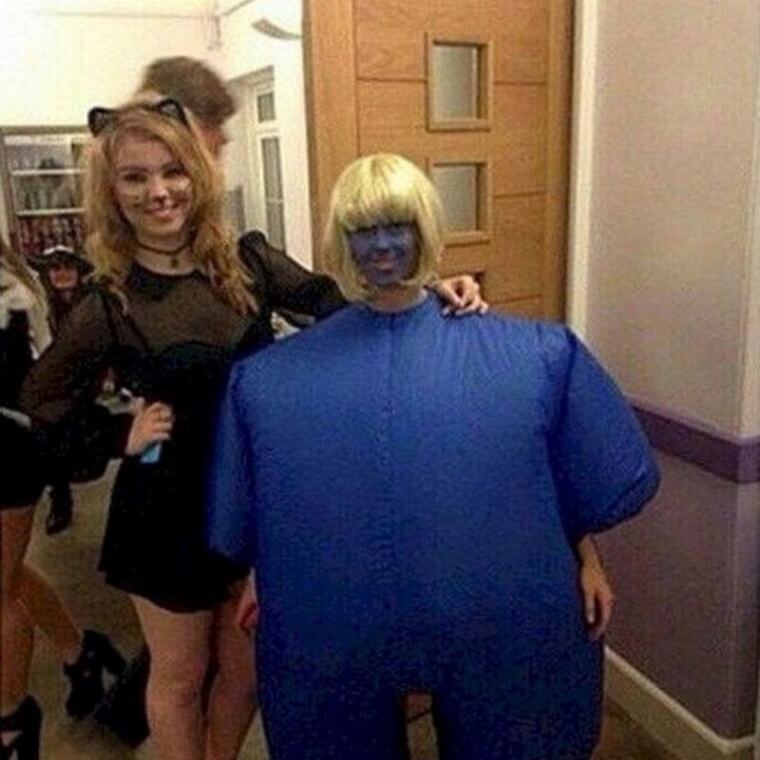 One of them wore a tight all-black outfit that resembled a Catwoman, and the other one grabbed a blonde wig and a huge blue jumpsuit and some face paint to showcase the one and only Violet Beauregarde. It's impossible to not find the contrasting outfits completely hilarious.
20. The Party Girl
Some people are the life of the party, and some people, well, they'd rather stay home watching Netflix and eating popcorn. Here, the girl on the left was mostly just interested in drinking her boxed juice and her bag of chips, while the girl on the right was just getting started.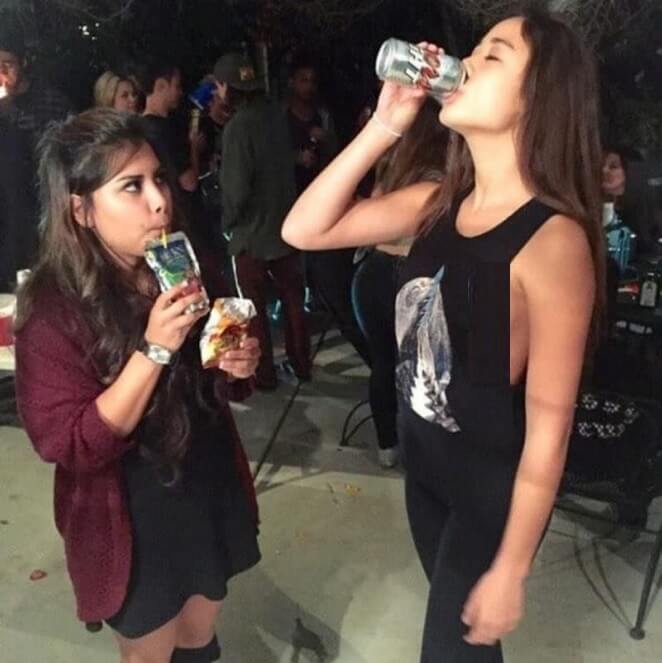 Just before they had a picture taken, the girl on the right decided to pose in a way that showed she really meant business and was about to have the time of her life.
21. Completely Different Reactions
To be fair, none of us really know how we would react if we encountered a dinosaur in front of us. Though some of us might think that we would be brave and face the ancient animal, others might be a little bit more realistic.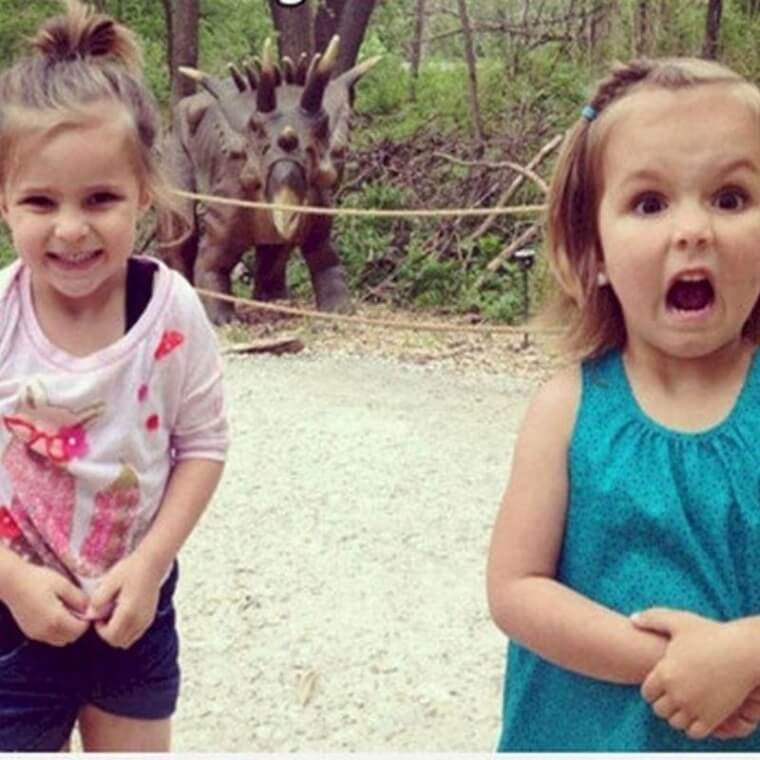 These two girls clearly had the complete opposite reactions the first time they saw a giant dinosaur at a park. One of them was completely terrified and was ready to get out of there, while the other one couldn't have been more excited about it.
22. The Devil And The Plumber
Another costume party with girls who couldn't be more opposite from each other. Both girls seem to have worked pretty hard on their outfit, but they both decided to choose completely different themes.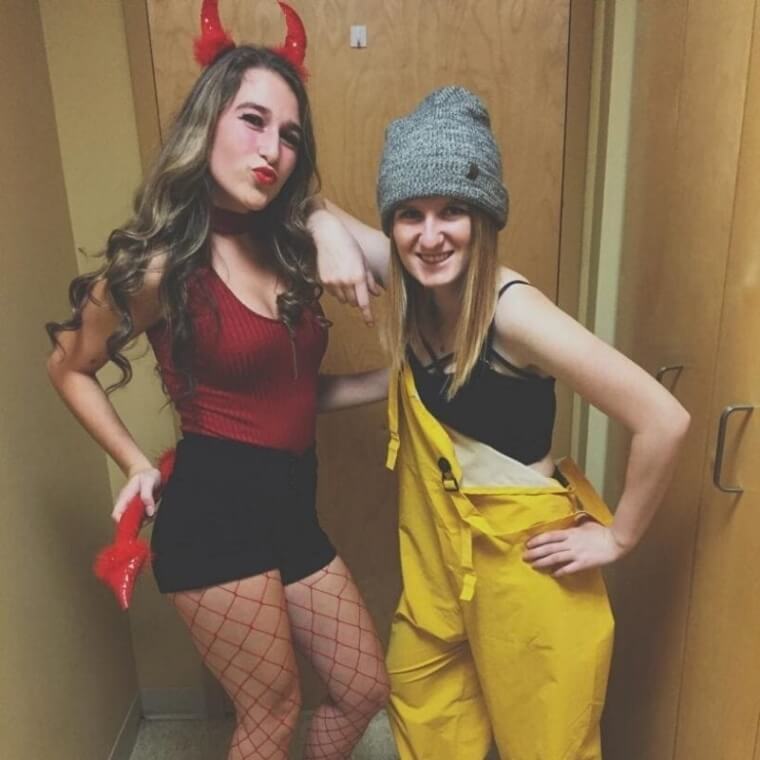 One of them, the devil, made sure to pair up some stockings, shorts, and red horns, while the other one was really keen to dress up as a plumber. She simply found a yellow jumpsuit, paired it with a beanie, and was ready to go.
23. Dressing For The Occasion
People react to cold weather differently, but as long as everyone is happy and warm, then all is well. For some girls, even in the midst of a snowstorm, keeping their style in check is crucial.  For others, all that matters is really ensuring that they are the warmest they could ever be.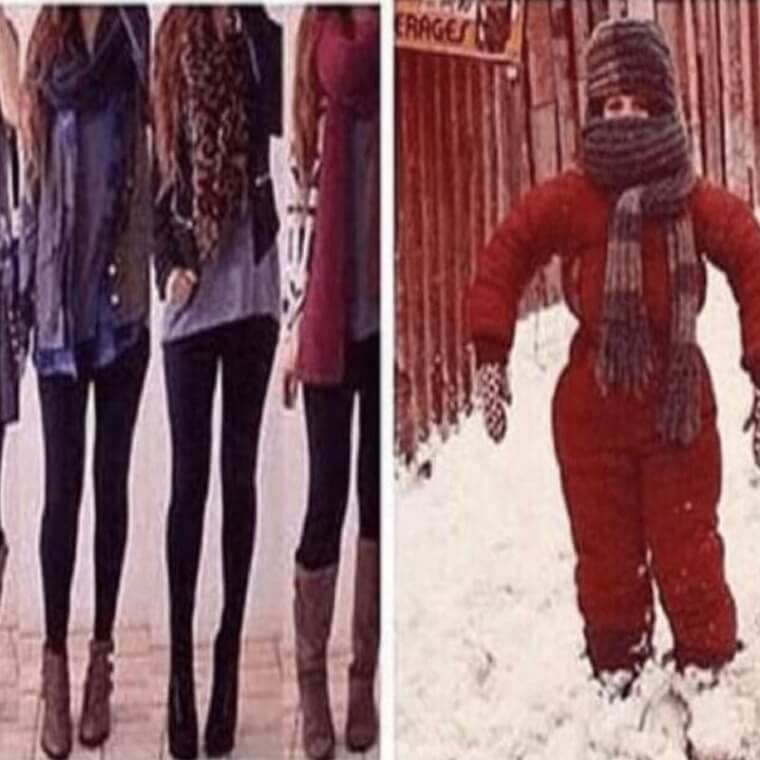 It doesn't matter how many pieces of clothing they need to add to their outfits, they are going to be cozy and warm, no matter how they look.
24. The War Between Highlighters
What we take from this picture is that someone probably asked these girls to borrow a highlighter, and each of them had a completely different idea. Since the person didn't specify the type of highlighter they were looking for, one of the girls searched her bag for a pink marker.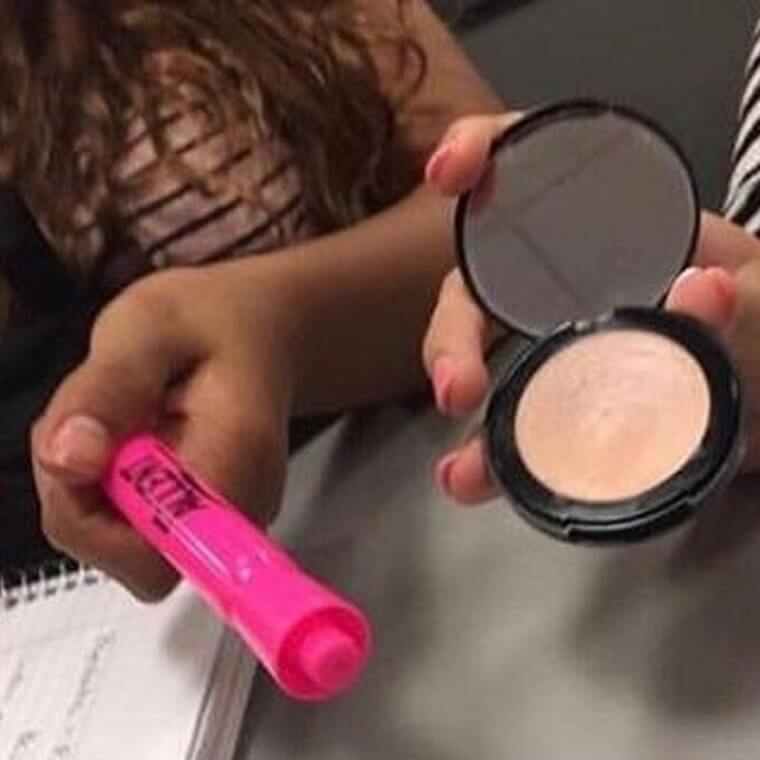 The other girl, on the other hand, took out her small make-up bag and grabbed her favorite highlighter. They certainly brought two interesting angles to the meaning of a highlighter these days.
25. A Skillful Encounter
There are two ways to do a handstand, you can either rock it or you can simply fall completely flat on your face. As the two girls in this picture show, there is simply no in-between.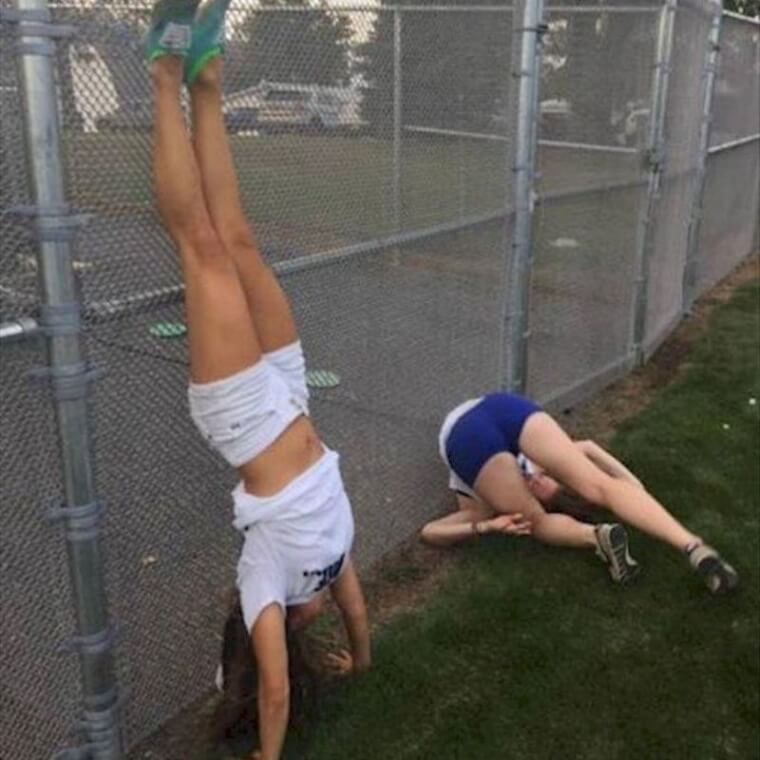 Sadly, when these two friends decided to show their handstand skills at the same time while the third friend pictured the encounter, none of them expected this result. While one of the girls had perfected her handstand, the other one still had some practicing to do.
26. Fighting Crime Differently
Who would know that there are so many ways to dress up as Teenage Mutant Ninja Turtles these days. For example, the group of girls on the left chose to put their own twist in their outfit, creating a very modern-looking crime-fighting group.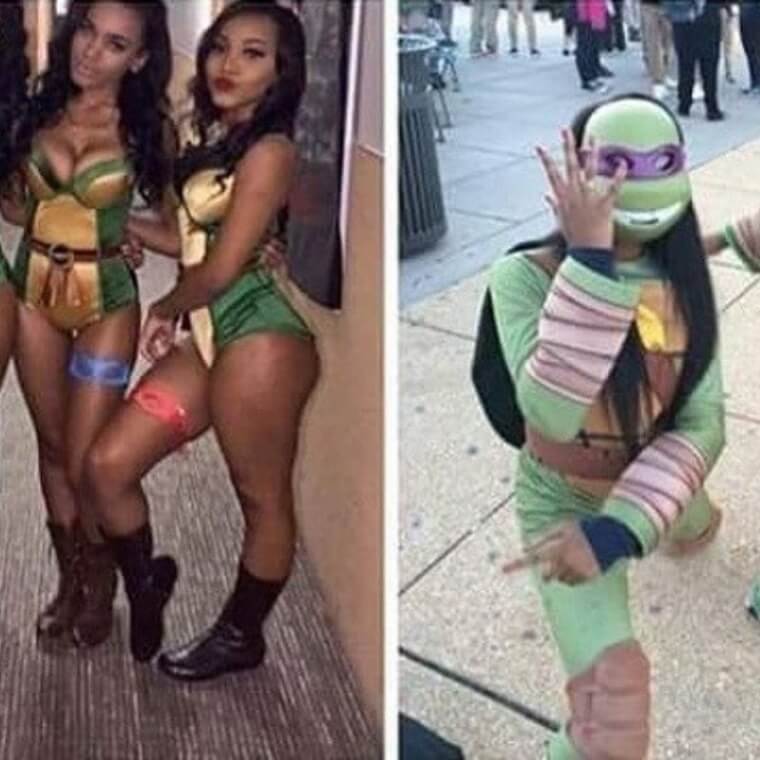 The girl on the right, on the other hand, tried to create a look that is a bit closer to the way we all picture the original Ninja Turtles.
27. Different Make-Up Choices
Okay fine, we are aware that the make-up choice picture on the right is a bit of an exaggeration, but that's the whole point. This girl decided to show the world how there are huge differences between the two types of girls.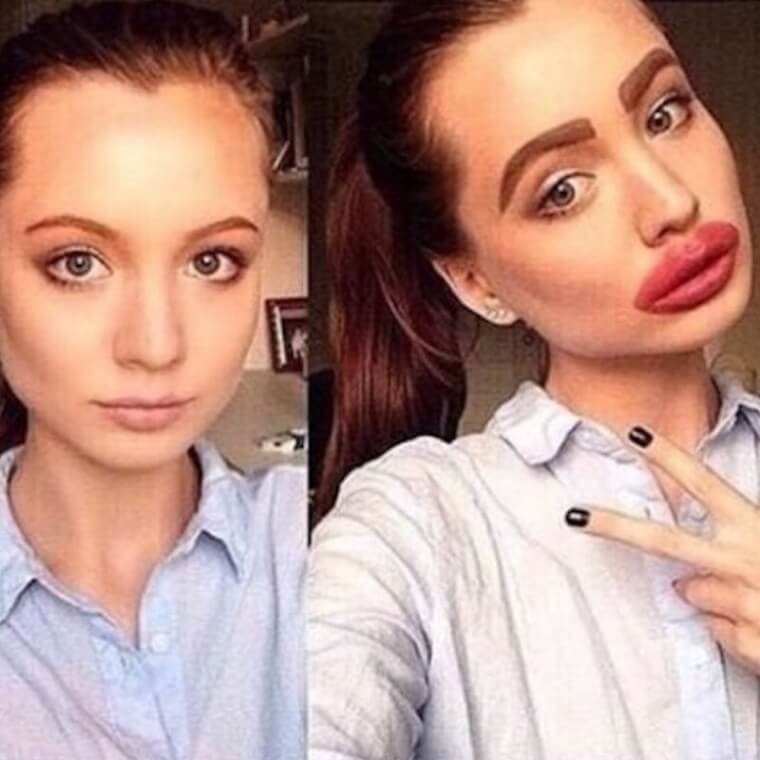 Some love make-up and spend hours creating the perfect (slightly exaggerated) make-up look. The other girl, on the other hand, may also spend hours creating a make-up look that gives us that "no-make-up" vibe.
28. Manicure Taste
Some would say that manicure is a type of art, with tons of different options. They can be long, they can be super short, they can have a thousand colors or a simple nude nail polish, it all depends on one's taste.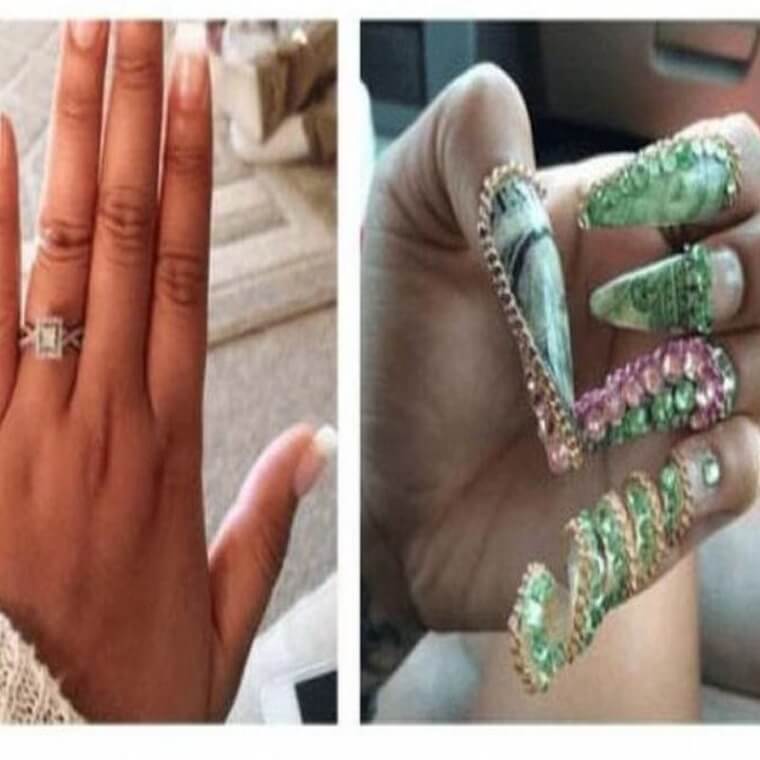 These two girls in the picture could not have more opposite tastes. While one of them went for a nude and clean manicure, the other one was ready to show the world that her nails had a life of their own.
29. Recreating The Pose
With an increasing number of social media influencers in this world, it's hard to tell which pictures are real, and which ones are just another pose. In theory, any of us could achieve the perfect pose, but is there really anything such as perfect?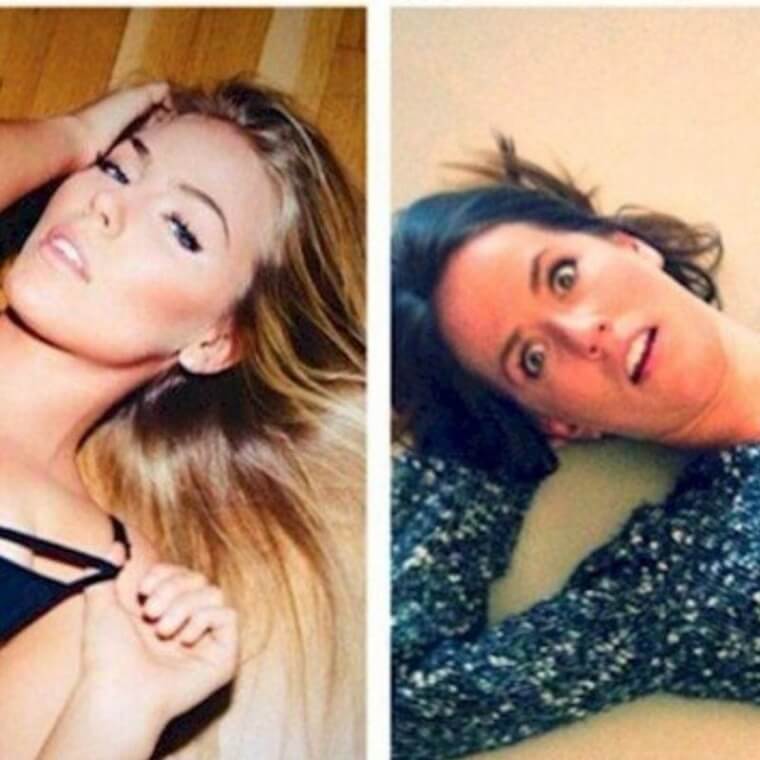 Clearly, the girl on the right decided to bring some light into the subject by taking an influencer's photo and posing the same way with her own twist of reality to it.
30. Different Sisters
Different types of girls also exist in the same household, and this picture is proof of it. As it seems from the image, these two sisters have completely different priorities in their lives.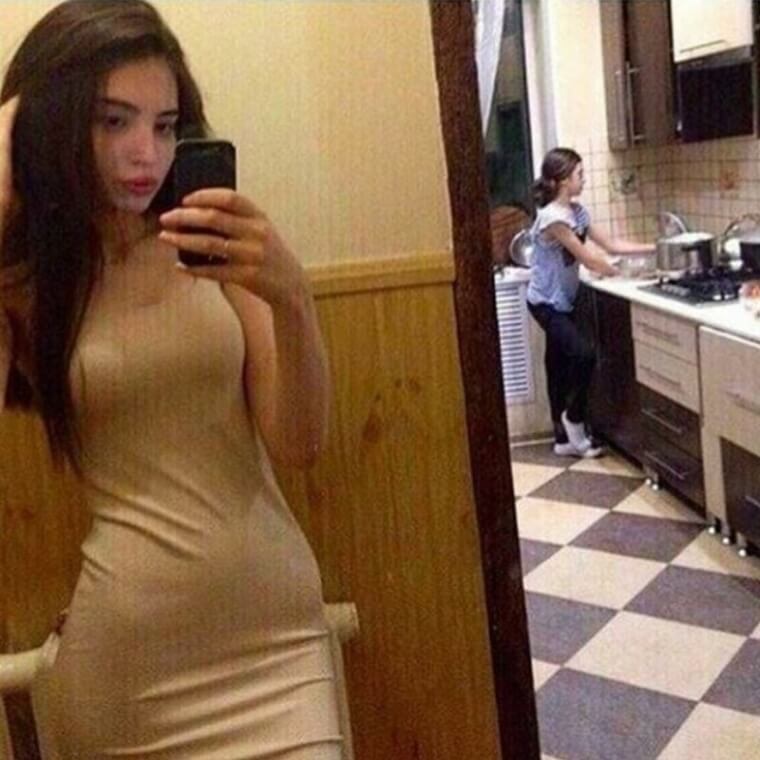 One of them is playing with her phone and taking selfies in the mirror while wearing a cool dress and make-up, all the while her sister is busy with other things. She seems to be in the kitchen fixing herself something to eat.
31. The Filter Game
It's hard to forget the famous dog filter that once took the internet by storm. At some point, it seemed like every single person on social media had a profile photo with that specific filter. That was basically the thing to do whenever someone wanted to stay in with the trends.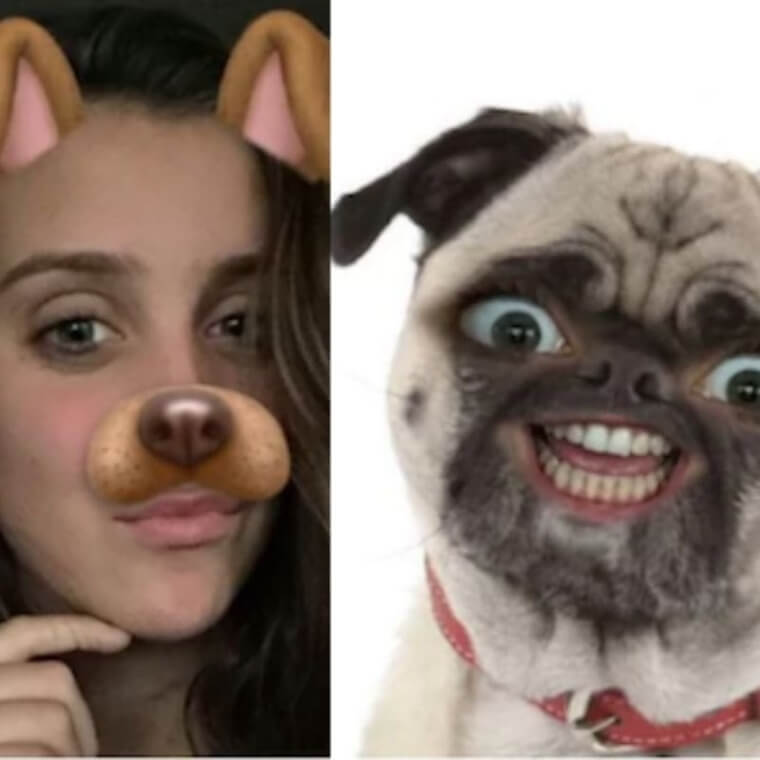 And though it's undeniable that the filter was a fun one, this girl decided to take the dog filter game to an entirely different level.
32. A Costume Party Fight
If there is one takeaway from this gallery is that costume parties are the perfect place to identify the two different types of girls. For this particular party, it's hard to figure out what exactly the theme was since the two groups seemingly had their own interpretations.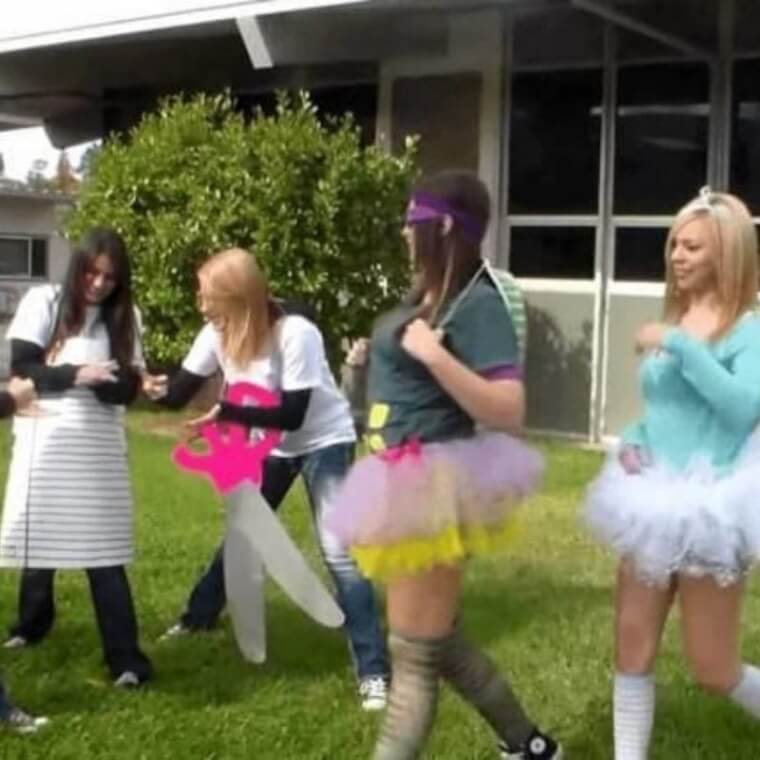 Some of the girls chose to wear a costume with a tutu and knee-high socks. But what's really funny is that it looks like the girl dressed up as a Teenage Mutant Ninja Turtle doesn't seem to be very impressed with the other girls' choices.
33. Morning Routine
We all have some sort of morning routine, even if our routine is to simply stand up from bed, wash our face, get dressed, and go to work. Pictured below, we get to see the different routines between two types of girls.
One of them has all of her creams, make-up removers, and fancy products in check, while the other one literally has a toothbrush, what seems to be a face wash, and a cream. One of these routines could easily take double the amount of time the other one does.
34. Same Shorts Different Girls
Girls who play sports will understand the struggle of sometimes wanting to feel a little bit less baggy in the huge shorts that usually come with playing soccer, basketball, and other sports. Obviously, some girls don't care, they just want to play.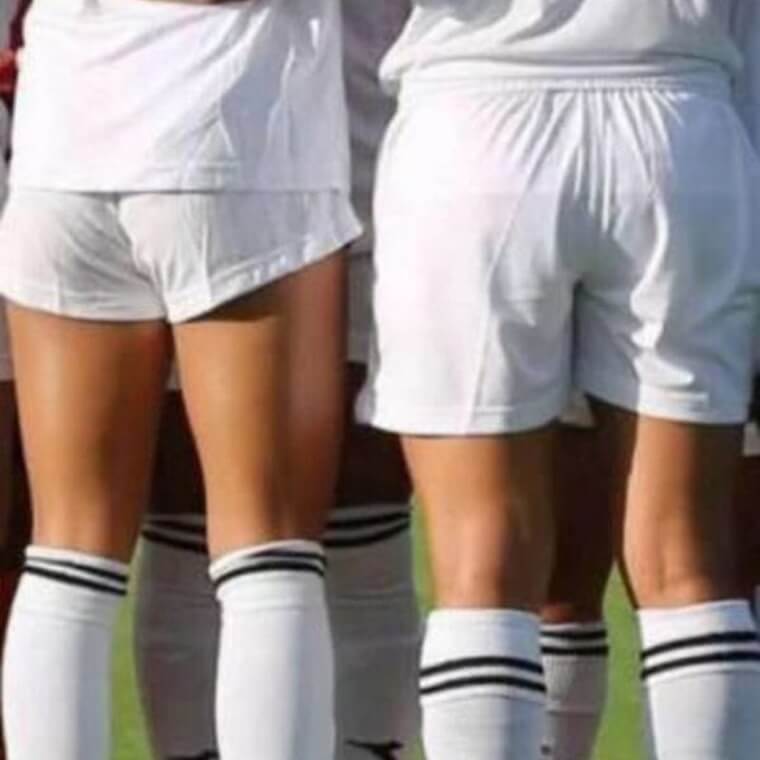 Others, on the other hand, struggle with the thin line between simply playing while also wanting to get their curves accentuated. These two girls show exactly those two kinds, with the two of them wearing the shorts completely differently from one another.
35. Either One Or The Other
Here's another one that can easily be distinguished anywhere in the world. Some women wear heels and feel beautiful in them, while others find it almost impossible to walk in a pair of high and pointy heels.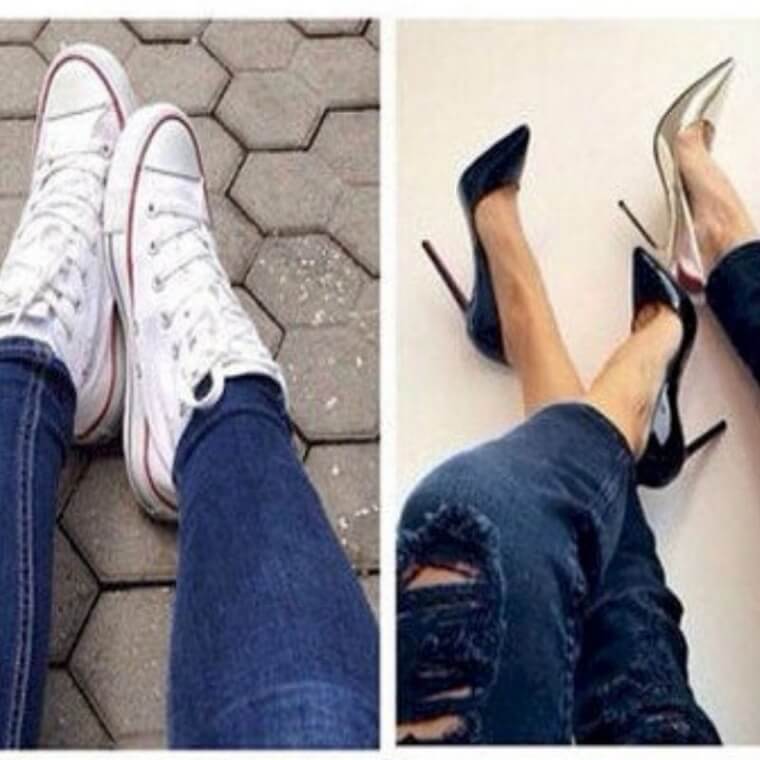 So what's the other option? A comfortable pair of sneakers. Though styles that embrace staying comfortable continue to make it to the runways, some girls still make sure to make a statement with their fancy pair of heels.
36. A Different Version Of The Same Costume
Who would have ever thought that there are so many different ways to rock up with a Snow White costume? Snow White, one of Disney's most beloved princesses, is a common costume for younger children and even older ones during Halloween.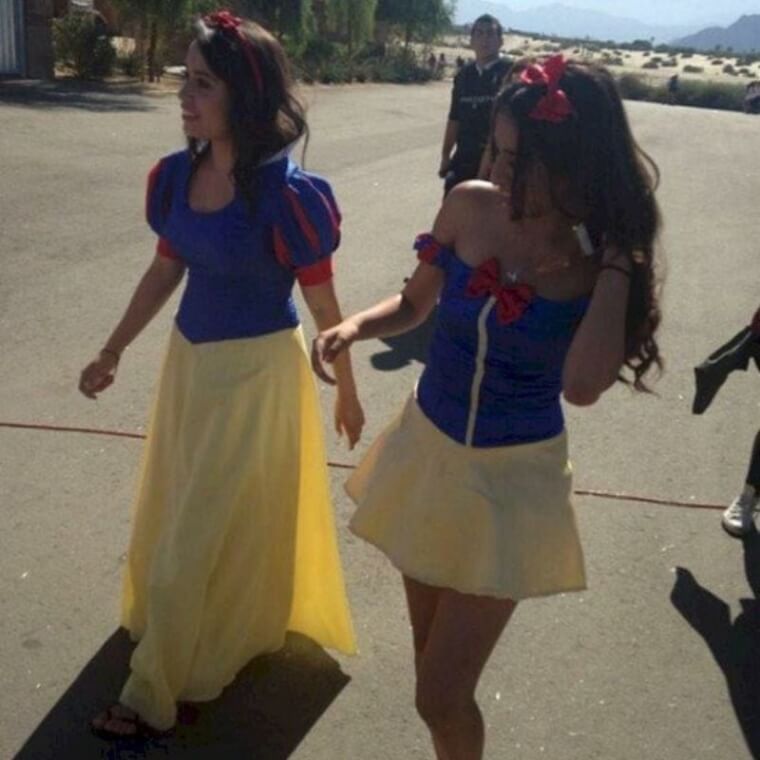 Here, these two girls wore their different interpretations of Snow White, with one of them making her own adaptation with a mini dress, and the other one keeping a more "classic" look to the Disney character.
37. Covered Up
It's not a secret that while some people like to keep themselves covered up, others easily go for a more "showing" outfit. In fact, the picture taken on this street shows the beautiful contrasts in life. The women pictured here clearly chose completely different paths in life.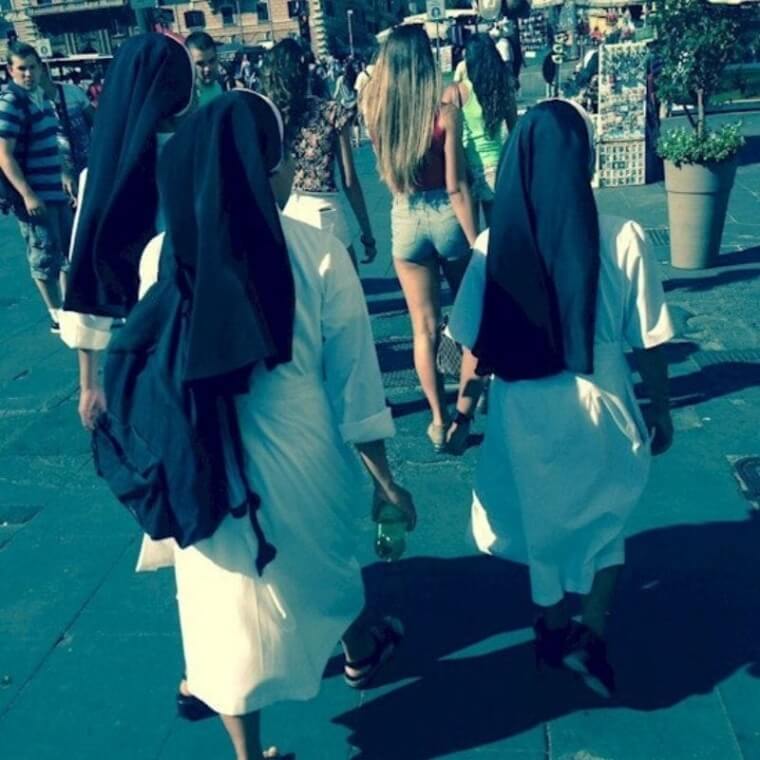 The ones in front are either tourists or locals who wore shorts and a shirt and decided to take a stroll in the area. The women in the back seem to be nuns, who usually cover up for most of their lives.
38. Favorite Filters
With so many apps out there, we have access to thousands of filters that can literally do whatever we want with our faces. Some filters are fun, some are scary, and some simply exist to make us question every feature in our faces.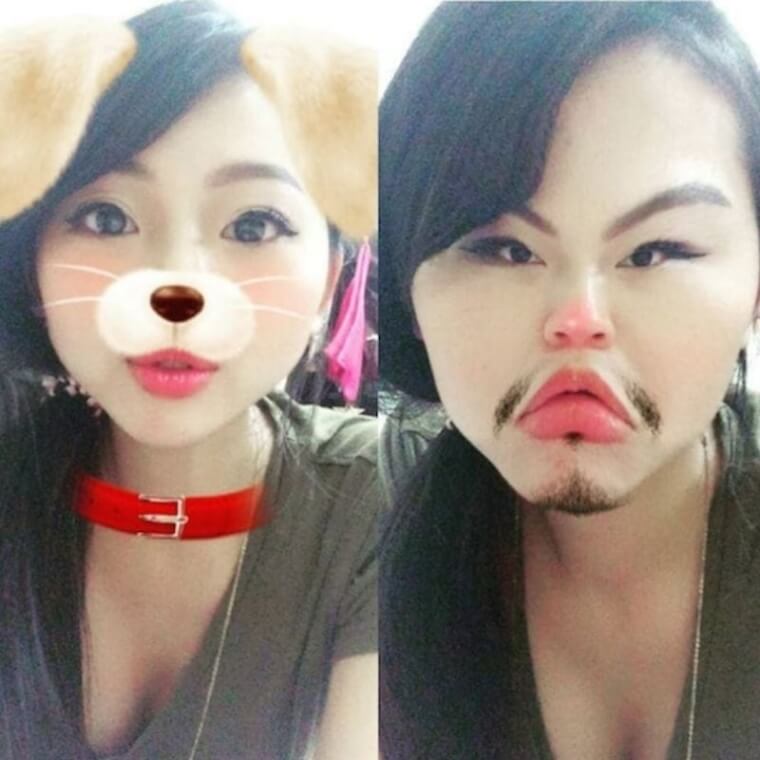 Still, different types of girls usually choose to play and use different filters, just like this girl decided to show in her social media. She first chose a cute dog filter and then moved on to a filter that is basically impossible to describe.
39. Another Approach To Packing
There are two types of packers. Those who take the entire world with them and spend a thousand hours getting their stuff packed, and those who choose a more minimalist approach and take only what they need.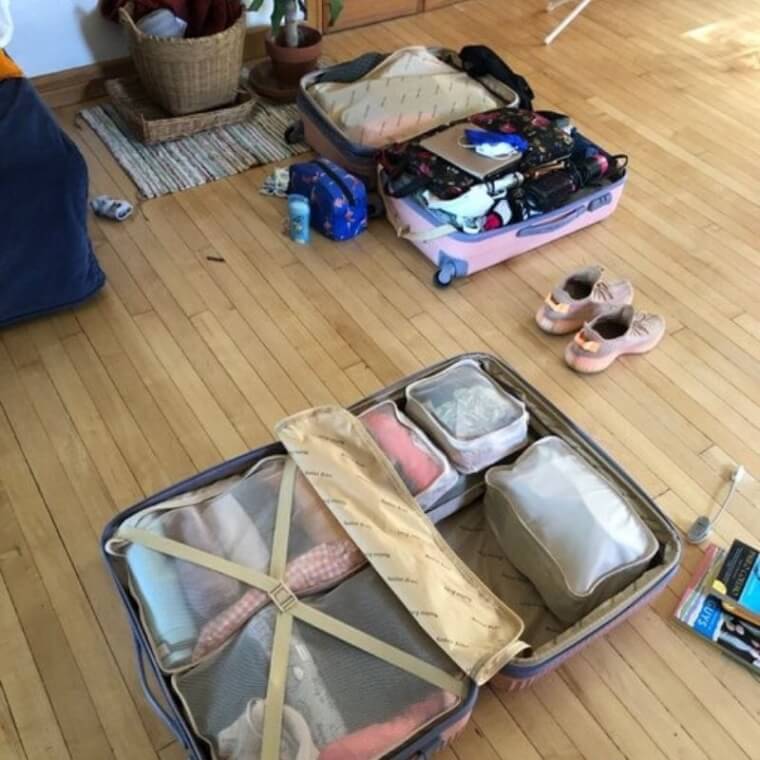 But we get it, packing can be pretty hard, especially when we are restricted when it comes to how many bags we're able to take to wherever we're going to. In this picture, one packer took clothes, make-up, her laptop, and a thousand other things, when the other one simply organized and packed cubes in order to make her journey simple and stress-free.
40. Passing Time
There is a very good chance that if we look at anyone's camera roll, there is a huge probability that we can understand a little bit about that person's character. Is it filled with selfies? Memes, perhaps? Screenshots?
Whatever it is, it probably tells us about what you sometimes spend your time on. Here, we're able to see that while one girl spends her time taking some cool selfies, the one on the right took several pictures of some notes.